Ashraf calls upon BNP to do peaceful politics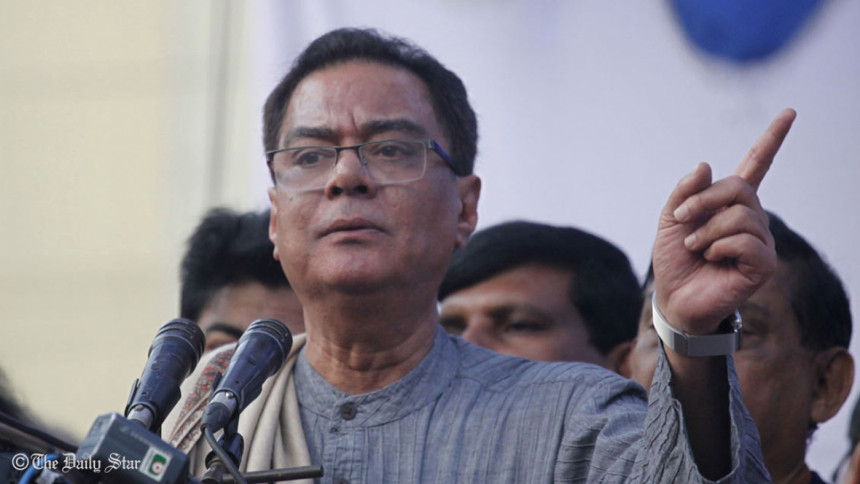 Awami League General Secretary Syed Ashraful Islam today called upon BNP to return to the path of peaceful politics and shun the path of violence.
He was addressing a rally of the Awami League at Bangabandhu Avenue celebrating today as 'Victory Day for Democracy' on the second anniversary of January 5 general elections.
"64 people were killed, around 700 vehicles were damaged in arson and loss of around Tk 7,150 crore occurred in the non-stop hartal, blockade enforced by BNP from January 6 to April 2015," he said.
Meanwhile, Awami League joint general secretary Mahbubul Alam Hanif today said BNP should remove its chairperson Khaleda Zia from leadership.
"BNP should reorganise excluding Khaleda. Only then people will treat them as real opposition," he told a gathering of Awami League at Russel Square in Dhaka.
Mohammad Nasim defended the January 5 elections and said: "Martial law would have prevailed in the country if the elections was not held."
In his speech, Suranjit Sengupta called upon BNP to come to the path of democracy, participate in the next general elections, and cut off all political ties with Jamaat-e-Islami.
There, the party's general secretary Syed Ashraful Islam told the gathering that Awami League will hold a pompous rally on the occasion of Bangabandhu's homecoming on January 10.
About 20 minutes away from Gulistan, AL's political rival BNP – who boycotted the election – is holding a rally marking the day in a contrasting view "death for democracy day".

Also READ:  Rally permitted with conditions
Bangabandhu Avenue

Several thousand leaders and activists of AL have already joined the rally at the south gate of Baitul Mukarram national mosque near Bangabandhu Avenue.
Top leaders including Syed Ashraful Islam, party's general secretary, Mahbub-Ul-Alam Hanif, joint general secretary, Mofazzal Hossain Chowdhury Maya and Khalid Mahmud Chowdhury Organising secretary were present on the stage.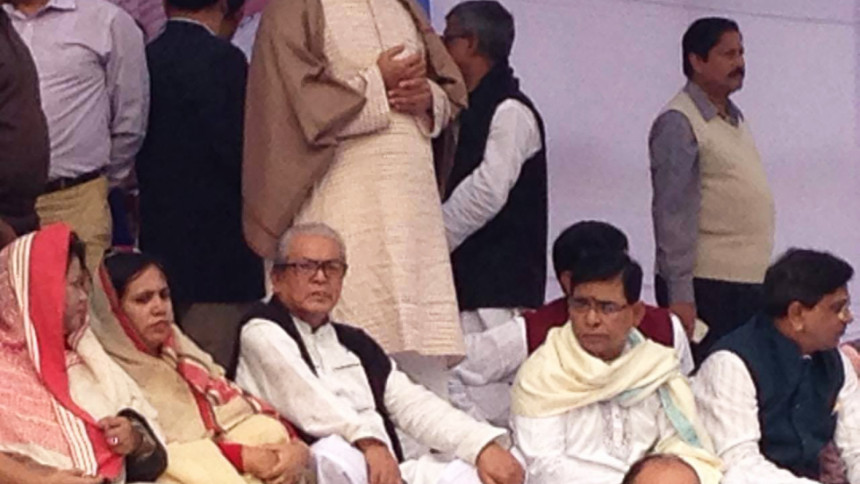 READ more: JANUARY 5 AGAIN - They all care about democracy

Roads from GPO to Mahanagar Natya Mancha remain blocked.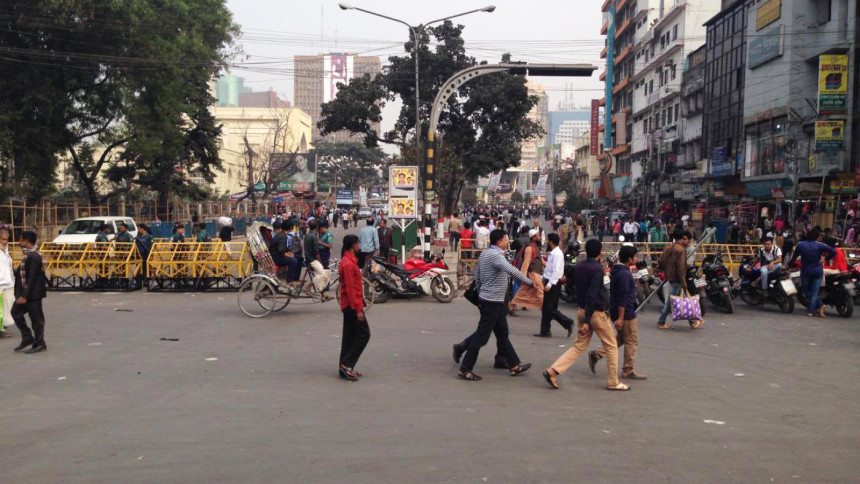 Leaders of Bangladesh Chhatra League (BCL) and Jubo League were addressing the rally when this report was filed.
Meanwhile, ward-level leaders and activists of the party were asked to remain on the streets and stay alert throughout the day to resist BNP men from occupying the streets, the sources said.
Tension rose as the BNP sought permission to hold a rally at Suhrawardy Udyan to protest the January 5 elections and AL also expressed desire to hold rally at the same venue.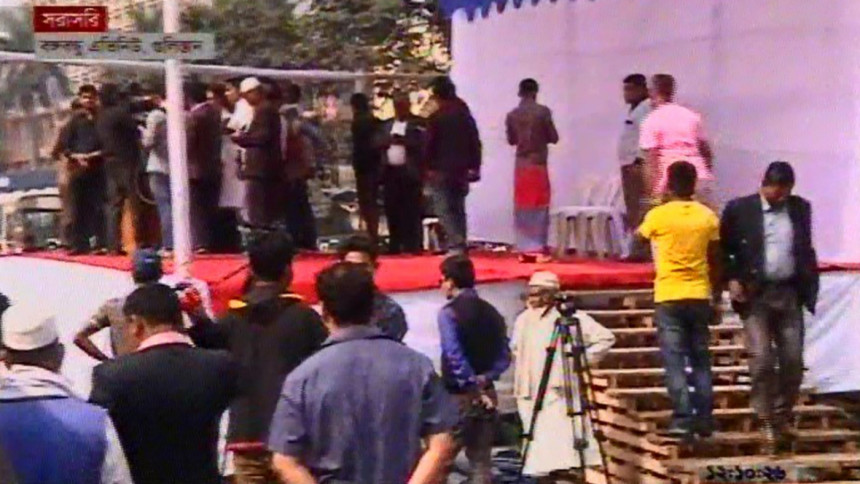 Dhaka Metropolitan Police then said it would allow no parties to use the venue if there are programmes and counter-programmes. Both parties then sought police permission for rallies in front of their offices.

Russell Square  

Matia Chowdhury, a presidium member, Amir Hossain Amu and Mohammad Nasim, members of the party's advisory council, are expected to address the rally at Russel Squire.  
Several thousand AL leaders and activists already gathered in processions there.
Way to Mirpur from Dhanmondi was blocked as the AL supporters gather on the road and indiscriminate parking of vehicles.
Traffic movement has been diverted through Panthapath by law enforcers.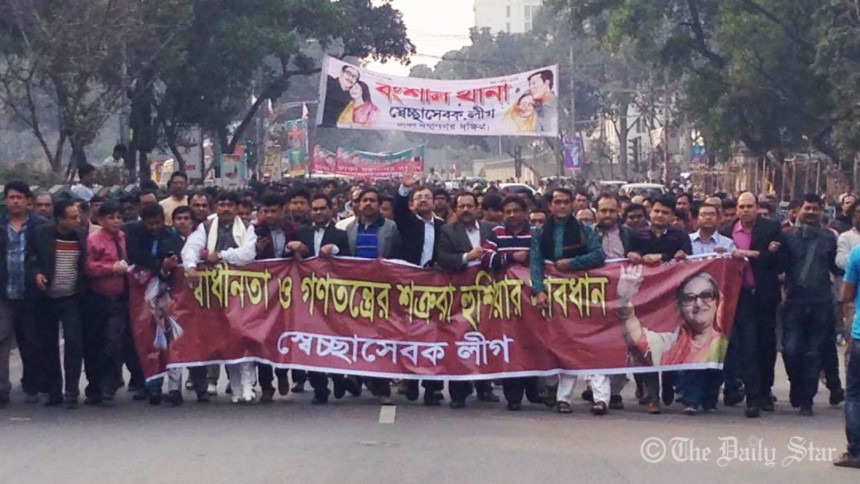 On this day, BNP started a countrywide non-stop blockade for nearly three months from January 6 in 2015. Street violence killed at least 95 people and hurt about 1,500 others, mostly in firebombing of transports.
The BNP was desperate for the rally marking what it termed "death of democracy day" last year defying police ban. But this year, the party made it clear it would not go for confrontation.