'We too can'
Volunteers in Manikganj working to help the physically challenged
Physically challenged Sujon, 13, cannot move without support from others. He cannot speak either. His father Sayedur remarried and got settled in Tangail. To find better work, his poor mother has gone abroad, leaving him to his elderly grandmother at a government shelter center at Mandarta under Daulatpur upazila in Manikganj.
Sujon was passing his days there in abject misery.
But when this correspondent went there to pay him a visit on a Friday recently, he was seen with a college student named Jahirul Islam from the nearby Mulakandi village under the same upazila.
Jahirul says he visits Sujon every Friday and spends time with him. He first talks to Sujon's grandmother about his cleaning and feeding. He then carries Sujon outside in his special sitting chair and takes him to children playing nearby, he says, adding that he also tries to communicate with Sujon.
This correspondent also met Rubia Akter of Daulatpur who was seen taking care of 15-year-old Ashraful, another physically challenged teenage boy.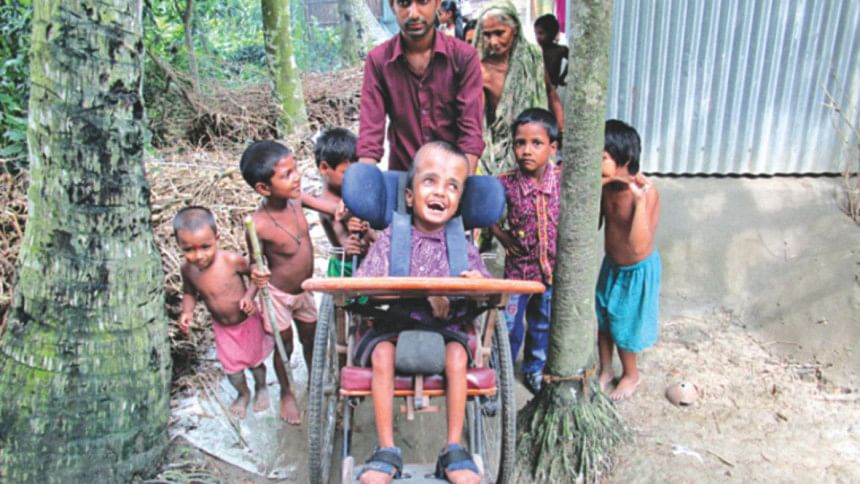 Jahirul and Rubia are two of 120 volunteers, all of whom are college students, working under a project called "We too can" in Ghior and Daulatpur. Funded by Niketon, a Netherlands-funded NGO, the project was initiated by Disabled Rehabilitation and Research Association (DRRA), says Dalima Rahman, project co-coordinator.
The volunteers are working for 130 physically challenged children in the two upazilas of Manikganj.
Jahirul is a first-year student of BBS and Rubia a second-year student of BA. They say they are happy to work in an organisation that helps physically challenged children.
DRRA gave training to college students of Ghior and Daulatpur upazila. After training, 120 college students expressed their willingness to work for physically challenged children as volunteers.
The organisation sits with the volunteers every month, says Dalima.