No fetters could tie her down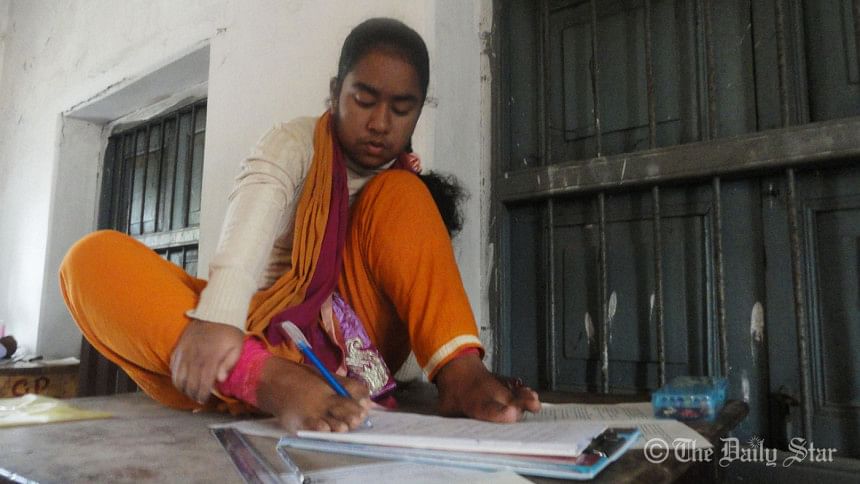 She is unable to do anything with her hands since her birth. But it could never stop Arifa Akhter from pursuing her dreams.
Defying all predicaments, the indomitable Lalmonirhat girl sat for her Secondary School Certificate (SSC) examinations today. She became the subject of curiosity as she started writing with her legs.
The Daily Star met the 16-year-old student of Fulgach High School at an examination hall at Lalmonirhat Boys' High School centre. She is appearing in the exams from humanities group.
Because of this physical limitation, teachers at her exam centre today allowed her 25 additional minutes to complete her answers.
Born in Shahitari village of Lalmonirhat Sadar upazila, Arifa became accustomed with doing all sorts of works including household chores with her feet.
Her father Abdul Ali, 64, and mother Mamtaz Begum, 57, are always extending support to their youngest daughter to realise her dreams.
"She always shows a high interest in education," said the mother. She helps Arifa bathe, have her meal and dress. "She herself does the rest," Mamtaz Begum said.
"I could never provide the supports she needed but she never asked for it either. I have been trying my level best to give my daughter higher education," said Ali, a day labourer who earns Tk 200 daily.
"I know how to write well with my right foot, and my left foot aids the right when I write or draw," Arfia said.
Though Arifa was physically challenged by birth, four other her siblings are normal.
Arifa's classmate Mousumi Akhter said Arifa's writing is better than hers. "She is little slow but she is fine," she said.
Fifth among her siblings, Arifa is among the top brilliant SSC candidates from her school. She got a GPA-5 in Junior School Certificate (JSC) examinations. While at primary school, she was the best student, said Shahjahan Ali, the headmaster of Fulgach High School.