Other side of a JU teacher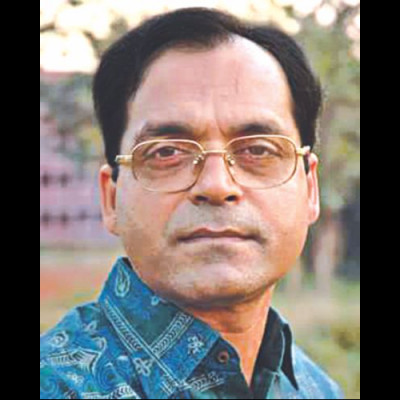 A professor at Jahangirnagar University secretly married one of his students, forced her to abort their first child and then divorced her three days after she gave birth to a second one, the victim said in a written complaint to the JU authorities.
The woman, 29, is a PhD student at the university's Drama and Dramatics department.
In the complaint filed on January 17 to the JU vice chancellor, she said Prof Afsar Ahmed, 59, a teacher of the same department and also former pro-vice chancellor of the university, married her on November 24 in 2015.
The complainant, currently a teacher at another public university, told The Daily Star they developed a friendly teacher-student relationship during her graduation and master's at the department during 2006-2011. Later in 2014, the two developed a romantic relationship and married in 2015 with each other's consent.
But when she was pregnant with their first child in 2016, the professor forced her to abort the child, saying that doctors told him the child would be physically challenged, she wrote in her complaint.
When she conceived again in 2017, Afsar stopped communicating with her. And once again, he asked her to abort the child, and threatened her with consequences if she did not oblige, she claimed.
"He threatened that he would not let me give birth to the second child. Even if I do DNA test to prove that it was his child, he will use his influence to prove it wrong," according to her complaint.
"In fear for life, I was compelled to go into hiding and gave birth to my son in an unsecure environment."
At this, she filed a general diary with Trishal Police Station in Mymensingh, where their marriage was registered, on August 24 last year. She was eighth months' pregnant then.
Afsar sent her a divorce notice on September 25, three days after the child was born.
Talking to this newspaper, she said Afsar is not giving any financial support for the child.
Afsar termed the whole episode a family matter and claimed that he broke no rules.
VC Prof Farzana Islam said they would investigate the allegations. "Steps will be taken after investigation."
In the complaint, the woman alleged that during her student years at JU, Afsar wooed her and tried to win her sympathy by sharing his family issues, giving an indication that he had an unhappy family life.
Asked why she married him knowing that he was married, she said she too became weak towards him at one stage.
"He emotionally blackmailed me … and married me without taking permission of his first wife," she claimed, adding that Afsar persuaded her to marry him, saying he would divorce his first wife.
Afsar also requested her to keep their marriage a secret, which she did, considering their career and social status.
In the written complaint, she said Afsar and his relatives were now threatening her with death and were keeping an eye on her movement.
Asked, Afsar said everything was done in a proper way.
"I did not break any rules. I married her and sent the divorce notice by following all the procedures. Her allegations are illogical," he said.
According to the notice, obtained by The Daily Star, he divorced her because she disobeys him, she is of a bad character and she does not wear veils, among other things.
"I never said I will not take responsibility of the child," he said, when asked about the allegation that he does not provide financial support for the boy.  
Afsar declined to comment on the allegation that he forced the victim to abort their first child. He also refused to comment whether he threatened her.
Meanwhile, the woman alleged the university authorities were making delay in probing the mater.
She said she herself submitted the complaint to the VC's office on January 17. But the authorities on January 23 sent her a letter, saying they received her complaint via email, and that it was not signed.
The Anti-Sexual Harassment Cell of the JU also asked her to produce evidence of her PhD studentship within 10 working days, she alleged. 
Rahima Kaniz, a member-secretary of the Cell, said, "There was a miscommunication. We did not receive the signed copy of the complaint letter first. Later, we received it from the personal secretary of the VC."
Besides, the authorities need to know some basic facts before investigations. "As soon as we get her reply, we will start our probe," she added.
The woman said she sent her reply and it may reach the university authorities by Sunday.