Jahangirnagar University: 30 hurt as BCL groups clash 'over stalking'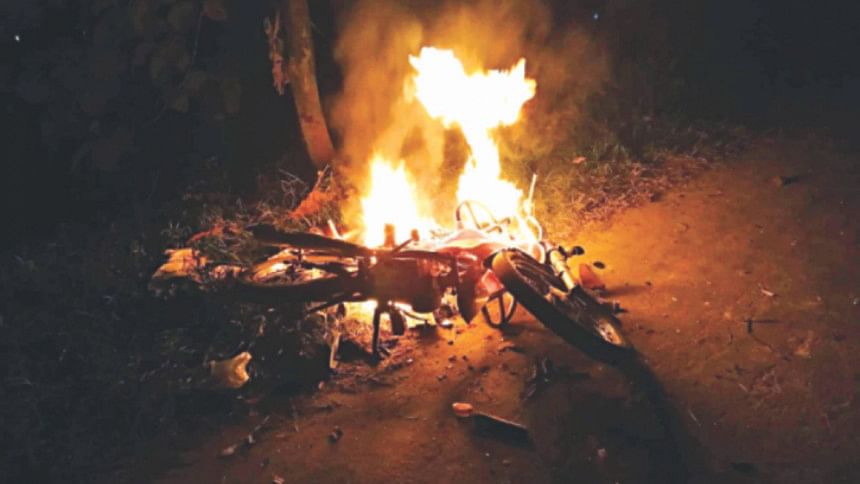 At least 30 leaders and activists of Bangladesh Chhatra League were injured as two groups of BCL men clashed at Jahangirnagar University over a trifle in the small hours of yesterday. 
The clash ensued between the BCL activists of Mir Mosharraf Hossain and Al Beruni halls after some BCL activists of Mir Mosharraf Hossain and Rafiq Jabber halls allegedly stalked some female students.
The injured were given first aid at the university medical centre. Around 10-12 of them were taken to Enam Medical College Hospital in Savar, said on-duty doctor Abu Jafar Md Saleh of the medical centre.
The critically wounded are: Mizanur Rahman of public health and informatics; Sohel Rana of accounting and information system; Mehedi Hasan Kabbo of statistics; Karim Reza of management studies; Azim Ratan, Sakib and Hanif of urban and regional planning.
The BCL activists of Mir Mosharraf Hossain Hall, equipped with iron rods and sharp weapons, swooped on their rivals in front of Al Beruni Hall. A chase and counter-chase happened between the two groups. A motorcycle was also torched, said witnesses. 
Sources said BCL activist Abu Sayeed of geological sciences, along with his friends, allegedly stalked some female students at Chowrangi on the campus around 10:00pm yesterday.
Later, the female students informed their friend Ashik of Al Beruni Hall of the matter. Then BCL activist Ashik, along 10-12 students, rushed to the spot and beat up Sayeed.
Hearing the news, around 50 to 60 BCL activists of Mir Mosharraf Hossain Hall, led by JU unit BCL vice-presidents Azim Ratan and Debashish Mitra and BCL activist Robiul Islam, attacked Al Beruni Hall around 12:15am yesterday, the sources added.
Contacted, Sayeed denied the allegation of stalking. He also submitted a complaint to the university proctor, demanding justice.
Abu Sadat Sayem, JU unit BCL vice-president and also a resident student at Al Beruni Hall, said the BCL activists of Mir Mosharraf Hossain opened fire on them. Some 15 to 20 students of their hall were seriously injured and 30 more students also took first aid at the university medical centre.
BCL activist Robiul Islam of Mir Mosharraf Hossain Hall said they did not attack the Al Beruni Hall and did not fire bullets. They went there to solve the dispute.
On the other hand, Khalid Saifullah, a BCL activist of Mir Mosharraf Hossain Hall unit, also the motorcycle owner, demanded compensation from the university authorities for his burnt motorbike.  
Meanwhile, an admission test was delayed by half an hour yesterday as the BCL men of Al Beruni Hall unit blocked the Biological Sciences faculty to press home their four-point demand, including punishment of the attackers.
After getting assurance from JU Vice-Chancellor Prof Farzana Islam, they withdrew their blockade and issued an ultimatum for punishing the attackers by yesterday.  
Asked, JU unit BCL President Jewel Rana said students of the two halls were involved in the clash. No BCL activist was involved in the incident, he claimed. If they find any involvement of BCL men, they will take action, he said.
The university authorities have decided to form a probe body for taking action regarding this incident after the admission tests end on October 10, JU Proctor Sikder Md Zulkarnaine told this correspondent after a meeting with the BCL men of Al Beruni Hall unit last night.
The proctor said the authorities also decided to bear treatment costs of the injured students.