'Documents on JU VC's corruptions to be submitted today'
Students continue protest thru' scroll painting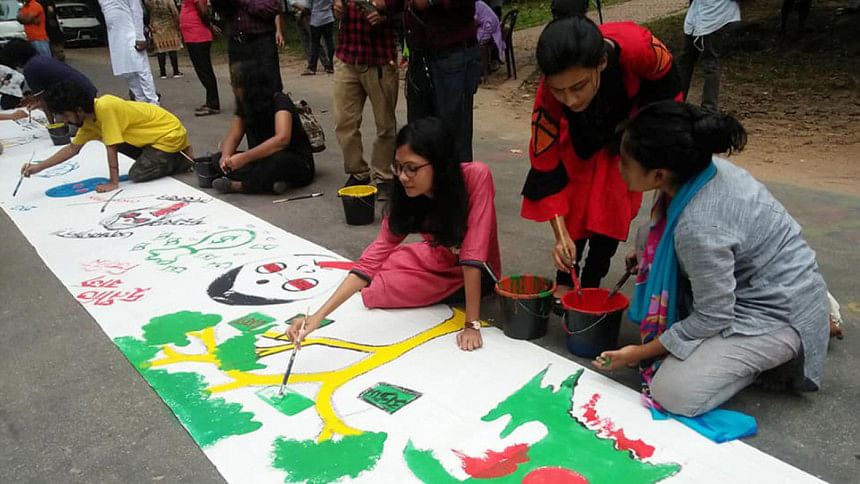 The protesting students of Jahangirnagar University are continuing their protest through scroll painting (Patachitra) on the campus today demanding removal of the university's vice-chancellor over corruption allegations.
Around 100 students started the painting in front of the old Registrar Building around 10:00am, reports our JU correspondent.
Some teachers have also joined the students, who have been continuing their anti-VC demonstration on the campus since August.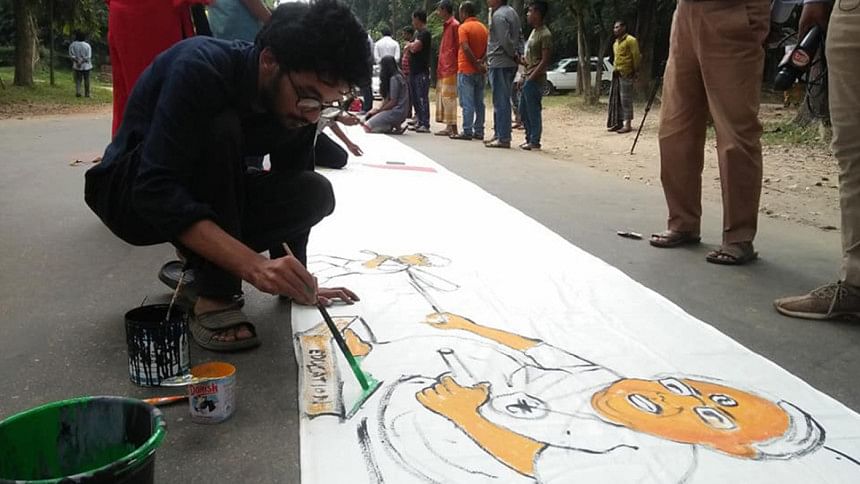 While talking to the correspondent, Prof Raihan Rhyne, a teacher of the university's Philosophy department and also the coordinator of "Jahangirnagar Against Corruption", said they are preparing documents on the "corruptions" of JU VC Farzana Islam to submit those to the education minister's office this evening.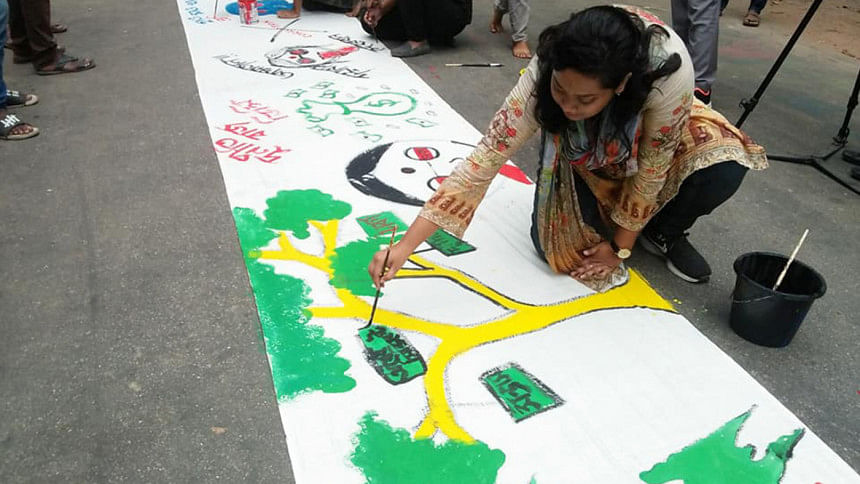 Yesterday, Prime Minister Sheikh Hasina came down hard on the JU protesters and said the accusers would have to face punishment if they failed to prove the allegations.
The JU students held a concert in front of its VC's residence last evening demanding her removal.
They brought out a procession equipped with musical instruments that marched towards the VC's residence defying ban on rallies and processions yesterday and chanted slogans against the VC that includes -- "Our campus, our right; save the campus, join the fight" and "do not, will not accept notice to vacate hall".
JU authorities on Tuesday shut down the university for an indefinite period and banned processions and rallies on the campus until further notice.
The move came hours after Chhatra League men assaulted the demonstrators who had kept VC Prof Farzana Islam confined to her residence, demanding her resignation.
After the assault, which left 35, including nine teachers and four journalists, injured, Prof Farzana came out under BCL protection.
Following an emergency meeting the same day, the university authorities asked the students to vacate the dormitories by 5:30pm, but most of the hall residents stayed back.
JU plunged into a crisis in the wake of the student protests in August demanding a judicial enquiry into the reported involvement of the vice-chancellor in corruption and mismanagement of a Tk 1,445-crore campus development project while the VC has always claimed she is not involved in any corruption or irregularities.