Chemical Warehouses, Factories: Crackdown begins in old town
Taskforce in Shaheednagar finds those previously fined still running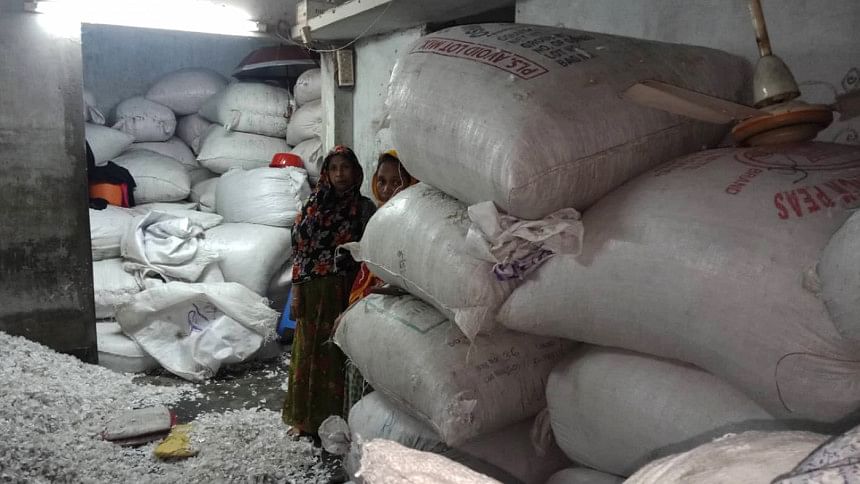 It seems nothing has changed in West Shaheednagar area of Old Dhaka.
On March 12, 2017, a drive led by the Dhaka South City Corporation fined several chemical and plastic warehouse owners for not moving out of the area in Old Dhaka.
Almost two years later, a taskforce yesterday found many of the same warehouses there.
The taskforce comprising of 14 government agencies disconnected the utility lines -- electricity, water and gas -- of 13 warehouses and factories in the area on the first day of its month-long drive following last week's fire in Chawkbazar that killed at least 69 and injured scores.
Similar actions were taken yesterday against eight factories and warehouses in Islambagh, only about 1km from Chawkbazar.
The Chawkbazar tragedy has reminded people of the Nimtoli inferno which caused 124 deaths in 2010.
On Monday, DSCC Mayor Sayeed Khokon announced that a taskforce would launch a month-long drive against warehouses of "dangerous chemicals" in Old Dhaka.
SHAHEEDNAGAR DRIVE
Around 11:00am yesterday, a team led by Air Commodore Zahid Hossain, chief waste management officer of DSCC, launched the drive from Shaheednagar Lane-1.
Officials of the fire service, police, deputy commissioner's office and departments of explosives and environment, among others, accompanied him.
In the morning, utility lines of four factories and warehouses of Shakil PVC and Polymer Industries were disconnected for storing polypropylene, a flammable chemical.
"Storing or using such flammable substances at factories in a residential area is banned. They [owners] were asked to relocate [their establishments] by February 27. Since they had not, we have taken actions," Commodore Zahid told reporters.
As two factory officials sought more time to relocate their factories, Zahid said, "You had not done this in the last nine years. You were asked to leave after Nimtoli fire, but you haven't. Now, stop working and leave."
On Boubazar lane, the taskforce entered Santo Metal Industries. As per its trade licence, the factory was supposed to be in Mitford area, but it has been operating there.
The factory has no environmental clearance and was caught using illegal polythene. Its clearance from the fire service had expired in June 2016, officials said.
Across the street from Santo Metal, the taskforce found a locked building full of polythene and disconnected its utility lines.
As the taskforce was about to wrap up its drive around 1:30pm, it found Rita Plastic, a factory producing different poultry farm equipment.
Massive piles of plastic materials were found in the basement and on ground floor while tenants lived on the first floor. The kitchen of an adjacent building is dangerously close to the building, officials said.
Saiful Ashraf, assistant director of the Department of Environment [DoE], told this newspaper that none of the penalised factories had the required environmental clearance.
The DoE has not been issuing environmental clearance for factories in Old Dhaka since Nimtoli fire, he said.
A fire service official said most the penalised factories did not have fire service clearance either.
Mahmud Ashik Kabir, assistant inspector of the explosives department, said in most cases, the taskforce found PVC and polypropylene materials that intensify a fire.
Commodore Zahid said utility lines would remain disconnected until they moved from Old Dhaka.
ISLAMBAGH DRIVE
Another team led by Brig Gen Sharif Ahmed, chief health officer of DSCC, disconnected utility lines of eight buildings that housed many chemical warehouses and a shoe factory in Islambagh area of the old town.
Chemical warehouses will not be allowed in Old Dhaka's residential area, he said and urged owners to relocate the facilities by tomorrow or face legal actions.
The team first snapped the utility lines of two buildings housing warehouses of calcium carbonate.
When Farid Uddin, owner of the warehouses, said calcium carbonate was not in a government list of 29 "dangerous chemicals", Sharif said no warehouse would be allowed there.
The team also found a shoe factory running without any environmental clearance.
Abu Motaleb, director of Federation of Bangladesh Chambers of Commerce and Industry, told the officials that shoe factories were not in the list.
Asked about the environmental clearance, Motaleb said almost none of the factories in Islambagh had it.
The team then disconnected the utility lines of the building.
Commodore Zahid said anyone found storing dangerous chemicals would be arrested.
Locals who gathered during the drive told reporters that such actions didn't yield lasting result because of a lack of continuous monitoring.
Engineer Abdur Sobhan, general secretary of Poribesh Bachao Andolon, said, "Lack of continuous monitoring will create scope for them [penalised factories or warehouses] to return."
Besides the city corporation, the departments of environment and explosives must play their roles too, he added.