Another fire breaks out at Chawkbazar; 3 injured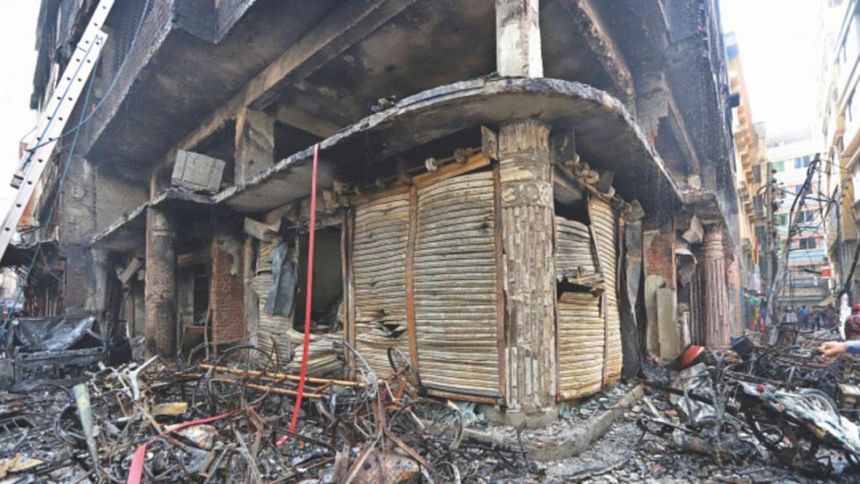 Three youths suffered burns as a fire broke out at a scrap-metal shop in Old Dhaka's Chawkbazar area yesterday afternoon, 10 days after an inferno in the same area that left scores dead.
Yesterday's fire originated at the shop in Kamalbagh area around 5pm, leaving two workers and younger brother of the shop owner with burn injuries, police and officials of Fire Service and Civil Defence said.
Soon after the fire started, locals rushed to the spot and doused it before two units of fire service reached the spot, they said.
The injured -- Sumon, 32; Nur-e-Alam, 30; and Mohammad Suman Khan, 28 -- are now undergoing treatment at the burn unit of Dhaka Medical College Hospital (DMCH), Sub-Inspector Bachchu Mia, in-charge of the hospital unit police outpost, told The Daily Star. Of them, Sumon sustained 18 percent burn injuries while Nur-e-Alam 30 percent and Mohammad Suman 26 percent, according to Dr Partha Sankar Paul, resident surgeon at DMCH burn unit.
Monir Hossain, a shopkeeper in the area, told The Daily Star, "I heard a boom and saw the trio running away from the tin-shed shop, which was on fire. I took them to Dhaka Medical College Hospital."
Sumon, one of the victims, said "We were smashing small metal cans of perfumes, gas and condensed milk in a machine. Suddenly, one of the cans burst, and fire erupted."
Fire Service and Civil Defence officials primarily suspected that the fire might have originated from an explosion of rejected perfume cans.
ANOTHER VICTIM OF CHURIHATTA BLAZE DIES
Yet another victim of the February 20 fire in Chawkbazar's Churihatta area died at Dhaka Medical College Hospital yesterday morning, taking the death toll to 71.
The deceased, 50-year-old Zakir Hossain, succumbed to his injuries at the Intensive Care Unit of DMCH's burn unit around 8:30am, Partha Sankar Paul, resident surgeon of the hospital's burn unit told The Daily Star.
Zakir had suffered 35 percent burn injuries.
Two more victims of the fire: Selim, 44, and Mahmudul, 52 -- are currently receiving treatment at the burn unit with 14 percent and 13 percent burn injuries respectively, said the physician.
Three other victims of the blaze -- Sohag, 22; Anwar Hossain, 55; and Rezaul, 21 – had succumbed to their injuries on February 25, 26 and March 1 respectively at the hospital.
The fire, breaking out at a chemical warehouse of Hazi Wahed Mansion, spread through four nearby buildings at Chawkbazar. Fire fighters said they recovered 67 bodies from the spot.
Of the 67 bodies, 48 deceased were identified and returned to their families. Criminal Investigation Department of police is now working to identify the others, by matching DNA of the bodies to that of close relatives.