Old Dhaka at grave fire risk
More than one fire takes place a day in old town mainly because of numerous chemical storage, plastic and other factories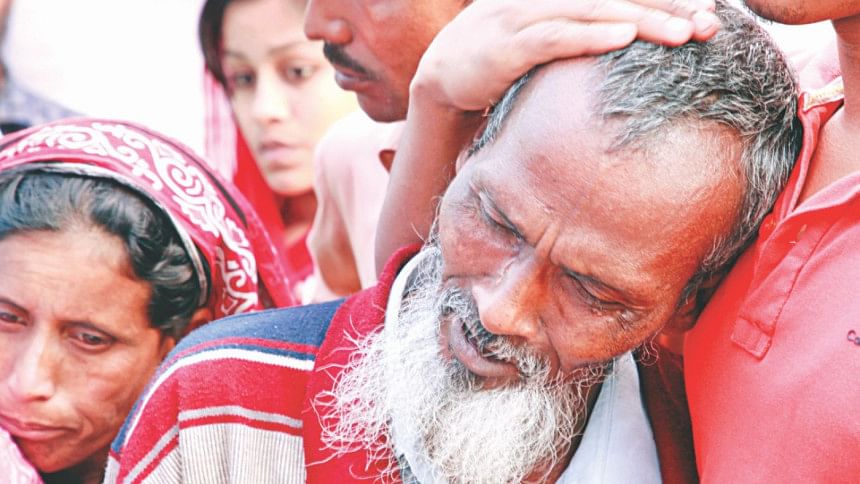 Old Dhaka is so prone to fire disasters that last year it saw at least one fire incident a day on average.
Fire service data show at least 468 fire incidents struck the old town's Lalbagh, Hazaribagh, Sadarghat and Siddique Bazar, where more than 500 chemical warehouses and factories operate illegally.
Casualties were low -- one man was killed and two others were injured -- in these incidents, but they damaged properties worth Tk 6.88 crore, the data show.
Highest 163 fire incidents occurred in Siddique Bazar, damaging properties worth Tk 1.97 crore, followed by Hazaribagh where 160 incidents occurred, burning properties worth Tk 1.42 crore.
"The frequency indicates how vulnerable Old Dhaka is," said Brig Gen Ali Ahmed Khan, director general of Fire Service and Civil Defence.
"If you take a stroll in old town, you will find chemicals, plastics, cosmetics, rubbers and nail polish in residential complexes. This makes an ideal situation for a fire to take place," he told The Daily Star.
In a survey last year, the fire service found 537 chemical warehouses in old town that is divided into four zones -- Lalbagh, Hazaribagh, Sadarghat and Siddique Bazar.
Of those, Sadarghat had highest 379 warehouses followed by Lalbagh that had 87.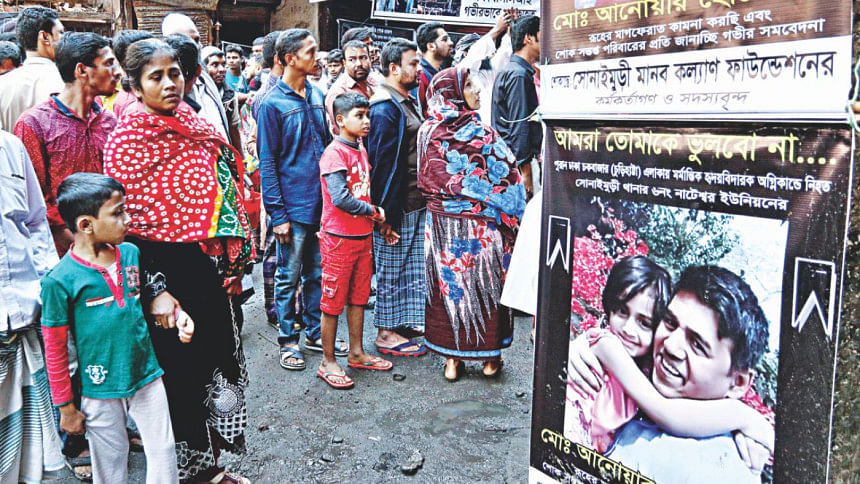 On several occasions, the fire service warned residents and businessmen of the danger and even launched eviction drives with the help of mobile courts.
"But we were forced to suspend the drive in the face of opposition from local businessmen," Ali Ahmed said.
After the 2010 Nimtoli incident, the deadliest ever fire disaster in the country that killed at least 124 people, the fire department did not issue any licence for setting up chemical factory or warehouse in the area.
And after the survey last year, the department came up with a set of recommendations, including immediate relocation of the chemical stores and shop from residential areas to a safer place.
But little has changed. During recent visits to Chawkbazar, Urdu Road, Agamasi Lane, Shaheednagar, Siddique Bazar and Islambagh, The Daily Star found chemical warehouses in many residential buildings.
Some buildings have small rubber factories while some have plastic. In some buildings, traders set up shoe factories. Residents of the areas live in highly crowded area amid a constant rumble from the factories.
The latest fire incident in Chwakbazar that killed at least 70 people is being blamed on flammable chemicals stored on different floors of a number of affected buildings.
Poor building structures, narrow roads, the near-absence of fire safety measures and a lack of natural source of water in this part of the town make it difficult for firefighters to control the flames, the survey found.
"Things have been like this for generations. On many occasions, there have been calls for their relocation, but many traders do not want to relocate their family business," said Takibur Rahim, a resident of Islambagh.
Ismail Hossain, a trader who sells plastic granules, said, "Many types of factories were built in the area … If the government provides all the facilities, we will shift our business."
Apart from the loss of life and properties, other risks of having chemical warehouses in residential building include spill, contamination, infectious diseases and environmental hazard.
Iqbal Habib, an urban expert, said fire incidents have struck the old town people time and again, but they seemed to have accepted it as their fate.
"And that's the problem," he said.
Khondker Neaz Rahman, another urban planner, said in any well-managed city, three things are required: creating community-based volunteers, providing them with logistics and equipment and having fire hydrants in place.
"When a fire breaks out, the first responders are the community people. So their capacity should be strengthened," he added.