Another held over Nusrat killing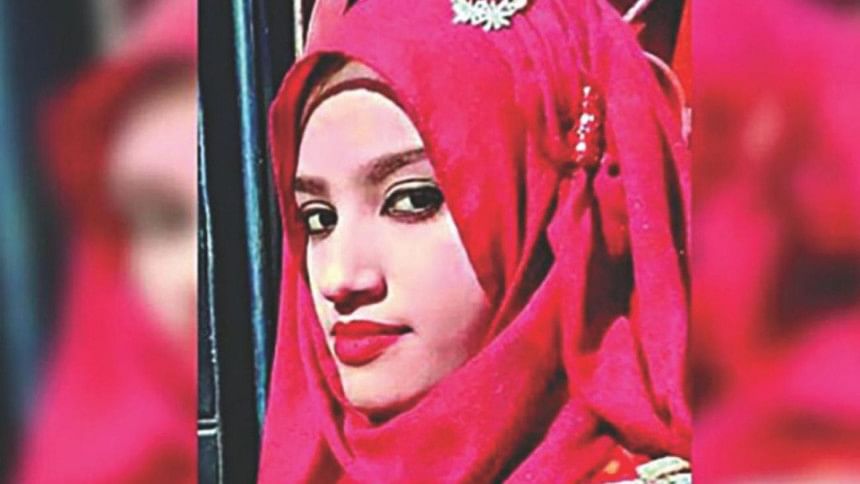 Police yesterday arrested another accused in the Nusrat murder case.
With the arrest, at least 16 people have been held over the killing of the Feni madrasa student that touched off outrage across the country.
Investigators yesterday said they found the involvement of Sonagazi Awami League President Ruhul Amin in the crime.
Besides, two other suspects in the case yesterday "confessed" that one of them pinned Nusrat down on the rooftop of the madrasa while the other poured kerosene on her, said a PBI official.
Members of the Police Bureau of Investigation arrested Iftekhar Hossain Rana, 21, in Rangamati Sadar's TNT Colony yesterday morning, Moin Uddin, an additional superintendent of police (PBI Chattogram Metro unit), told The Daily Star.
He said although Rana's name was not mentioned in the case statement, they found his involvement in the murder during investigation.  
The ASP added that Rana was allegedly guarding the madrasa gate when Nusrat was set on fire on the rooftop.
Besides, PBI members yesterday recovered a burqa, believed to be worn by key suspect Zubayer Ahmed during the attack, from Dangi Khal near Sonagazi College in Feni.
The garment was recovered acting on information gleaned from Zubayer, who is now on a seven-day remand, said PBI Inspector Shah Alam, investigation officer of the case.
Another suspect Kamrun Nahar Moni, who has also been arrested, had purchased three burqas, including the one found yesterday, from a shop in Sonagazi before the murder, he said.
Three key accused -- Shahadat Hossain Shamim, Zobayer and Jabed Hossain -- wore the burqas on April 6 while setting Nusrat on fire on the rooftop of a three-storey building at Sonagazi Islamia Senior Fazil Madrasa, he added.
Alim examinee Nusrat lost her battle for life on April 10, five days after she was set afire for refusing to withdraw a sexual harassment case against the madrasa's principal, Siraj Ud Doula.
RUHUL'S LINKS
Although Ruhul denied his involvement in the incident, PBI officials yesterday said they found his links after analysing his call records.
Seeking anonymity, a PBI official told The Daily Star that they found Shahadat made two phone calls to Ruhul on April 6 right after Nusrat was set on fire.
"This clearly indicates that Ruhul knew everything about the crime," he added.
The law enforcers will also investigate if any illegal money was transacted to execute the murder, Molla Nazrul Islam, special superintendent of Organised Crime Division of Criminal Investigation Department, said yesterday.
DEMO CONTINUE
Students and teachers of different educational institutions in Feni yesterday took to the streets demanding immediate arrest of those involved in the murder.
The protestors also demanded necessary steps be taken for the speedy trial of the gruesome murder.
Over a hundred students of Feni GA Academy High School formed a human chain on Feni-Porshuram road around 10:00am. Holding banner and festoons, they chanted slogans demanding justice for Nusrat.
"JABED, MONI CONFESS TO CRIME"
Jabed and Moni, two Alim examinees, yesterday confessed that they directly took part in the murder, Mohammad Iqbal, special superintendent of police of PBI, told reporters.
The duo made the confessions after they had been produced before a senior judicial magistrate yesterday afternoon, he said.
On the day of the incident, Moni held Nusrat against the ground while Jabed sprayed kerosene on the victim, he said. Jabed was allegedly wearing a burqa at the time.
PBI Inspector Shah Alam said Moni was arrested on April 16 and placed on a five-day remand the next day. She allegedly supplied three burqas used in the killing mission.
Jabed was arrested on April 13. A Feni court placed him on a three-day remand on Friday.