4 'human traffickers' held in Dhaka, Kishoreganj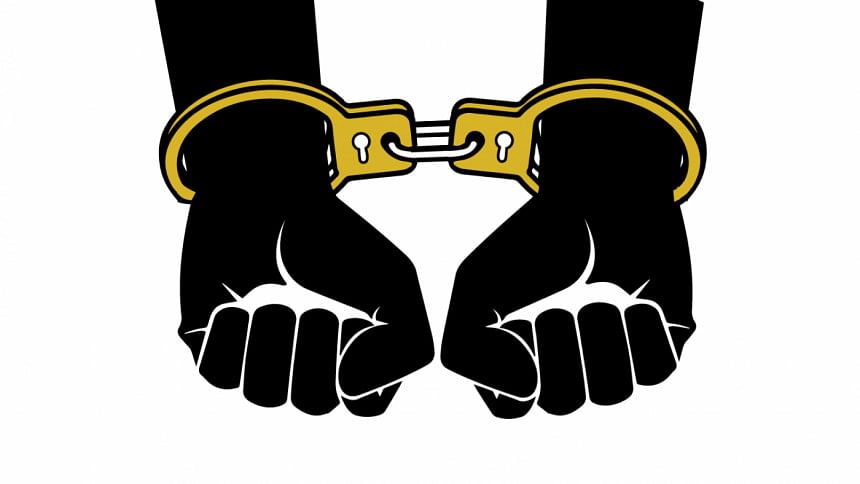 A team of Police Bureau of Investigation today claimed to have arrested four people in Bangladesh for their involvement with a trafficking ring and also rescued one person from Libya in this connection.
Taslim Uddin, 50, Mohammad Mofazzal Hossain, 48, Ayub Ali, 52 and Mohammad Arman Sarkar, 42, were arrested from Dhaka and Kishoreganj yesterday, Ahsan Habib Polash, special superintendent of PBI, said at a press conference at its Dhanmondi office.
The officials informed reporters that victim Saddam Hossain, 23, paid Tk 4 lakh to the trafficking syndicate and was sent to Libya on December 24 last year.
With the combined efforts of National Central Bureau of Police Headquarters, Bangladesh Embassy in Libya and the PBI, Saddam was rescued in Libya and brought back to Bangladesh on October 27.
'I was sold off 2-3 times'
A day after Saddam reached Libya, members of the syndicate that operates there took him to a camp in Tripoli, said Saddam who was also present at the press conference.
The traffickers seized his passport and also demanded money from Saddam's family in Netrakona of Bangladesh.
At the camp, Saddam saw 14 other Bangladeshis who were held hostage there by the gang, he said.
"In the time I was in Tripoli I was sold two to three times," he added.
He spoke of his torture by the syndicate ring which is run by nationals of Pakistan, Bangladesh and Libya.
They received around Tk 5 lakh from his family in the last 10 months.
The traffickers send people to Iraq and Libya promising them a better life and economic welfare, the police official told journalists.