Unskilled, trapped in foreign lands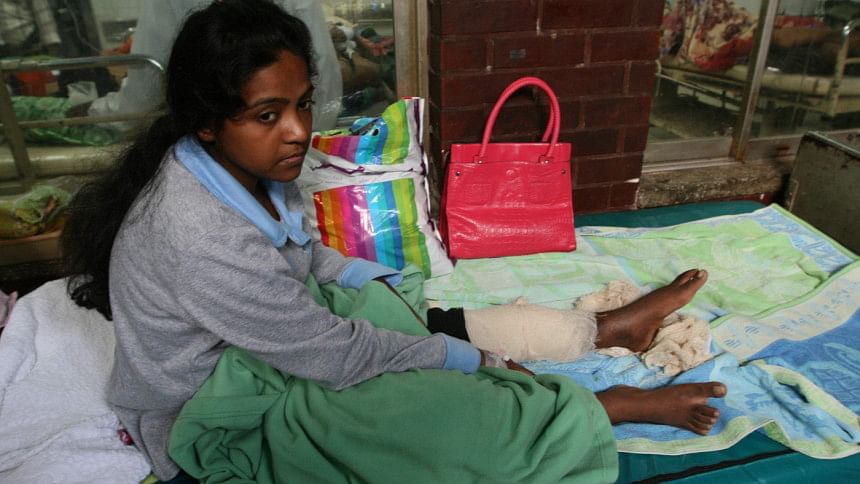 Alauddin Mollick, son of landless poor farmer Shahadat Mollick, had to drop out from school when he was in ninth grade due to abject poverty. The father had asked him to find a job and help him manage square meals for the family.
There were some odd jobs for him in the locality but he could not stick to those for long as he could not take home much money. To help out his family, he dreamt of migrating to find a foreign job.
Poverty, again, stood in the way of his dream: his father did not have the money required to send him abroad.
But on his son's insistence, the poor farmer borrowed Tk 350,000 (US$4,492) from an NGO and their relatives with the promise of repaying it once his son reached Malaysia.
With no practical skill, Alauddin went to Malaysia in 2012 and started working as a helper for a Malaysian construction firm. The wage? Only 550 ringgit ($154) per month for almost 14-hour work each working day.
The job was hard and risky but he, thinking about welfare of his family, was never concerned about the risk.
"My son was still very happy for finding a job in Malaysia. We were happy because it is very difficult to get a job in the country now-a-days," said Shahadat Mollick.
Since he did not have any practical skill, he did not have the option to change the job.
One evening in August last year, another migrant worker, who is also a neighbour of Shahadat, called him over mobile phone from Malaysia to inform that his son had an accident at his workplace and was critically injured.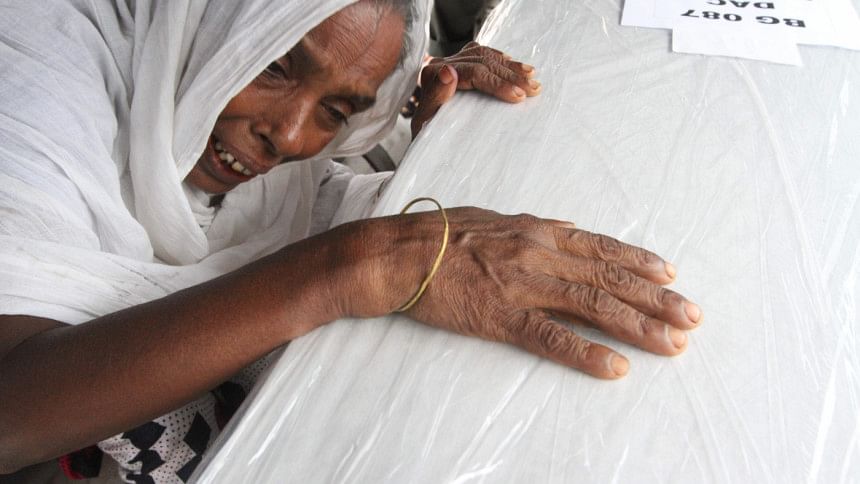 The Bangladesh High Commission in Kuala Lumpur later informed the family that Alauddin was killed in the accident.
"It shattered all our dreams. Everything ended with the tragic death of my son," Shahadat Mollick cried.
Every year, bodies of over 3,000 Bangladeshi migrants arrive from different countries. Almost one third of them die in workplace accidents.
Around 80 percent of the Bangladeshi migrants go abroad to do unskilled jobs, especially constructions and cleaning. Many of them have no minimum professional and educational skills. As a result, they do not have any alternative to doing odd and risky jobs as poor salary.
Over 7 million Bangladeshi migrants, mostly working in the Middle East countries, send $14 to $15 billion remittance yearly. The Bangladeshis are one of the cheapest labourers, neglected and deprived of basic rights.
On an average, a Bangladeshi in the Middle East countries gets $200 to $300 monthly. This is too little for a worker to buy his own food, clothes and medicines.
High migration costs
On average a migrant jobseeker has to spend minimum Tk 300,000 to 500,000 each to go to any country in the Middle East.
Private recruiting agencies are exploiting them at the nose of the concerned government bodies.
Majority of the Bangladeshi migrant workers are poor and have to gather the money by borrowing loans, selling lands or by other means. So when they do not get expected job or salary after reaching their destination countries, they face huge challenge to repay the loans. It takes them one to two years to earn the money they had to spend to go abroad.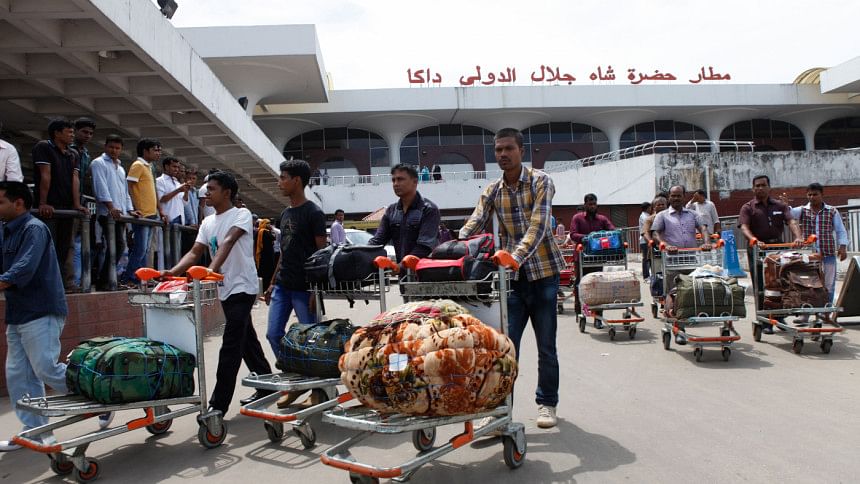 Abuse, infringement of rights
To prevent employees from switching jobs, many employers confiscate the migrant workers' passports. There are many cases of verbal and physical abuse and not paying salaries in due time.
Law enforcers in the destination countries also harass them for trivial reasons. Employees are detained and kept in prisons for months without any trial.
Meantime, 200,000 Bangladeshi female migrant workers are the worst victims of discriminations and injustices.
They get even less salary, not more than $150 to $200 each monthly. Their employers hardly allow them to go outside and talk to their families back in Bangladesh. Besides, the employers or the recruiting agencies' representatives also abuse them and beat them physically.
According to studies conducted by Refugee and Migratory Movements Research Unit (RMMRU) and Warbe Development Foundation in Dhaka and Cram Asia, the Bangladeshi workers remain neglected and deprived of minimal medical facilities abroad.
In most of the cases, the workers do not have any medical insurance, leaving the employers unaccountable for their health issue.
For working in unhygienic and risky conditions, many workers suffer from heart attacks, strokes etc.
When the migrant workers rush to Bangladesh missions for help, the missions fail to protect them.
Although the neighbouring countries have emergency services for their female migrants abroad, the Bangladesh government could not establish any such system yet.
*US$1 = 77.91 Bangladeshi taka 
*Coriright: The Daily Star/Asia News Network