Missing migrant boat rescued off Indonesia
Over 370 Bangladeshi migrants, Rohingyas rescued
Migrants filmed by the BBC last week drifting off the coast of Thailand have been found by fishermen off Indonesia's Aceh province.
The mainly Rohingya Muslims from Myanmar were on board a green and red fishing trawler.
The BBC's Jonathan Head had filmed the boat last Thursday when it was stranded in Thai waters with a broken engine.
They had been at sea for more than two months and were starving.
Meanwhile, hundreds of Bangladeshi and Rohingya migrants have been rescued by fishermen off the coast of Indonesia.
Local officials said more than 370 migrants, including at least 50 women and children, had been at sea for weeks and were starving and dehydrated.
The latest rescue comes as ministers from Thailand, Malaysia and Indonesia hold emergency talks in Kuala Lumpur on what is a growing humanitarian crisis.
None of the countries has said it is prepared to take in the migrants.
One of the rescued migrants, Ubaydul Haque, told the Associated Press they had been at sea for four months, that their engine was not working and that the captain had fled.
"We ran out of food, we wanted to enter Malaysia but we were not allowed."
The stand-off has left thousands of Bangladeshi economic migrants and Rohingya Muslims - fleeing persecution in Myanmar - stranded at sea. An unknown number have died and those still on boats are living in poor conditions with little food and water.
Myanmar, which the three countries say is the source of the crisis, is not attending the talks in Kuala Lumpur.
It denies being to blame, but the foreign ministry released a statement on Wednesday saying it "shares concerns" and "stands ready to provide humanitarian assistance to anyone who suffered in the sea".
'WEAK AND STARVING'
Local officials in Indonesia's East Aceh said 102 migrants - including 26 women and 31 children - were rescued from one drifting boat overnight by fishermen. Another 272 were brought to shore early on Wednesday.
"They were suffering dehydration, they are weak and starving," said Khairul Nove, head of search and rescue operations in Langsa city.
Another official, Sadikin, said the second boat was spotted drifting some 40 miles (65km) off shore by fishermen who "felt pity for them".
"We are giving first aid to these people, we are feeding them, giving them water and providing a comfortable place for them," he said.
'INTERNATIONAL ISSUE'
The BBC's Mariko Oi, who is at the talks in Kuala Lumpur, says there is mounting international pressure on countries in the region to help the migrants.
But it is difficult for them to find a simple solution, our correspondent adds, as none of them wants to open the floodgates to future waves of migration.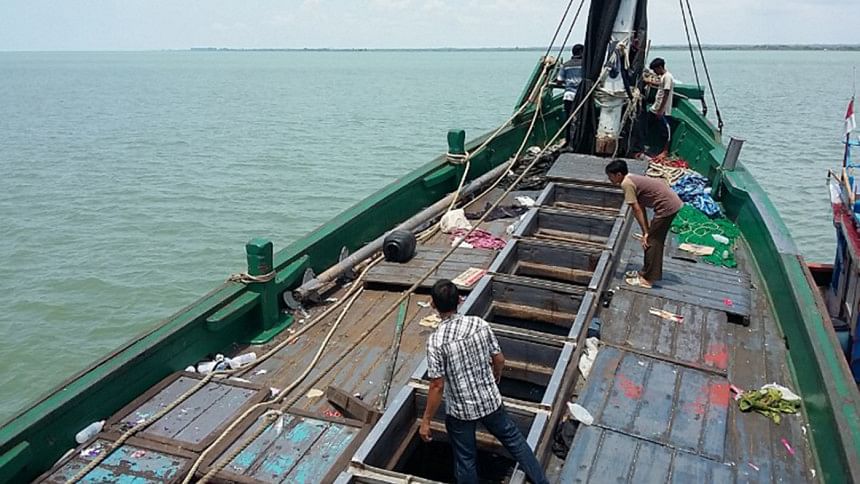 Malaysia has already hosted more than 45,000 Rohingyas over the years, according to the UN, but now says it cannot accept any more.
Thailand and Indonesia have said they will help migrants in distress at sea but cannot open their borders to more.
Indonesia's foreign minister said before leaving for Malaysia that "irregular migration" was "not a problem of one or two countries".
"It happens in other places as well, it is actually an international issue," said Retno Marsudi.
She said Indonesia had already done more than it was obliged to do under the Refugee Convention.
She urged more co-operation with the United Nations and other international organisations to resettle the thousands of migrants who have made it to shore by swimming or when they were rescued from sinking boats.
The United Nations refugee agency (UNHCR) has said a "comprehensive regional response" is needed and has called on the three countries to launch search and rescue operations and put in place procedures for assessing any refugee claims.