JUTE DAY TODAY: Reality vs labour law
An investigation in Khulna industrial area sheds light on the forgotten lives of workers
In the last few years, a lot has changed in the jute sector. Production is rising and along with it the export of jute and jute goods. State-run BJMC's loss is showing a downward trend. But the fate of over 5,700 retired jute employees is still up in the air, as their five-year wait for their retirement benefits continues.
Every time he extends his hands to seek alms, Sohrab Hossain, 63, looks embarrassed. Begging has never been his livelihood; it is now.
Sohrab, who spent 36 years toiling away at the state-run Platinum Jubilee Jute Mills in Khalishpur in Khulna, should not have needed to take up begging, a social problem that the government wants to eradicate from the country.
When he retired in March 2015 as a line sardar, a supervisor of about 40 workers, his retirement benefits totalled Tk 7,50,000 -- Tk 5,24,000 in gratuity and Tk 2,26,000 in provident fund (PF).
>Under the labour law, all his dues were to be cleared within 30 days. It was not.
About two and a half years ago, a stroke left him paraplegic, bound to a wheelchair which he paddles with his only working right hand around Chitrali Bazar as he goes about begging.  
"Who knew life would come to this? … I wish I could work again, but this won't let me," he said, pointing to his partially paralysed body.
On some days, he cannot even earn enough for his food. Physiotherapy and medicine costs are out of question. Unable to cope with the sudden poverty, his wife left him about six months ago.
'WHAT USE IS THE LAW?'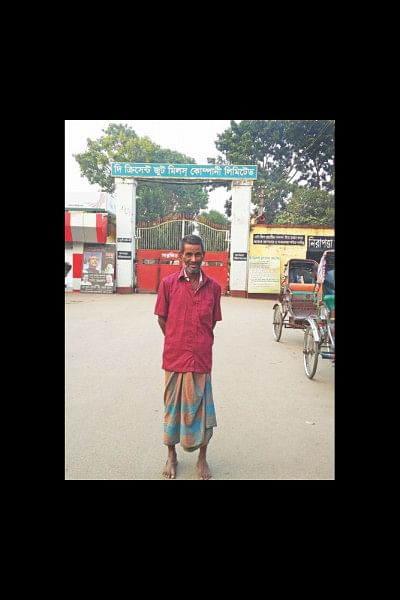 Sohrab is not the only one in a tight spot. Since July 2013, more than 5,700 employees of 25 jute and non-jute mills under the government-run Bangladesh Jute Mills Corporation (BJMC) across the country have retired or died.
Some of them, including Sohrab, managed to get parts of their benefits, allegedly by bribing labour leaders between Tk 20,000 and 30,000 for each lakh. But in most cases, the employees or their families received nothing.
Many died in the meantime. Data from all the mills were not available, but at least 99 have died after retirement from Khalishpur's Crescent Jute Mills alone since July 2013, documents show.
In some cases, the nominees (particularly the spouse) have also died. The authorities are considering closing their cases as "forgotten and forfeited" if no other legal heirs claim the money, workers and officials said.
"It's not us who made the law. We were supposed to be paid within 30 days. What use is the law then? Many of my colleagues died waiting for the money. What's the use of money if we don't get to see it while we are alive?" said Abdur Rahman, who retired from Platinum in 2014 after 42 years of service. He too is yet to receive the money.
TALES OF TRIBULATION
As of October 31 last year (latest data is not available), the 22 jute and three non-jute mills owe Tk 387 crore to workers and officials who retired or died during service since July 2013. Of the amount, Tk 290 crore is in gratuity and Tk 97 crore in PF, according to BJMC documents.
The sum is a tiny fraction of the current fiscal year's budget of Tk 400,266 crore and is only about one-thirtieth of the amount (about TK 11,000cr) that the government pumped into scam-hit state banks in bailout money over the last eight years.
For these people, however, this sum is a matter of life and death.
From November 22-26 last year, The Daily Star visited the Crescent and the Platinum jute mills and spoke to about 50 retired and current employees and their families. Their hardship is hard to quantify
Some take one meal a day; others, like Sohrab, live on people's generosity.  Many are bedridden with serious health conditions -- heart problem, paralysis, Parkinson's disease -- but cannot afford treatment. Families with daughters of marriageable age are worried about their future. School and college-going children have dropped out to support their families.
None of these circumstances are unheard of in Bangladesh, where one in every five persons (some 22 percent) lives under the poverty line. But the case of these 5,700 families is different: They all have money, hard-earned too, but their employers will not pay them.
"Take photos of his broken hand and leg. Show it to the government," said a frustrated Nur Jahan.
Her retired husband, Abdul Mojid, is now bedridden since he broke his right hand and leg in an accident last year.
REELING FROM LOSS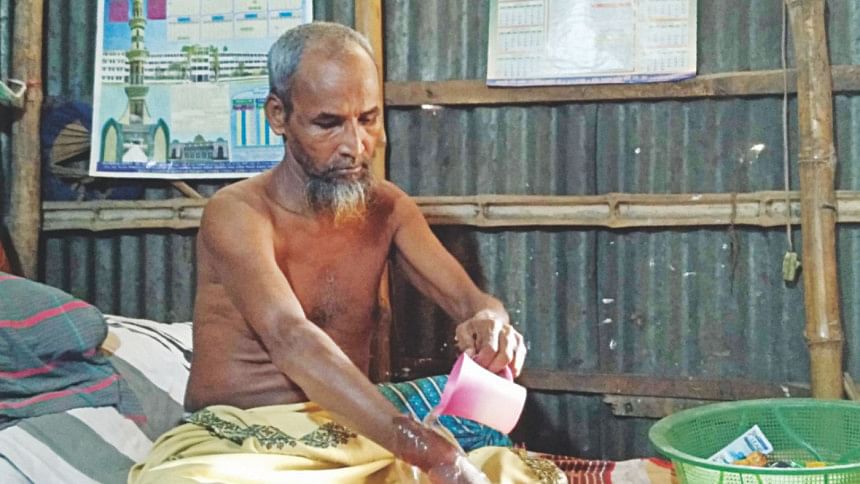 Technically, all the dues were to be cleared by the mills, which are autonomous commercial units. But each of them has been reeling from heavy losses for decades, largely due to high production cost.
In fiscal 2016-17, their total loss stood at Tk 482 crore. It was Tk 657 crore and Tk 727 crore in the two previous fiscal years.
Since independence, the BJMC only made money in four fiscal years -- 1979-80 (Tk 106.23 crore), 1980-81 (Tk 33.75 crore), 1982-83 (Tk 24.73 crore) and 2010-11 (Tk 17.53 crore), BJMC data show.
"The wages and staff salaries in our jute mills are nearly twice as much as those in private jute mills. Also, unlike private jute mills, we are supposed to pay retirement packages to our workers and other benefits such as yearly leave and free education for their children," BJMC Secretary Muhammad Salehuddin said.
"In addition, the production capacity of our mills, set up in the 1950s and 60s, has almost halved over the years. These are the main reasons why our mills incur losses."
CPD Research Director Khondaker Golam Moazzem, who has done extensive research on jute sector, partially agrees.
According to him, inefficiency, financial mismanagement and corruption involving jute purchase as well as repair and maintenance works are also responsible for the loss.
The financial condition has turned so bad that sometimes the mills cannot even pay wages and salaries of its 65,000-strong workforce for months on end.
Over the years, the authorities used the provident funds to meet day-to-day expenses such as salary and wages.
As of October last year, the mills spent Tk 442.2 crore from the PF Trust Fund. This explains why they could not pay the PF money, something Moazzem cited as a prime example of financial mismanagement.
'NO MEANS TO PAY'
In April 2016, jute workers in Khulna region took to the streets over unpaid wages and retirement benefits. One placard of the protesters summed up their desperation: Give us food, prime minister, or we will eat the constitution.
Following two weeks of street protest, Prime Minister Sheikh Hasina ordered the release of Tk 1,000 crore.
At the time, the BJMC cleared some of the dues, including the benefits of those who retired between 2009 and June 2013. Those who retired after June 2013 were not paid anything.
"It is our failure that we could not pay them…. Sometimes, I feel that I lost the moral authority to sit in this chair," said the BJMC secretary.
Cash-strapped, the BJMC, which operates under the jute ministry, is now seeking Tk 1,800 crore from the government -- Tk 800 crore to clear all its dues, including the retirement benefits, and Tk 1,000 crore in revolving capital to meet future costs, said BJMC General Manager (accounts and finance) Abdul Maleque.
Asked about the ministry's response, BJMC Chairman Mahmudul Hasan said, "We haven't got any specific assurance about when or how much money they [the govt] will give us…. We are not sitting idle."
What about the law regarding clearing the dues within 30 days?
"I don't disagree," he said, "But I have no means to pay. And the government knows it."
Contacted yesterday, Finance Secretary Muslim Chowdhury said they were yet to make any decision about BJMC's request for funds.
GONE ARE THE GOLDEN DAYS
In the 1950s and 1960s, when nylon and polythene were rarely used, export of jute and jute products was a key source of foreign currency earnings for the erstwhile Pakistan, thanks to the jute grown in East Pakistan, now Bangladesh.
In the Bangladesh territory, the industry took off in 1952 through the establishment of the Crescent and Khalishpur jute mills in Khulna. By the late 60s, a total of 67 jute mills were established, a testament to how profitable the business was.
After independence, all the jute mills were nationalised and brought under the BJMC, which was established on March 26, 1972, through a presidential order.
In the first four years of independence, more than 80 percent of the country's total foreign currency earnings came from jute and jute products, according to the BJMC's 2016-17 annual report.
However, the jute industry saw a gradual decline as the use of polythene and other synthetic materials took over the market as a substitute for jute, eventually forcing the Adamjee Jute Mills in Narayanganj, the largest in Bangladesh, to close in 2002.
But farmers in Bangladesh never stopped growing jute, a major cash crop for over three million farm households. It is the largest industry producing about a third of manufacturing output and the largest agro export commodity of Bangladesh.
Despite its current condition, jute often becomes the third foreign currency earner (public and private sector combined) after readymade garments and remittance.
Between 1980 and 2013, when all of these 5,700 plus employees toiled away at these 25 state-run mills, the mills earned Tk 21,138 crore from foreign trade alone, BJMC data show.
But when they retired, they were told they cannot be paid because there is no money.
"We have worked really hard for this country, but got nothing in return," said Moazzem Hossain, another paralysed worker who retired in 2016 after 38 years of service.
"We are not asking for any favour or more than what we are entitled to. If only they [the authorities] knew how we suffer!" he said, as he lay in his Platinum colony house, tears streaming down his face.