ONE YEAR OF GULSHAN ATTACK
Successful crackdowns, incomplete probes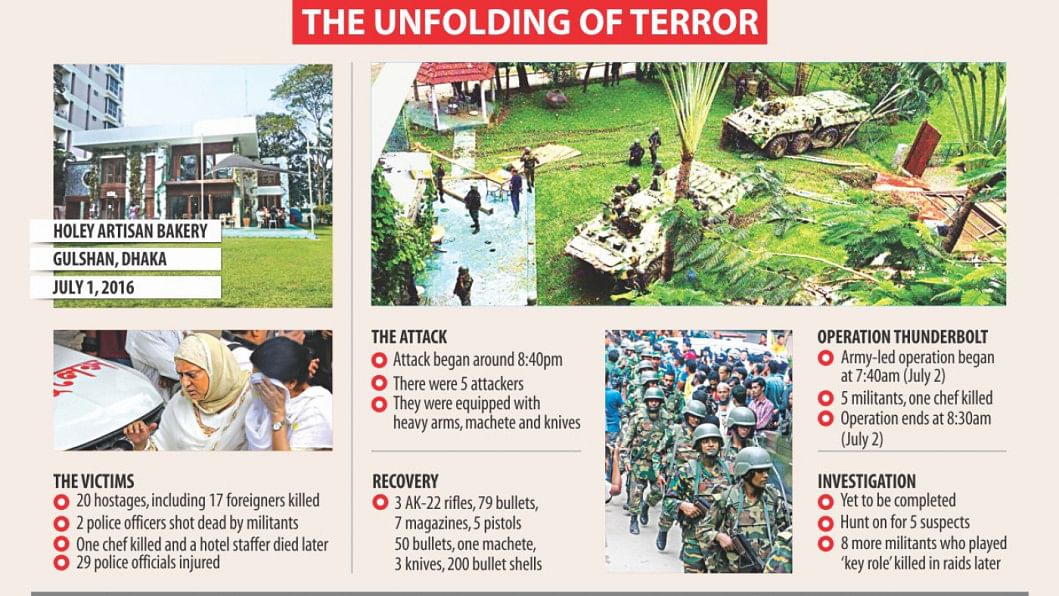 Though law enforcers could eliminate a number of militants through counterterrorism operations over the last one year, they are yet to complete probe into any of the incidents.
A massive crackdown on militant networks was launched following the deadly terror attack at Holey Artisan Bakery in the capital's Gulshan on July 1 last year. 
In at least 20 anti-terror drives since then, 67 militants either died in police shooting or blew themselves up by detonating suicide vests. Besides, 128 suspected militants were arrested.
Officials say the investigations could not be completed as identities of many of the dead are still unknown.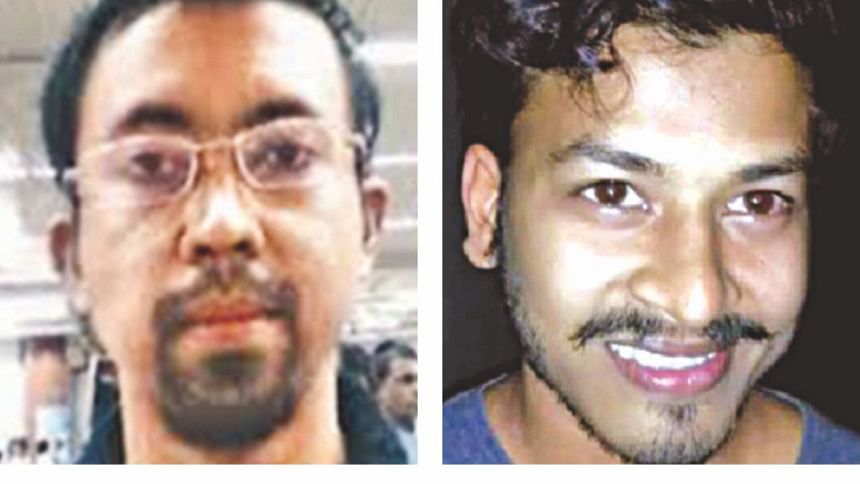 The unidentified militants include one of the nine killed in the Kalyanpur raid on July 26 last year and four out of the seven killed in Gazipur's Patartek on October 8 last year.
Two out of four killed in Chittagong's Sitakunda, two out of three in Moulvibazar's Borohat and all four in Sylhet's Shibbari in March this year also remain unidentified.
Investigators are still trying to know the identities of three out of four killed in Chapainawabganj in April 26. 
The Gulshan café probe also needs more time as some of the accused in the case were killed or arrested during those raids. Besides, some other accused are still at large.
"Investigations into some of the cases have progressed, but some are taking time because of delays in getting autopsy reports of militants and ascertaining their [militants'] identities," Monirul Islam, chief of Counter Terrorism and Transnational Crime (CTTC) unit of DMP, who is monitoring the investigations, said recently.
Mahmud Hassan, inspector (operation) of Joydebpur Police Station, who is investigating the Patartek case, echoed Monirul's views.
1 YEAR OF CAFÉ PROBE 
On July 1 last year, five armed militants stormed the upscale eatery in Gulshan diplomatic zone and murdered 20 hostages, including three Bangladeshis, seven Japanese, nine Italians and one Indian.
Two police officials were killed and 29 others injured when law enforcers in groups attempted to close in on. 
The standoff ended through a commando operation in which the five militants and a café chef got killed. Another Artisan staff died in police custody later.
Gulshan police filed a case under the Anti-Terrorism Act against the five gunmen and chef Saiful Chowkidar, 34.
The dead militants are Nibras Islam, 20, Rohan Imtiaz, 20, Meer Sabeh Mubasheer, 19, Khairul Islam Payel, 22, Shafiqul Islam Uzzal, 26.
Police are still investigating the role of Saiful. His family members repeatedly claimed he was innocent.
Law enforcers say "Neo JMB", an offshoot of Jama'atul Mujahideen Bangladesh (JMB), was behind the attack. Inspired by Islamic State, the group had been carrying out targeted killings since 2015.
Counterterrorism officials are now looking for five suspects who played vital roles in the café attack. "We would be able to wrap up our investigation after the arrest of at least three of them," Monirul said.
These five include Sohel Mahfuz, Mizanur Rahman alias Chhoto Mizan and Hasidur Rahman Sagor alias Joypurhat Sagor, who supplied grenade and firearms for the café attack.
Two others are "Neo JMB" fund collector Basharuzzaman Chocolate and organiser Rashed alias Rash.
The investigators have already found that the arms and explosives, hidden in fruit baskets, were smuggled into Bangladesh from India through Chapainawabganj and Jessore borders.
Monirul also said they need the autopsy reports of the victims and attackers to complete the probe.
So far, the investigators have received autopsy reports of 20 victims.
Sohel Mahmud, chief of forensic medicine at Dhaka Medical College, told The Daily Star on Wednesday that they were expecting to submit autopsy reports of the attackers by July 1.
KEY MILITANTS DEAD
Tamim Ahmed Chowdhury, chief coordinator of the café attack; Sarwar Jahan, top "Neo JMB" leader, and Major (retd) Jahid, chief trainer of the Holey Artisan gunmen, were killed in Narayanganj, Ashulia and Rupnagar raids.
Tanvir Kaderi, who rented a flat at Bashundhara for the attackers; Abdullah and Raihan Kabir alias Tareq, who also trained the militants, and Faridul Islam Akash, operational head of "Neo JMB" Dhaka division, died during drives in Azimpur, Kalyanpur and Gazipur.
Nurul Islam Marjan, one of the masterminds, was killed in "crossfire" in the capital's Mohammadpur area. 
Four people are behind bars in connection with the case. They are Jahangir Alam alias Rajib Gandhi, allegedly one of the planners; suspected arms supplier Mizanur Rahman alias Boro Mizan; Rakibul Hasan, a suspect arrested in the Kalyanpur raid, and Hasnat Karim, a former teacher of North South University (NSU).
All but Hasnat gave confessional statements, admitting their involvement in the Holey Artisan attack.
Asked about Hasant's role, Monirul said they will be able to make it clear after the investigation.
Hasnat and Tahmid Hasib, a Canadian university student, were arrested on August 3 after a video clip and some photographs published in the media showed them with the attackers at the rooftop of the restaurant.
Tahmid was released after cops found no evidence of his links to the Gulshan gunmen.
Monirul said, "Militants planned to do something big in Dhaka in April last year to draw the attention of national and international media."
They chose three operatives who knew the capital's streets quite well and two others from Bogra who would be able to commit brutalities until the end, the CTTC chief said. 
Then Major (retd) Jahid trained up the five in a char area in Gaibandha as the chief trainer.
On completion of their training, they were brought to Dhaka and kept at the Bashundhara flat.
The militants fixed Holey Artisan Bakery, a popular hangout for foreigners, as their target just four days before the attack. On the day of attack, the five came to the spot, first on rickshaw and then on foot.
During the attack, the militants used cell phones and iPads of victims and sent pictures and videos of their brutality to Tamim and Marjan, who were staying at a den in the capital's Shewrapara.
"We, however, could not find out where Tamim and Marjan sent those images," said Monirul, adding that they also could not know whether the attackers and planners had any international links as the key militants are all dead.
Global terror outfit Islamic State claimed responsibility for the attack through its Amaq news agency, according to the US-based SITE Intelligence Group.
Monirul said "Neo JMB" from its fund spent Tk 8 to 9 lakh for arms, dresses, explosives and other purposes during the café attack.