All-out efforts in tough times only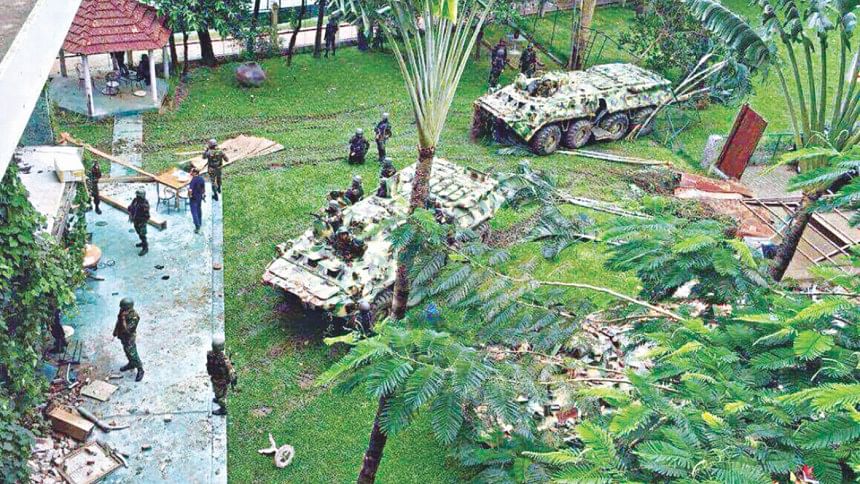 Socio-political campaigns against militancy get momentum after a major terror attack but fizzle out when the situation comes under control. Then a laid-back attitude prevails until terrorists regroup and strike again.
This has been the case in Bangladesh for the last one decade despite calls from local and foreign experts for relentless multi-pronged and long-term efforts to curb extremism.
Even after the country's bloodiest terror incident, the attack on Gulshan's Holey Artisan Bakery in 2016, experts say there is apparently no fundamental change in government's counterterrorism strategy.
Amid subversive activities by terror groups, particularly the banned Jama'atul Mujahideen Bangladesh (JMB), the government formed a high-powered body named "Committee for Resistance and Correction Militancy" in April 2009.
Its objective was to launch a countrywide massive awareness programmes by screening feature films and documentaries even in villages alongside running ad campaigns and holding discussions.
Under the initiative, imams of mosques were to deliver anti-militancy sermons after Jum'a prayers while UP chairmen and members would train in anti-militancy motivation programmes.
The plans were implemented to some extent. The move, coupled with mounted surveillance and raids by law enforcers, yielded results and militancy could be largely contained till 2011-12.
After that the campaigns faded away. The committee headed by the home boss even stopped holding meetings regularly, said a ministry official.
IT REARED UGLY HEAD AGAIN
As the authorities relax, a new breed of radicals grew in silence.
Bangladeshi-Canadian Tamim Ahmed Chowdhury, who was inspired by global terror organisation Islamic State, entered Bangladesh in October 2013 and held a meeting with a faction of JMB. He also looked for fresh blood and found some educated, tech-savvy youths from well-off families.
This was how a new radical group, the "Neo JMB" as police call it, emerged in 2014. The next year it would draw law enforcers' attention by carrying out deadly attacks one after another.
The group was behind the Gulshan café siege, which led to the killing of 20 hostages, including 17 foreigners, on July 1, 2016. Two police officers also lost their lives as they responded immediately.
Besides, five attackers and a restaurant staffer died during the Operation Thunderbolt that brought an end to the nerve-racking 12-hour hostage crisis at the posh eatery. 
Tamim, the chief coordinator of the attack, would get killed in a Narayanganj raid the next month. 
The Gulshan incident served as a wake-up call to the government and triggered a massive hunt for militants. Law enforcers succeeded in busting a number of militant dens through counterterrorism operations. 
Apart from using force, the government launched awareness campaigns and the home ministry held several meetings and conferences with leaders of all religious communities as part of anti-militancy campaigns.
But everyone apparently lost interest as soon as the situation improved. Interfaith meetings were supposed to be held in divisional and district headquarters on regular basis but that hardly happened in the last one year.
The counterterrorism efforts apart from drives are now largely confined to speeches of ministers and politicians and issuance of directives.
Awareness programmes are also supposed to be held at educational institutions but there is no monitoring for that. 
"We receive directives in letters from the government time to time asking us to take different anti-militancy initiatives and programmes. Nobody is there to oversee whether those are being implemented," said a management-level official of a private university, whishing anonymity. 
Our reporters visited seven mosques in the capital's Rayshaebbazar, Narinda, Wari, Dayaganj, Jatrabari, Farmgate and Mirpur areas on June 22 and found no imam delivering anti-militancy sermons.
 Shameem Mohammad Afzal, director general of Islamic Foundation, said Islamic clerics have discussed different issues including militancy in the light of the Holy Quran and Hadith in the national mosque Baitul Mukarram.
Imams from different mosques in the country took lessons from the clerics, but it is not mandatory for them to deliver sermons on militancy before or after khutba, he added.   
In the wake of continued attacks on religious minorities, foreigners, intellectuals and secular writers and just 11 days before the Holey Artisan attack, a section of religious scholars led by Bangladesh Jamiatul Ulema Parishad Chairman Maulana Fariduddin Masud issued a fatwa (religious edict) against militancy.
Prepared in the light of the Holy Quran and Hadith and signed by over 1 lakh clerics, the edict said Islam forbids terrorism and denounces killing of innocent people in the name of religion.
Regarding the use of fatwa, Masud said imams and Islamic scholars are supposed to deliver sermons based on the fatwa before or after prayers in mosque. Asked about the implementation, he said he has no information about it.
About the anti-militancy fatwa, Shameem Mohammad Afzal said the fatwa against militancy was solely initiated by Fariduddin Masud and he can say whether it was circulated in mosques.
Asked about socio-political campaign against terrorism, Sondip Kumar Singha, additional deputy commissioner of Sylhet, where two big dens were busted last year, said they are doing some routine work like sitting with law enforcers and imams.
But they are not holding any big-scale programme as it seems not necessary now, he added.
Our correspondents from Sylhet, Kushtia, Pabna, Chittagong and Khulna report that no noteworthy awareness campaigns took place in the districts in the last one year. Only a few community-based events were held by police and community police.
A senior official of Kushtia district administration said that in 2016-17, they used to screen six films as part of awareness programmes every month but this year it has become irregular as the threat of militancy has waned.
JAIL SHOULD BE IN FOCUS
De-radicalisation and rehabilitation of detained militants is another big issue in combating extremism, and the government is yet to do anything in this front.
Militants need proper education to understand that their path is wrong, counselling  to wipe out the hatred they harbour in mind, reconnection with their families and rehabilitation in society, international security expert Prof Rohan Gunaratna said at a programme in Dhaka last year.
A top counterterrorism official, wishing anonymity, said many militants are getting freed every year from prisons that have no de-radicalisation programmes.
A suspected top militant recruiter, currently on bail, said at a programme a few months ago that militants "discuss radical ideas in prison". 
Quoting her son, the mother of another terror suspect said at the programme, "New recruits are becoming more radicalised in prisons."
Monirul Islam, chief of Counter Terrorism and Transnational Crime (CTTC) unit of the DMP, thinks the major de-radicalisation initiatives should begin in jail. There also have to be psychological disengagement and motivation through proper religious education.
The family members need to remain in touch with the suspected militants and their profiles should be updated, he said.
A regular meeting has to be arranged between the accused and victim families so that the radicals realise the pain and loss of grieving persons and understand own faults, he said.
These are some major components of de-radicalisation but our jail code has no scope for these, Monirul said.
Since the Gulshan attack, law enforcers carried out at least 30 successful drives on militant dens where about 80 militants were killed and many arrested.
But counterterrorism officials, experts and researchers say the success did not guarantee that there would not be any attacks in future as militants could regroup and regain strength.
Security expert Air Commodore (retd) Ishfaq Ilahi Choudhury compares the current counterterrorism strategy with the acts of fire brigade, saying when fire breaks out, firefighters rush to the spot and douse the blaze. Then everyone forgets it.
THREAT STILL THERE
Another security expert Maj Gen (retd) ANM Moniruzzaman said, "The process of radicalisation is still on and the militant outfits are still active as we have no long-term national strategic approach to counter violent extremism."
The Police Headquarters recently alerted all its units to possible terror attacks after receiving such intelligence from an agency.
Its letters to the unit chiefs read there is evidence of communication between local militants with those who sneaked to Syria and its adjoining states.
A counterterrorism official said the strength of "Neo JMB" has weakened but those who are still eluding arrest may try to regroup through new recruitment cashing in on Rohingya crisis and the recent "success" of Islamic State in Afghanistan.
So there is no room for a complacent attitude towards the problem, he added.