"Still couldn't fill the vacuum left behind by their father"
Says wife of slain Banani OC Salahuddin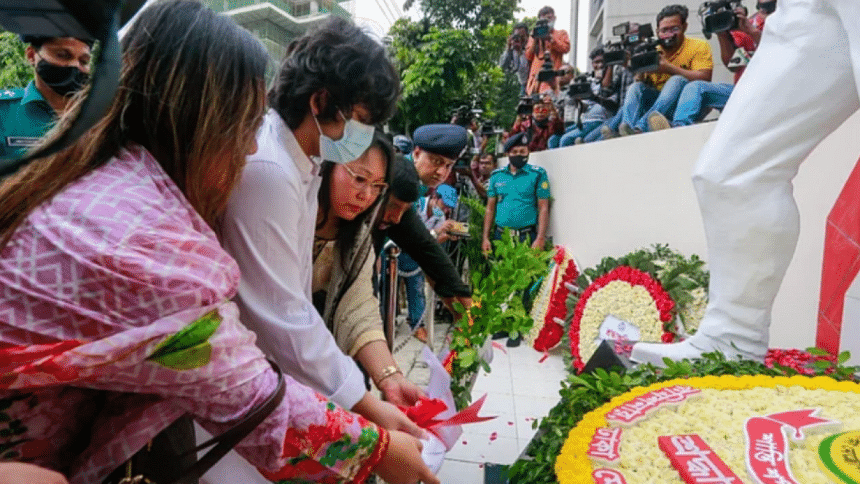 "Children miss their father every day," said the wife of officer-in-charge of Banani Police Station Salauddin, who was killed during the Holey Artisan attack this day in the capital six years ago.
Salahuddin's wife Remkim was talking to reporters today (July 1, 2022) when she and her son SM Ryan went to pay tribute to the Dipto Shopoth statue at Dhaka's Gulshan, built in memory of two police officers including Salauddin.
After paying respects, Remkim said, "It's not just that we miss him more on this day (July 1). From the day we lost him (Salauddin), we miss him every day, every moment."
Talking about her two children, Remkim said, "I have never witnessed a day when my children didn't miss their father. I don't know how the children are growing up in his (Salahuddin)'s absence ... despite trying a hundred times as a mother, I couldn't fill his vacuum."
Regarding the children's education, she further added, "When Salauddin died, our daughter was in seventh grade and son was in KG 2. Now, Samantha (daughter) is now studying at a university abroad. Ryan is studying in the sixth grade at a school in Dhaka."
Rabiul Karim, assistant commissioner of Dhaka Metropolitan Police's Detective Branch, was also killed in the operation on the day of Holey Artisan café attack.
US Ambassador to Bangladesh Peter Haas, Rapid Action Battalion Director General Chowdhury Abdullah Al Mamun, Dhaka Metropolitan Police Commissioner Md Shafiqul Islam and senior police officials also paid homage.
Two organisations of police officers -- Police Service Association and Police Officers Association -- also paid their tributes.