Kalyanpur Raid: One Year On
A 'turning point' in fight against terror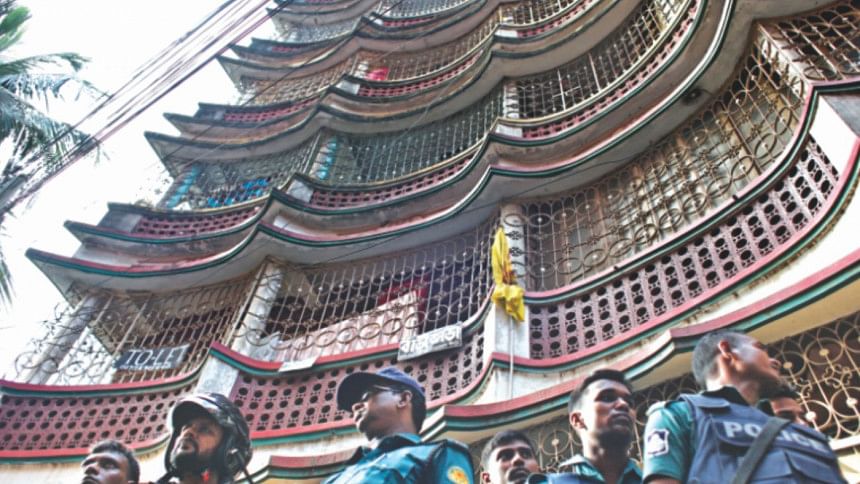 The operation "Storm 26" in the capital's Kalyanpur last year was a turning point for law enforcers as documents seized at a "Neo JMB" den there and information gathered subsequently helped law enforcers fight back against the country's rising terror network, counterterrorism officials said.
If not for the July 26 operation in which nine militants were killed, police could not have prevented some further terror attacks. They also won back public trust that eroded following the Gulshan café attack earlier that month.
"It was the operation through which we fought back against militancy and it was a turning point for us," DMP's Counter Terrorism and Transnational Crime (CTTC) unit chief Monirul Islam said yesterday at a press conference marking one year of "Storm 26".
Following the Holey Artisan Bakery siege in Gulshan on July 1 last year and the murder of 20 hostages including 17 foreigners at the upscale eatery, there was information that militants would carry out some more massive attacks in three to four places. 
Foreign nationals in Dhaka and Narayanganj were mainly on their target list, he said, adding a house was rented in Narayanganj to carry out the attacks.
"The Kalyanpur operation was very important. After the Gulshan attack, the nation got into an embarrassing situation and fear gripped the people and foreigners," Monirul said, adding that through the successful operation, they could prove their capabilities.
The counterterrorism unit, formed in February 2016, gained new experiences from the operation and the confidence of its personnel also rose sharply following the success, the CTTC told The Daily Star.
During a block raid in the neighbourhood, police stumbled across the militant den on the fourth floor of a house named Taj Manzil, locally known as Jahaz Building.
Police say those killed in the operation include five suicide squad members from "Neo JMB". They also captured Rakibul Hasan Reagan alive after he jumped from the building with another militant named Iqbal, who managed to flee and is still on the run.
Reagan divulged crucial information about the "Neo JMB" leadership, its key members and their targets, CTTC officials said.
Eight of the dead were later identified as Abdullah, Abu Hakim Nayeem, Taj-ul-Haque Rashiq, Atiquzzaman Khan and Shazad Rouf Arko, Motiar Rahman, Jubayer Hossain and Raihan Kabir alias Tareq. One still remains unidentified.
Of them, Abdullah, Rashiq, Atiquzzaman, Arko and Tareq were the suicide squad members, according to CTTC sources. 
After the Kalyanpur drive, police filed a case with Mirpur Model Police Station under Anti-Terrorism Act accusing Reagan, Iqbal, Tamim Chowdhury, Ripon, Khalid, Mamun, Manik, Junaid Khan, Badal, Azadul alias Kabiraj.
The accused frequented the Kalyanpur den and supplied explosives, firearms and ammunition to militants. They also advised and trained the radicals, according to the case statement.
Seven of the accused are on the run while two others were killed in anti-militancy raids. Tamim was killed in raid on a Narayanganj den on August 27 last year, while Sarwar Jahan jumped to death while trying to flee during a Rab raid in Ashulia on October 8 last year.
Apart from the accused, four leaders of the Jama'atul Mujahideen Bangladesh faction, "Neo JMB" as officials call it, have been shown arrested in the case.
They are Salahuddin Kamran, a close aide to chief "Neo JMB" coordinator Tamim; Engineer Abdur Rauf Prodhan, a senior organiser of the outfit; its spiritual leader Abul Kashem alias Boro Huzur, and Ahmed Azwad Imtiaz Talukder alias Omi, a young organiser.
Kamran and Rauf have given confessional statements under section 164.
CTTC chief Monirul said detained terror kingpin Sohel Mahfuz, an explosives expert and the bomb supplier for last year's Gulshan café attack, has been shown arrested in the Kalyanpur case.
He was placed on a three-day remand for interrogation about his links to the Kalyanpur militants. 
"We have almost completed the investigation but we still need time to submit charge sheet as we have to arrest seven fugitive accused or get details about them," CTTC Additional Deputy Commissioner Abdul Mannan, who is coordinating the investigation, told this newspaper on Monday.
He said they have already received the autopsy reports of the dead militants recently. Sources said the nine militants died in shooting.