Holey Artisan Case: Khaled sent Tk 39 lakh to fund attack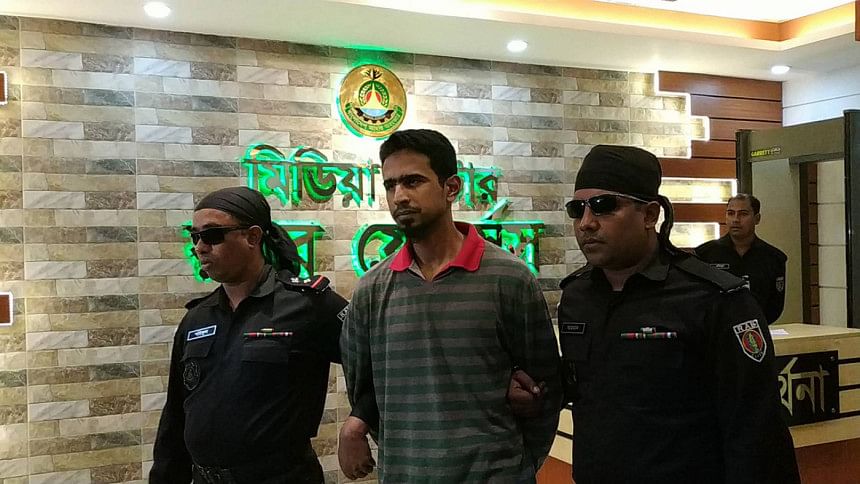 Shariful Islam alias Khaled, the last charge-sheeted accused arrested in the Holey Artisan Bakery case, sent Tk 39 lakh to JMB leader Sarwar Jahan to fund the café attack, Rab officials said.
Khaled along with Mamunur Rashid alias Ripon had gone into hiding two months before the attack on July 1, 2016. He sent the money from hiding.
The Rapid Action Battalion came up with the information yesterday, after arresting Khaled from Nachole upazila in Chapainawabganj on Friday afternoon.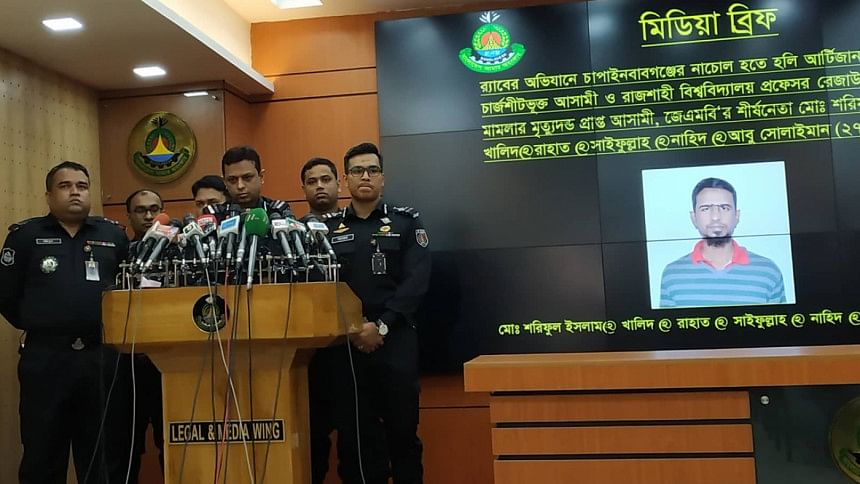 "The money came from the Middle East," Mufti Mahmud Khan, director (legal and media) of Rab, said at a press briefing at the Rab Media Centre in Dhaka.
Where the duo had been hiding and how they had collected the money would be known after interrogating Khaled further, he added.  
A Dhaka court yesterday placed Khaled on a six-day remand in a case filed with Mugda Police Station under the Anti-Terrorism Act.
Police earlier said Khaled and Ripon went to India in April 2016, just two months before 20 hostages, 17 of them foreigners, and police officers were killed during a terror siege at the Holey Artisan Bakery, a posh café in Gulshan. 
According to Rab, Khaled came back from hiding in October 2017 and was trying to reunite militants again.
With him, all the eight charge-sheeted accused in the café attack case have now been arrested. The Rab caught fugitive Ripon from Gazipur on January 20.
Khaled also led the killing of Prof Rezaul Karim, a teacher of RU English department, on April 23, 2016, Rab says.
A Rajshahi court sentenced Khaled and another JMB militant Maskawath Hasan Sakib alias Abdullah to death and three others -- Rahmatullah, Abdus Sattar and Ripon -- to life imprisonment over the Rezaul killing in May last year.
Khaled, himself a student of the RU English department, went into hiding after coordinating the killing of his teacher, said Mufti Mahmud.
Asked why he led the killing of his teacher, the Rab official said, "The murder was part of JMB's plan and there was no personal grudge." 
The responsibility for the murder was reportedly claimed by the Islamic State.
Hailing from Bagmara of Rajshahi, Khaled was a talented student and got scholarship in class V and class VIII, said his father Abdul Hakim, a teacher of Bagmara Pilot High School.
But he dropped out when he was a third-year student at Rajshahi University in 2013 and became involved with the militant group, according to Rab.
Khaled last contacted his father in May 2015. "I called him on May 23 in 2015 and since then his phone has been switched off," said Abdul Hakim.
The father also said they used to have normal conversations before Khaled went missing and he didn't see any change in his son back then.
"I wanted him to be a civil service officer," Hakim said, adding that he never thought that his son would end up this way.
"If he's involved in such crimes, he should be punished."
Initially inspired by Islamic State, Khaled was motivated by one of his seniors at the RU named Ahsan Habib Shovon. First they started spreading extremist ideologies in educational institutions based in Rajshahi and Chapainawabganj, the Rab official said.
Not engaging in the "madrasa-trend of militancy", they mainly targeted educated people and became active online.
Later, Shovon introduced Khaled to top JMB leader Tamim Chowdhury in his mess at Saheb Bazar of Rajshahi. Tamim used to stay in the mess whenever he visited Rajshahi.
Rab claimed that Khaled started communicating with extremists of different tiers in the country in 2013 and the next year, he worked to unite the different militant groups.
In 2015, they held an important meeting at Mamunur Rashed Ripon's house in Bogura, joined by Sarwar, Tamim, Saddam, Marzan and Sakib.
Many important decisions were taken there and Khaled was also part of it. He was included in the media team of JMB.
Khaled also took part in a meeting of top JMB leaders in Gaibandha in February 2016. Later that year, he also joined different meetings in Dhaka.
Six others charge-sheeted accused in the Holey Artisan case, who were arrested earlier, are Jahangir Alam alias Rajib Gandhi, recruiter of the café attackers; Rashed alias Rash, one of the planners; Sohel Mahfuz, grenade supplier; arms suppliers Mizanur Rahman alias Boro Mizan and Rakibul Islam, a so-called religious trainer, and Hadisur Rahman Sagar.
Besides, 13 others, including café attack mastermind Tamim Ahmed Chowdhury and top JMB leader Sarwar Jahan Manik were killed in different anti-militancy drives. Their names were not mentioned in the charge sheet as they were dead.