Dhaka was always her home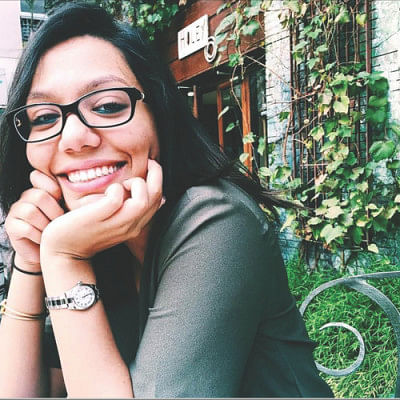 A large Bangladesh flag and a pennant emblazoned with the word "Dhaka" hung on the wall of her dorm at Emory University in Atlanta, USA.
Born in Bangladesh, Abinta Kabir, who was a dual passport holder of Bangladesh and the United States, grew up with a strong sense of belonging to her motherland. 
It was that sense of belonging which brought her back to the country of her birth during her summer break. 
Abinta was growing up to become somebody the nation could be proud of, completing her freshman year with excellent grades. 
But a group of fanatics cut her life short.
Abinta, 19, was at Holey Artisan Bakery meeting her friends, Tarishi Jain and Faraaz Ayaaz Hossain, on the dark July 1st day of 2016, when all three were killed by a group of terrorists. 
"To Abinta, Bangladesh was always home. She had a steadfast sense of responsibility to the country she was born in, the country where she lived a significant portion of her life," her bio at the Abinta Foundation's website reads.
Abinta was a victim in the worst-ever hostage crisis in the country.
After around two years of investigation, police on July 23 last year pressed charges against eight of the 21 militants who were involved with the terror incident. Thirteen of the 21 were killed in different drives.
A tribunal in Dhaka will deliver the verdict in the case today, less than a year after the trial began. 
Against the horrific backdrop of what happened, Abinta's patriotism still manages to stand out as a bright spot. 
She had grown up to be an exceptional person. Through her eyes, she sought out the best for her country and all those she loved. She was a peacemaker among friends and family. It was evident that she practiced a principle of strong character and faith in Islam, said her bio.
Abinta was born in Dhaka in February 1997 to Ruba Ahmed and Md Ehsanul Kabir. An only child, she was nurtured in an atmosphere of love and care, and brought up with a strong, unwavering sense of morals. "My parents are the main authors of my story," Abinta once wrote.
Abinta Kabir Foundation, was launched in 2017 to help under-privileged children get education. It was the best way to remember the woman for the values she stood for.