No Qaeda, IS links found
Charges pressed against 8 in Holey Artisan attack case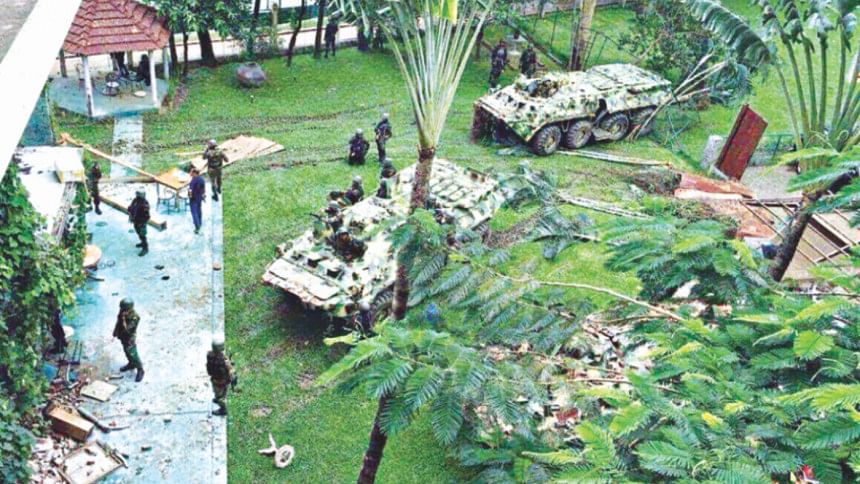 Police yesterday pressed charges against eight of the 21 militants who they say wanted to destabilise Bangladesh by initiating the country's worst-ever terror incident over two years ago.
A faction of local outfit JMB carried out the attack at Holey Artisan Bakery in Gulshan in 2016, and involvement of global terror organisations like Islamic State or al-Qaeda was not found, said a top counterterrorism official hours before submission of the charge sheet.
"Though the terrorist attack took place on July 1, 2016, they [militants] had started preparing for it five to six month back," said Monirul Islam, chief of Counter Terrorism and Transnational Crime (CTTC) unit of DMP, in a briefing. 
The militants recced several places and finally selected the Holey Artisan as it had no internal security arrangements and they found it easy to escape, he added.  
Another reason for choosing the café was that a large number of foreigners would be found at the posh and popular eatery, located in Gulshan's diplomatic zone.
The militants thought if they could kill a big number of foreigners, they would be under local and international spotlight, alongside drawing attention of global terrorist groups, said the CTTC chief.
Seventeen foreigners were among the 20 hostages massacred in the café attack -- nine Italians, seven Japanese, one Indian. Two police officers also lost their lives as they responded immediately.
The militants shot and hacked all the victims, except for a Japanese national, within 20 to 25 minutes of their entry. The Japanese, who hid inside a refrigerator, was killed later on, Monirul said.
The slain hostages also include two Bangladeshis and a Bangladesh-born US citizen.
Five of the 21 militants were killed inside the bakery in a commando operation launched to end the siege while eight others, including mastermind Tamim Ahmed Chowdhury, were killed later in different pre-emptive anti-militancy drives.
Among the eight charge-sheeted accused, six are now in jail. They are Jahangir Alam alias Rajib Gandhi, recruiter of the café attackers; Rashed alias Rash, one of the planners; Sohel Mahfuz, grenade supplier; arms suppliers Mizanur Rahman alias Boro Mizan and Hadisur Rahman Sagor, and Rakibul Islam, so-called religious trainer.
The other two -- Shahriful Islam Khaled and Mamunur Rashid Ripon -- are fugitives and have fled the country, police say. Investigation Officer of the case, Inspector Humayun Kabir of CTTC unit, pleaded with the court to issue arrest warrant against them and order attachment of their property.
The five gunmen, who held the diners hostage and got killed, are Nibrash Islam, Mir Sabeh Mubashir and Rohan Imtiaz, Khairul Islam Payel and Shafiqul Islam Uzzal.
The eight killed in other operations are Tamim Chowdhury; Sarwar Jahan, a top operative of mainstream JMB and financier; Nurul Islam Marzan, a Chittagong University student and café attack coordinator; Jahidul Islam, a retired major and trainer, Basharuzzaman Chocolate, a software engineer; Abu Raihan Tarik, a top operative, Tanvir Kaderi, a banker and financier; and Mizanur Rahman alias Chhoto Mizan, grenade supplier.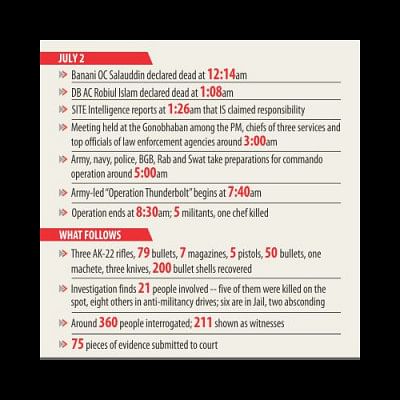 HASNAT NOT IN CHARGE SHEET
The investigators, however, didn't name former private university teacher Hasnat Reza Karim in the charge sheet as they found no evidence against him after analysing accounts from witnesses and arrested militants.
Hasnat, who along with his family members went to the café to have his daughter's birthday dinner, was arrested on August 3, 2016 and later made an accused in the case. He has been in custody since then.
To get released, he has to wait until the court accepts the charge sheet in the next hearing or to seek bail beforehand.
During the siege, the attackers allowed him to leave the café with other hostages before the commandos stormed it.
Later, two photographs of Hasnat and another hostage, Canadian university student Tahmid Hasib Khan, surfaced on August 7, 2016. In the photos, the two appeared to be talking with one of the gunmen, Rohan.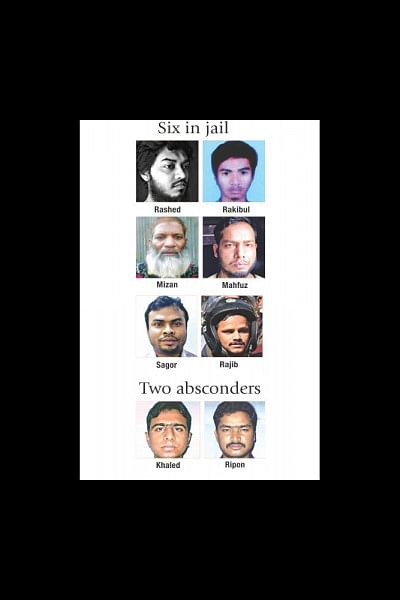 On April 16 last year, a Dhaka court acquitted Tahmid of the charges and he was freed.
"I am waiting for my husband," Hasnat's wife Sharmina Parvin told The Daily Star yesterday.
Asked about the ordeal she has undergone since the café attack, Sharmina said, "What's the point in talking about it now?"
Metropolitan Magistrate Nurunnahar Yasmin received the 68-page charge sheet along with other relevant documents and evidence at 4:00pm yesterday.
The IO appealed to the court to relieve Hasnat of the charges and drop the names of 13 militants killed in different raids although charges against them were proved.
Police also didn't find involvement of Saiful Chowkidar, 34, a pizza chef, and Zakir Hossain Shaon, 19, a kitchen help, previously named as suspects.
Saiful died during the commando operation launched on the morning of July 2. Shaon, under police custody, died of wounds at Dhaka Medical College Hospital on July 8, 2016 after being detained by the law enforcers.
Hospital and morgue sources had said he suffered splinter wounds and there were "marks of beating" on his body.
Talking to The Daily Star yesterday, Shaon's father Abdus Sattar said they had been demanding justice for his son since he was killed in custody.
"But we have been deprived…" Sattar said, adding that Shaon was his eldest son and an earning member of the family. But they didn't get any compensation for the loss.
Saiful's sister Moina Begum said people refuse to believe that Saiful was not a militant. "They ask me if he were not a militant, why police didn't hand over his body to us," she said in tears.
"Now it is a matter of consolation that we can at least say he is innocent."
At the briefing, asked if the death of the two were "collateral damage", Monirul said the investigators could not ascertain how they were killed -- being attackers or being victims. Because all the attackers and victims were killed at the bakery, he added.
The CTTC boss said they didn't find any previous links of Saiful and Shaon with the attackers.
In the charge sheet, 211 persons were made witnesses, and 149 of them witnessed the attack or had information about it.
Besides, the court recorded statements of 17 survivors who were inside the eatery during the attack. Police produced 75 pieces of evidence before the court. 
OBJECTIVES & STRATEGY
Monirul said apart from destabilising the country and turning it into a state controlled by terrorists, the militants wanted to put the government under pressure, make the investors and foreign consultants leave the country and destroy the economy.
They thought failing to arrest the real attackers, the government would harass common people in the name of anti-militancy drives, paving their way for more terrorist recruitments.
Another objective of the militants was to draw the attention of global terrorist organisations to get technological and financial support and firearms from them.
Three of the attackers were chosen from Dhaka while two from rural areas. After training at a Gaibandha char, they were sent for different experience-gathering missions.
After analysing forensic reports of seized devices of militants and statements of arrestees, the investigators found the JMB faction, known as "Neo JMB", was not linked to international terrorist groups like Islamic State or al-Qaeda.