JMB 'plan for prison van attack' foiled
The militants wanted to snatch Gulshan attack accused, says Rab; fugitive accused arrested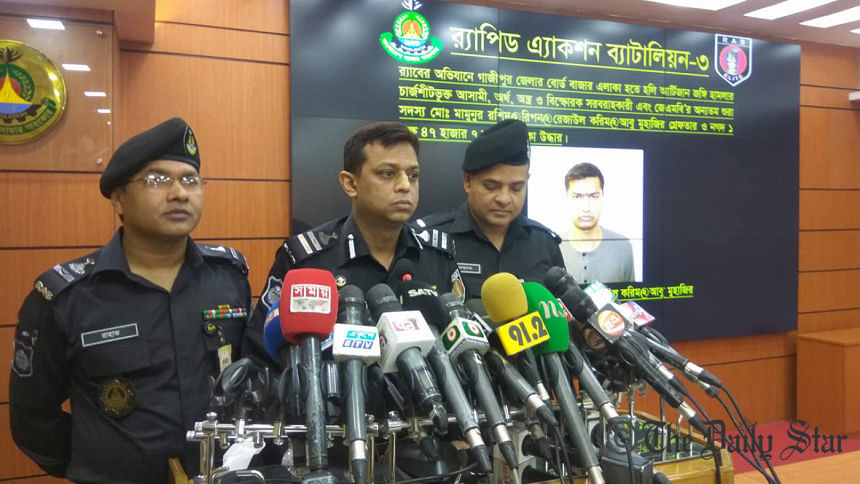 Banned militant outfit Jama'atul Mujahideen Bangladesh (JMB) was planning a Trishal-like prison van ambush to snatch the inmates accused in the Gulshan café attack case.
Rab made the claim hours after the arrest of Mamunur Rashid alias Ripon, 30, one of the two fugitives accused in the café attack. Mamunur was arrested from Gazipur district on Saturday night. Four sketches of maps, a diary and Tk 1.47 lakh were also recovered from his possession, law enforcers claimed.
"As the hearing of the Holey Artisan case is on-going, the accused are being taken to courts from different jails. They [JMB] had a plan to free the accused in a way similar to the Trishal Prison van ambush," said Mufti Mahmud Khan, Rab's legal and media wing director, at a press conference in the Rab media centre yesterday. 
In March 2015, an armed gang of around 10-15 men ambushed a prison van and snatched away three convicted JMB militants -- two of them on death row -- in Trishal upazila of Mymensingh in a well-orchestrated plan. The incident left a police constable dead.
Khan said Ripon had returned to Bangladesh from a neighbouring country in early 2018 and planned the ambush to encourage like-minded people to reorganise the outfit, he said.
He was the nephew of Abdul Awal, who was executed, along with his father-in-law, the then JMB chief Shaikh Abdur Rahman in 2007.
Ripon, with another JMB leader Shariful Islam Khaled, were on the run when Counter Terrorism and Transnational Crime unit of the Dhaka Metropolitan Police submitted a charge sheet on the café attack case on July 23 last year, accusing eight JMB militants. 
Six of the accused in jail are -- Jahangir Alam alias Rajib Gandhi, recruiter of the café attackers; Rashed alias Rash, one of the planners; Sohel Mahfuz, grenade supplier; arms suppliers Mizanur Rahman alias Boro Mizan, Rakibul Islam, a so-called religious trainer and Hadisur Rahman Sagor.
Thirteen others, including café attack mastermind Tamim Ahmed Chowdhury and top JMB leader Sarwar Jahan Manik, found involved in the attack were killed in different anti-militancy drives. Their names were not mentioned in the charge sheet as they were dead.
Rab officials said Ripon and some others went to India in April 2016, just three months before the café attack that left 20 hostages and two police officials killed on July 1, 2016.
He supplied Tk 39 lakh to Sarwar and also provided three Ak-22 rifles, pistols and grenades just before the attack.
Besides, Ripon, an inhabitant of Nandigram upazila in Bogura, coordinated a number of militant attacks and secret killings in the northern part of the country, Mufti Mahmud said.
He was at a meeting with top JMB leaders in February in Gaibandha where the café attack was planned.
According to Rab, Ripon was brought into militancy by once JMB self-claimed Ameer Dr Nazrul Islam when Ripon was working at a computer shop in Bogura in 2013.
Initially, his responsibility was fund collection. He gave Tk 8 lakh to Nazrul in 2013, collecting the amount by mugging three persons, Khan added.
"He then became Nazrul's second-in-command." Nazrul gave him the alias "Ripon".  
In 2015, he was nominated as a "Sura member" of the outfit during a meeting in which Tamim and Sarwar participated.  
"He was tasked with providing training, collecting fund and supplying firearms."
He shifted to a Madrasa education after studying in a local school till the third grade. He completed his Dawrae Hadith from a Madrasa in Chapainawabganj.
Yesterday, Rab produced him before a Dhaka Court in a case filed with Sabujbagh Police Station under the Anti-Terrorism Act, seeking a 10-day remand. The court granted a five-day remand.