A family forced into never-ending distress
Elder brother disappears; then his son and cousin falsely implicated by Rab-4; again younger brother held by same unit in case dismissed 3 years back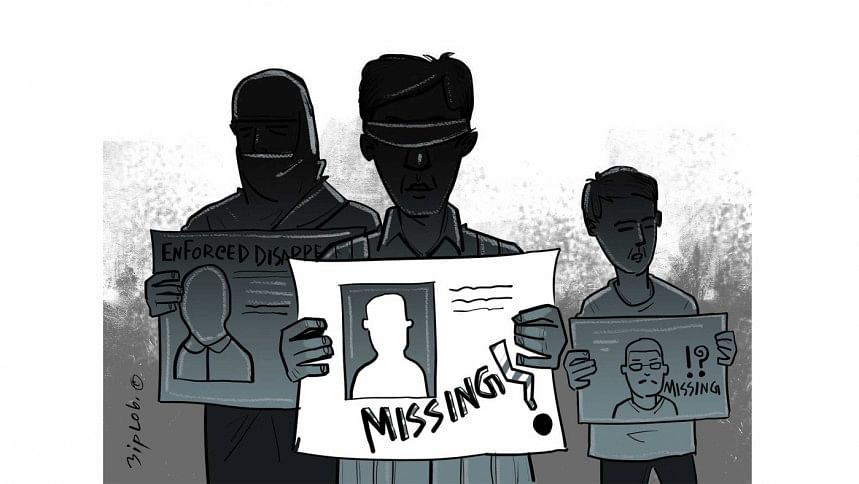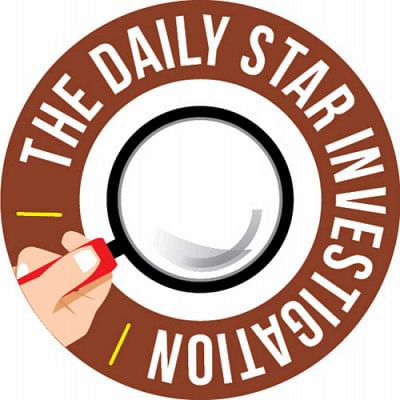 Four years ago, some plainclothesmen picked up Mohon Mia from his Mirpur house. He has never returned home again. His father Jamsher Ali, a trader, has long insisted he has proof that Rab-4 members took his elder son away without giving any reason.
Mohon is one of the enforced disappearance victims listed by the United Nations, whose working group last year requested the government for information about at least 76 cases.
Fast forward to April 10 this year. Jamsher's younger son Raju Ahmed, 40, was allegedly taken away by Rab-4 members, some in plainclothes, from the same Mirpur-2 house late at night, barely two weeks after he flew home from Malaysia, where he worked for four years.
They claimed they had a warrant for his arrest in a narcotics case filed eight years ago. Rab handed him over to Mirpur police the next day.
The whole arrest episode fell apart after Raju was produced before the court. Court officials found that the case, filed with Shah Ali Police Station over smoking cannabis, was dismissed in 2019.
Just a month before picking up Raju, this Rab unit had included the names of Mohon's 15-year-old son and 17-year-old cousin in an extortion case.
Filed on March 10, the case falsely accuses the two and six others -- all school and college students -- of beating a local man and extorting money from him. The Daily Star ran a report on this last month.
Contacted on August 1, Rab-4 officials said they came to know about the extortion case from the report published on July 25, and that they will open an investigation.
"All allegations will be investigated. We will take action based on our findings," said Rab-4 Commanding Officer Mozammel Haque.
Contacted earlier to know their versions for the July 25 report, Rab-4 officials refuted this newspaper's findings that they framed some innocent teenagers.
A FAMILY IN DISTRESS
Describing the April 10 arrest incident, Raju said the Rab members went to their house around 11:30pm in a microbus, a car and two motorbikes. Seven to eight men in plainclothes first entered the house with several others waiting outside.
They introduced themselves as Rab men and asked him to go with them in connection with a narcotics case filed eight years back. 
The family, still in shock over the disappearance of Mohon four years ago, thought the men, who were in plainclothes, were bluffing. Jamsher even told them that some Rab members picked up his elder son in a similar fashion.
About half an hour later, some Rab members in uniform went there and insisted that Raju go with them.
The family members wanted to see the warrant, but the officers did not show it. At one point, they "grabbed Raju by his collar" and forced him onto a vehicle.
"Inside the vehicle, they slapped me thrice," Raju said, adding that his mother and wife followed the vehicles and saw them enter the Rab-4 office.
In the courtroom, court officials said the case was summarily dismissed in January 2019 as there was no witness, he said.
"My brother went missing three months after I flew to Malaysia. Then I myself was about to become a victim of enforced disappearance," Raju told this newspaper.
Mohon was picked up in front of a crowd on the night of June 10, 2018, and three CCTV cameras captured parts of the incident.
One clip seen by The Daily Star shows five to six men in civilian clothes near the house in Mirpur 2. Two others came on a motorcycle, forced Mohon to sit between them and sped away.
About 10 days later, a man named Hafizur Rahman, claiming to be a Rab-4 member, went to Jamsher's house and told him that Mohon was in the Rab custody. The desperate father gave Hafizur some money and medicines for his son.
The next day, Hafizur returned, this time with a letter apparently written by Mohon to his wife. It read Mohon was in confinement and was being tortured in custody, Jamsher said.
Jamsher held a press conference about the incident on August 28, 2018, where he provided journalists with what he said was the call history showing about a hundred calls were made from Hafizur's number to his phone between June 13 and 24.
Ninety-four of the calls were made from Mirpur-Paikpara area where the Rab-4 office is located. Of the remaining six calls, one was from Rajarbagh Police Lines. Several calls were made to three official numbers of Rab-4, according to the Call Detail Record that Jamsher obtained from a law enforcer.
Jamsher also showed journalists what he said was the registration form of Hafizur's SIM card, which had a photo of the man in police uniform.
While investigating Mohon's disappearance, The Daily Star in May 2019 talked to Hafizur. He said he had served in Rab-4 earlier but was now posted in Meherpur police.
The same month, the then Rab-4 Commanding Officer Chowdhury Manjurul Kabir denied that his unit abducted Mohon.
The current commanding officer, Mozammel Haque, talking to The Daily Star on August 1 declined to comment on this, saying he was not posted in the unit at the time.
About picking up Raju, he said Rab often acts upon arrest warrants issued by the court. He has to look into whether the warrant was recalled in this case.
LAND DISPUTE LINKED?
Jamsher links all his "troubles" to a dispute over a piece of land with a local named Azizul Hossain Khan, and said some Rab members may have turned against him having been influenced by that man, a claim this newspaper could not independently verify.
Azizul obtained the power of attorney over the disputed 0.75 katha plot in Mirpur in 2007 after signing a deed with one Faruk, according to documents.
But Jamsher claims the plot is within their ancestral land where they had built their house and the matter is pending with the court.
"He [Azizul] has long been trying to evict us. I filed two general diaries after he had threatened me. Then several cases were filed against my family members one after another. We have been cleared from all charges. Now they have filed a fresh case against my grandson and nephew," he added.
Azizul refuted all the allegations and said, "There was a dispute over the land in the past. That does not mean I have influenced [Rab] to do all these."
Locals, including a councillor in Mirpur, wishing anonymity said Azizul is linked to the ruling Awami League and has a number of close relatives in the police.
Azizul declined to comment on this.
Jamsher also points to a man named Joy Ahmed, an "informant for Rab" who spent time in prison in a case he filed for allegedly taking Tk 2 lakh from him, promising to have Mohon Mia released from Rab custody.
Joy, however, denied his involvement in all this.
Meanwhile, the extortion case has been handed over to the Rab upon its application to the home ministry, documents show, though Mirpur police had been investigating it.
Anwar Hossain, sub-inspector of Pallabi Police Station, who investigated the case earlier, said Rab received the case documents on July 25, the day The Daily Star published a story on it.
The plaintiff, Nazmul Hossain Bappi, told The Daily Star that it was in fact an incident of a motorbike accident in Mirpur on March 7, when his father was injured as a teenaged boy hit him with a speedy motorbike.
The next day, when five college students known to the biker went to their house to settle the matter, some Rab-4 members picked them up.
Jamsher's grandson and nephew were later named in the case without the knowledge of the plaintiff.