2 'Neo JMB' leaders held
One is key financier of the outfit; another 'supplied arms, explosives for Gulshan attack'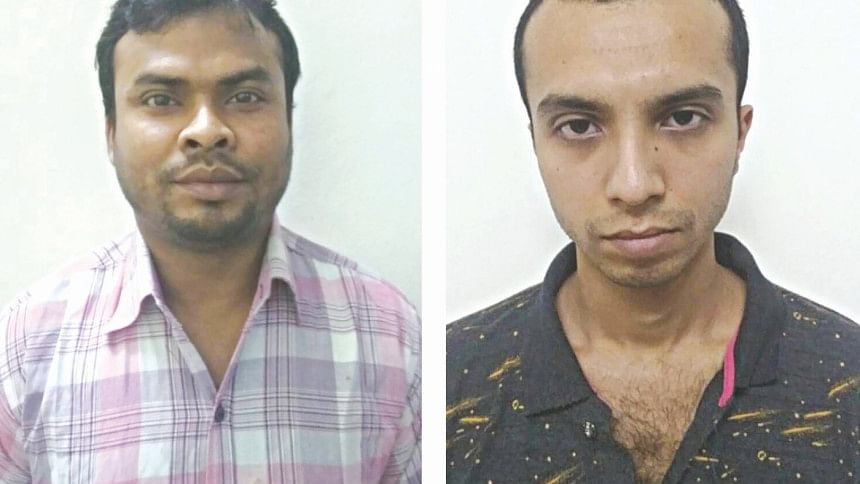 Police yesterday claimed to have arrested a key financier of a militant group and an arms supplier for Gulshan café attack in 2016.
Of the two, Akram Hossein Khan Niloy, 26, allegedly used to fund "Neo JMB" and was involved in all its activities. He also masterminded the Hotel Olio International blast in the capital's Panthapath on August 15 last year, said a counterterrorism official.
The other arrestee, Hadisur Rahman Sagor, 36, allegedly supplied arms and explosives used in the Gulshan attack. He is also said to be the brother-in-law of Nurul Islam Marzan, a top "Neo JMB" operative who was also a planner of the café siege.
Marzan was killed in a "shootout" with the Counter Terrorism and Transnational Crime (CTTC) unit of the DMP on January 6 last year.
A team of Bogra police arrested Niloy and Sagor from Shibganj area of the district around 2:00am yesterday and handed them over to CTTC personnel, said Mohibul Islam Khan, deputy commissioner of the unit.
From the arrestees, police recovered two cell phones that "show evidence of their connection with militancy", officials say.
Later in the day, CTTC officials produced them before two separate Dhaka courts, seeking 10-day remand for each. The courts granted six days for Niloy and seven days for Sagor. 
Metropolitan Magistrate Aminul Haque passed the order on Niloy after hearing the remand petition.
As the court asked Niloy about his past whereabouts, the suspect replied that he was in Malaysia and was studying in a university there, court sources said.
Asked whether he knew café attacker Nibras Islam, who was also a student of a Malaysian university, Niloy got angry and asked Aminul Haque if he was a magistrate.
As the magistrate replied in the positive, Niloy said, "You can remand or punish me, even sentence me to death, but I despise you and your order as I only obey the rule of Allah."
Hailing from Kishoreganj, Niloy is the son of Abu Torab Khan.
Counterterrorism officials arrested Torab, 56, his wife Sadia Hossain Lucy, 46, and their daughter Tajreen Khanam Shuvo, 29, from the capital's Gulshan on November 12 last year.
They allegedly provided financial assistance for carrying out an attack on the National Mourning Day programme at Dhanmondi 32 that year. The terror plan, however, didn't succeed.
After arrest, Torab admitted to CTTC officials that they sent money twice through bKash to militant suspect Saiful Islam, killed in the Hotel Olio blast.
Niloy's family members, now in jail, also told investigators that they had planned to go abroad to join Islamic State after selling all their property, officials said.
A high official of police, requesting anonymity, told The Daily Star that Niloy is a top leader of a faction of Jamaat-ul-Mujahideen Bangladesh (JMB) -- "Neo JMB" as law enforcers call it.
He had direct connection with Gulshan attack mastermind Tamim Chowdhury and was a friend of Nibras, said the official. 
Tamim was killed during a raid in Narayanganj on August 27, 2016 while Nibras died in the military operation that ended the café siege on July 1 the same year.
Niloy completed his O-level and A-level from two reputed institutions in Dhaka and studied in Lincoln University of Malaysia.  He met Nibras while studying in that country.
He was drawn to militancy while attending sermons at a mosque in Gulshan and became a follower of Salafism in 2012, the officials said.
"Niloy came back to Bangladesh from Malaysia as instructed by Tamim, and after the death of Tamim, took responsibility of running the militant outfit's activities," the police official said, adding he used to operate under the pseudonym, Abu Abdullah.
On the other hand, Sagor was allegedly a Shura board member of "Neo JMB" and responsible for its activities in the southern part of Bangladesh.
Hailing from Joypurhat, he completed Dakhil from Kalua Koyrapara Dakhil Madrasa and Alim from Baniapara Aliakanda Madrasa and joined the mainstream JMB in 2001. He had relation with top JMB leaders, said a CTTC official.
Requesting anonymity, the official told The Daily Star yesterday that Sagor joined the "IS-inspired outfit" through Sarwar Jahan Manik, who died on October 8, 2016 jumping off a five-storey building during a Rab drive.
A high official of police, now investigating militancy issue, said Sagor had supplied one AK-22 rifle, 22 rounds of bullets, two 7.62mm pistols and four hand grenades for the Gulshan café attack.
"As instructed by Marzan, he brought the arms and ammunition from Jessore to Dhaka by a bus, hiding those in a mango basket and handed those over to Tamim on June 25, 2016 near the Kalyanpur bridge," he said, requesting anonymity.