Founder of 'Neo JMB' held: police
He along with Tamim Chy formed the militant group, officials claim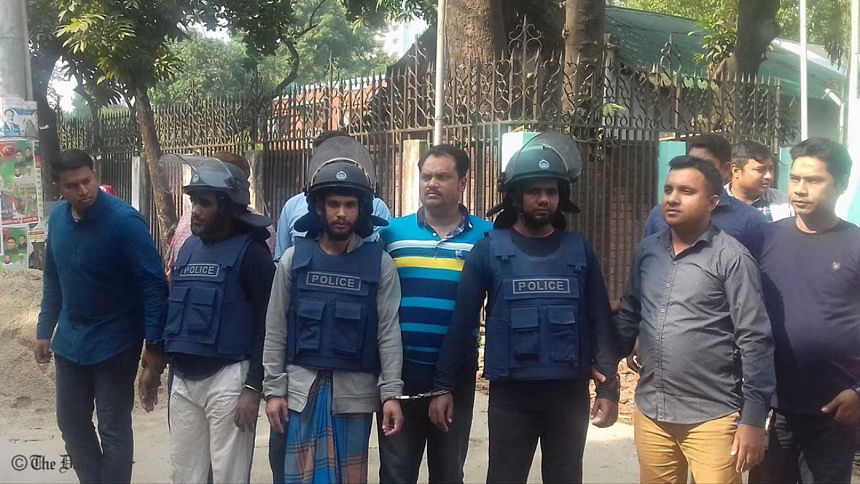 Counterterrorism officials yesterday claimed to have arrested a top militant who along with Tamim Ahmed Chowdhury formed terror outfit "Neo JMB" that carried out the Gulshan café attack last year and scores of secret killings.
Abdus Samad alias Arif Mamu, 29, played a key role in forming "Neo JMB" in 2014 under the leadership of café attack chief coordinator Tamim, said Monirul Islam, chief of Counter-Terrorism and Transnational Crime (CTTC) unit.
Briefing journalists at the DMP media centre, Monirul said CTTC officials arrested Samad, his father-in-law and JMB leader Ziadul Islam, 45, and another militant Azizul Islam alias Mehedi, 25, with 200 detonators and a pistol from the capital's Mohakhali bus terminal area on Wednesday night. 
Asked whether Samad was involved in the café attack, the CTTC unit chief said Samad's involvement in the incident has not been found yet.
Samad, who is from Ballavpur village in Dinajpur, had been tasked with getting fresh recruits in the Northern region long before the July 1 Holey Artisan Cafe attack that left 20 people, mostly foreigners, and two police officials dead, said the CTTC unit chief.
Counterterrorism unit will probe his involvement in a number of secret killings that took place in northern districts in recent years, said Monirul.
Samad, who joined militant activities in 2010, got acquainted with Tamim at a hideout in Rajshahi in 2014. The two formed a militant platform "Junud at-Tawheed Wal Khilafah" and Samad was its second-in-command, Monirul said.
The platform, which initially followed the ideologies and strategies of several international terror groups, was later renamed "Neo JMB".
But the "Neo JMB" follows only the ideology and strategy of global terror outfit Islamic State, CTTC officials said.
Responding to Samad's call, around 40 of his associates and followers in mainstream JMB joined the new terror outfit. They included Rashed, Delwar Mistri, and Tarik Hossain Milu who was later killed in a shootout on June 7 last year.   
Samad also inspired two key leaders of mainstream JMB -- Mamunur Rashid Ripon and Sarwar Jahan -- to join "Neo JMB", they added.
Ripon fled to India while Sarwar died from his wounds after he jumped off a five-storey building to escape arrest during a Rab raid in Savar on October 8 last year.
Samad, who is fluent in Arabic with Fazil and Dawra-e-Hadith degrees, used to give sermons to motivate fellow militants while visiting different militant hideouts with Bangladeshi-Canadian Tamim who entered Bangladesh on October 5, 2013.
Tamim was killed with his two accomplices in a raid in Narayanganj on August 27 last year.
Talking to our Dinajpur Correspondent, Samad's father Moulana Abdul Toab, a retired high school teacher, said his son stopped communicating with them after he married Jannati Khatun, daughter of detained militant leader Ziadul, three years ago.
The family didn't accept the marriage, he said, adding that Samad is second among his 12 children. 
"We thought he was dead... my son got derailed somehow," he said.
Slain JMB militant Abdullah was a close friend and neighbour of Samad, said locals at Ballavpur village in Nawabganj Upazila.
Abdullah along with eight other militants was killed in the Kalyanpur raid on July 26 last year.
Samad's wife Jannati told our Chapainawabganj Correspondent that since July this year, she could not communicate with her husband who was staying in Naogaon. 
Jannati's mother Bibiara Begum said her husband Ziadul went to Comilla to find work in early July and maintained communication with her over the phone.
"The communication stopped a week before the Eid-ul-Azha this year. Several workers, who returned to Chapainawabganj from Comilla just before the Eid, told us that some people on a microbus picked up my husband in Comilla. There was no trace of him since then," she said. 
At the briefing, Monirul said Samad was given the task of recruiting members for "Neo JMB" and ensuring supply of arms in the northern region.
Samad used to collect arms and ammunition in bordering areas. He hid those at fish farms in Chapainawabganj and sent those to other militants.
Later, the responsibility of supplying arms was transferred to "Neo JMB" militants Sohel Mahfuz and Chhoto Mizan who supplied grenades for the Gulshan café attack, Monirul said.
Sohel was arrested by CTTC members on July 8 this year while Chhoto Mizan was killed in a police raid in Chapainawabganj on April 27. 
The third arrestee, Azizul, joined the outfit through Samad and left home two years ago to join militant activities.
"In primary interrogation, Azizul said he didn't take part in any of the outfit's killing operations but he was ready for it," Monirul said.
Talking to our Chapainawabganj correspondent, Azizul's mother Azanur Begum said her son, student of a madrasa in Chapainawabganj, left home more than two years ago for work in India as the family could not bear his educational expenses.
He told his family members that he found work at a pesticide shop but never informed them about his location. Azizul used to talk to them over the phone occasionally. He called them for the last time four months ago, she said.
Asked whether the arrestees were planning any act of sabotage, Monirul said they came to the capital to hand over the detonators to someone in the outfit. "Militant leaders of Samad's level usually do not take part in operations," he added.
According to the CTTC unit chief, Samad's pseudonym "Mamu" first came up during the investigation into the Hossaini Dalan blast that killed two devotees and left over a hundred people injured on October 23, 2015.
Replying to a query on the number of "Neo JMB" operatives, Monirul said the outfit didn't have a large number of operatives but they were motivated and desperate.
Some 200 of its leaders and operatives have been arrested and around 80 were killed in raids or shootouts. Some are still at large, he added.