Law enforces now can resist any militant attack: Minister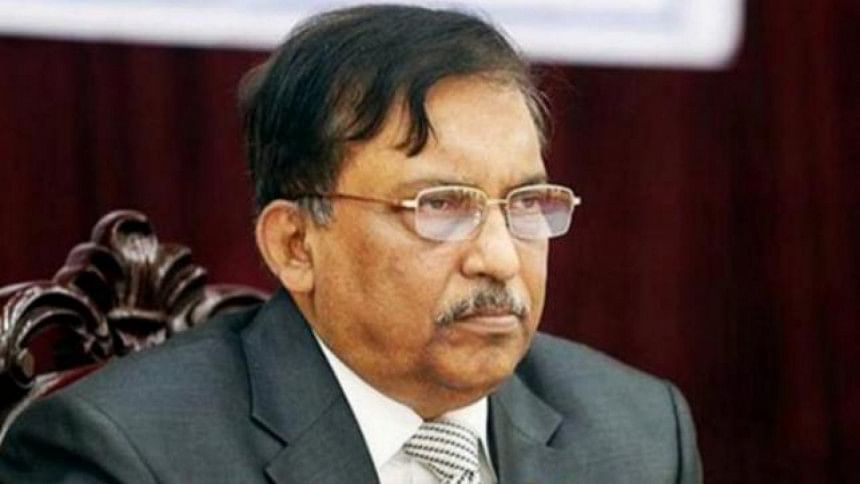 Home Minister Asaduzzaman Khan today said the government has equipped law enforcers with all modern facilities to prevent any type of terrorist and militant attack like the Gulshan cafe one.
"Our law enforcement agencies are now ready to face any type of terrorist and militant attack as they've already earned professionalism, skills and capability to take any challenge," he said.
Addressing a programme at Rajarbagh Police Lines auditorium arranged by the Home Ministry to console the family members of thecafé attack victims, the minister further said, "The Prime Minister is ensuring all the necessary facilities for strengthening our law enforcers so that the Holey Artisan Bakery and Cafe like incident never reoccurs in the country."
He said there is no room for terrorism and militancy in the country. "We won't allow militants and terrorists to raise their ugly heads and establish any den as the country's people are united against them."
About those killed in the Gulshan cafe attack, Asaduzzamansaid, "We can't return the victims. I extend my deep respect and sympathy to their families and relatives."
Addressing the programme, chief of Counter Terrorism and Transnational Crime (CTTC) unit under Dhaka Metropolitan Police (DMP) Monirul Islam said militants have lost their capability to carry out any attack now in the country amid law enforcers' strong action and vigilance against them.
"Militants have got demoralised as they could realise that the people of Bangladesh neither believe in militancy nor like their terror acts," he observed.
About the progress in probe into the Holey Artisan attack, Monir said they have almost completed the investigation. "We're making all-out efforts to arrest two wanted accused in the case. We'll ensure punishment to the offenders with a flawless charge-sheet," he added.
He said they are alert enough so that the terrorists cannot get organised and carry out their destructive activities.
Later, the Home Minister provided the family members of fourcafé attack victims--Faraaz Ayaaz Hossain, Abinta Kabir, Ishrat Akhond and Tarishi Jain-- with a letter of consolation each.
Japanese Ambassador in Dhaka Hiroyasu Izumi and Latifur Rahman, Chairman of Transcom Group and grandfather of Faraaz Ayaaz Hossain, also spoke on the occasion.
Among others, Public Security Division Secretary Mostafa Kamal Uddin, Inspector General of Police Dr Mohammad Javed Patwary, Additional IGP (Admin) M Mokhlesur  Rahman, Director General of Rapid Action Battalion Benazir Ahmed and DMP Commissioner Md Asaduzzaman Mia were, among others, present.
On July 1, 2016, five militants entered the Holey Artisan Bakery and Cafe at Gulshan with crude bombs, machetes and pistols, and took several dozen people, including 18 foreigners, hostage.
Twenty hostages -- nine Italians, seven Japanese, one Indian, one Bangladeshi-born American and two Bangladeshis -- were killed in the attack.
Besides, two senior police officers--Banani Police Station then officer-in-charge Salauddin Ahmed Khan and Detective Branch assistant commissioner Robiul Islam - were also shot to death by the militants.