Gulshan café attack: Rashed placed on 6-day remand
Charge sheet after Rashed's interrogation: CTTC chief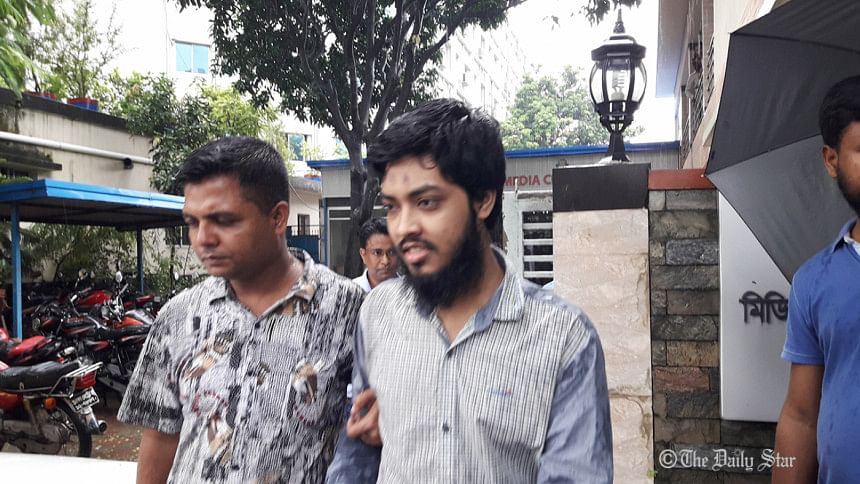 A Dhaka court today placed Aslam Hossain Rashed alias Rash, a key "Neo JMB" militant who is one of the planners of last year's Gulshan café attack, on six-day remand.
Metropolitan Magistrate Nurunnahar Yasmeen passed the order after police produced him before the court with a 10-day remand prayer.
READ MORE: Another café attack planner arrested: cops
Rashed, 20, a close aide to chief coordinator of "Neo JMB" Tamim Ahmed Chowdhury, was arrested by the law enforcers early yesterday. He oversaw the arms training of Gulshan attackers, according to the officials.
Café attack charge sheet after Rash's interrogation: CTTC chief
Police will finalise the charge sheet of Holey Artisan Bakery attack case on completion of the interrogation of Rashed, said Monirul Islam, chief of DMP's Counter Terrorism and Transnational Crime (CTTC) unit.
ALSO READ: Gulshan Attack: Firearms came from border
"The investigation into the case reaches the final stage with the arrest of the key Neo JMB militant," he told journalists at a press briefing at DMP media centre today.
If Rashed gives confessional statement under section 164, the law enforcers will also take help from the statement, said Monirul, also additional commissioner of the Dhaka Metropolitan Police (DMP).
"After Rashed's arrest, we are now trying to arrest another Neo JMB leader, Hasidur Rahman Sagor alias Joypurhat Sagor, who played vital role in the attack," the CTTC chief said.
He added, "Although he (Sagor) is on the run, we are sure he is in the country."
Earlier, Monirul had said they would be able to submit the charge sheet after the arrest of five "Neo JMB" leaders who played vital roles in the attack.
The five are: Sohel Mahfuz, Mizanur Rahman alias Chhoto Mizan and Hasidur Rahman Sagor alias Joypurhat Sagor, Basharuzzaman Chocolate and Rashed alias Rash.
Of the five, Sohel was arrested by CTTC on July 8 in Chapainawabganj. Chocolate and Mizan were killed in an anti-militancy raid on a "Neo JMB" hideout in the same district on April 27.
Dhaka Metropolitan Police (DMP) Commissioner Asaduzzaman Mia said they arrested Rashed based on information from Sohel Mahfuz, who supplied bombs for the café attack.
According to CTTC sources, Rashed joined "Neo JMB", an offshoot of banned outfit Jama'atul Mujahideen Bangladesh, at the end of 2015 and later became the coordinator of its training programmes.