Another café attack planner arrested: cops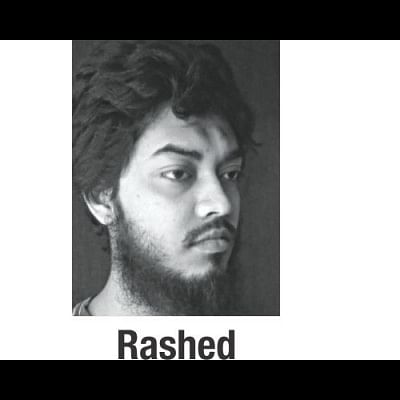 A key "Neo JMB" militant, who is one of the planners of last year's Gulshan café attack, was arrested in Natore early yesterday, police say.
The arrestee, Aslam Hossain Rashed alias Rash, 20, was allegedly a close aide to Tamim Ahmed Chowdhury, the chief coordinator of "Neo JMB". He oversaw the arms training of Gulshan attackers, according to officials.
Members of Counterterrorism and Transnational Crime (CTTC) unit of DMP along with LIC (Lawful interception) unit of Police Headquarters and Bogra and Natore district police launched a joint operation in Singra upazila bus stand area around 5:30am and arrested Rashed, CTTC chief Monirul Islam said in a text message.
He was brought to the DB office on Dhaka's Minto Road in the evening.
Home Minister Asaduzzaman Khan said Rashed was one of the main planners and supervisors of Gulshan Holey Artisan Bakery siege of July 1 last year.
Most of the accused in the case relating to the attack has already been arrested. One or two are still on the run and they would be arrested soon, the minister told reporters after a programme in the capital's Gulistan yesterday.
Earlier, CTTC chief Monir had said they would be able to submit the charge sheet after the arrest of five "Neo JMB" leaders who played vital roles in the attack.
The five are Sohel Mahfuz, Mizanur Rahman alias Chhoto Mizan and Hasidur Rahman Sagor alias Joypurhat Sagor, Basharuzzaman Chocolate and Rashed alias Rash.
Of the five, Sohel was arrested by CTTC on July 8 in Chapainawabganj. Chocolate and Mizan were killed in an anti-militancy raid on a "Neo JMB" hideout in the same district on April 27. Sagor is absconding.
Dhaka Metropolitan Police (DMP) Commissioner Asaduzzaman Mia said they arrested Rashed based on information from Sohel Mahfuz, who supplied bombs for the café attack. 
Sohel used to smuggle arms and explosives from India and hand those to Rashed. Tamim and other senior militants used to receive those from Rashed, the DMP boss told reporters after a programme in the capital yesterday.
 An official of the CTTC said Rashed received the arms for the café attack from Sagor and Chhoto Mizan at a Shewrapara den of the militants in the city days before the incident.
Later, the arms were handed over to another planner, Nurul Islam Marjan, and finally used in the deadly Gulshan attack that left 20 hostages, mostly foreigners, and two policemen dead on July 1 last year.
"Rashed coordinated the arms training of the Gulshan attackers," Asaduzzaman, superintendent of police in Bogra, told The Daily Star yesterday.
Rashed is from Kanchanpur village of Manda upazila in Naogaon and locally known as Aslam Ali Mohon. His father Abdus Salam moved to Rajshahi from Naogaon six years back, according to police and locals.
He completed SSC from Naohata Model School and went to Rajshahi Model College, they added. 
His mother Nasima Khatun told The Daily Star that he was a second-year student and staying in a mess when he went missing in Ramadan of 2015.
Mahbub Alam, officer-in-charge of Manda Police Station of Naogaon, said Mohan has long been missing and none of his family members live in Naogaon. His father Salam, an accused in a financial case, has also been absconding for the last two to three years, he said.
According to CTTC sources, Rashed joined "Neo JMB", an offshoot of banned outfit Jama'atul Mujahideen Bangladesh, at the end of 2015 and later became the coordinator of its training programmes.
His another responsibly was to collect information on new recruits. 
Law enforcers first came to know about him on September 30 last year from the confessional statement of 14-year-old Tahrim Kaderi, son of "Neo JMB" militant Tanvir Kaderi.
Tanvir, who used to rent houses to shelter militants, was killed during a raid in Azimpur on September 10.
In his statement, Tahrim said Rashed used to visit their Uttara house along with Major (retd) Jahid, who was killed in an operation in Rupnagar on September 2.
Tahrim said after they moved to a house in Pallabi, Rashed started to visit them along with Maynul Islam Musa, another key militant killed in an operation in Moulvibazar on March 29.
Through Rashed, they got acquainted with Basharuzzaman Chocolate and Akifuzzaman.
Akifuzzaman was killed during a raid in Kalyanpur on July 26 last year.
Tahrim also said that they rented a house in the capital's Bashundhara area during Ramadan last year as suggested by Chocolate and Rash.
Investigators say the five gunmen who stormed the Holey Artisan Bakery on July 1 last year went to the upscale eatery right from the Bashundhara house rented by Tanvir.