After 2 years, Hasnat freed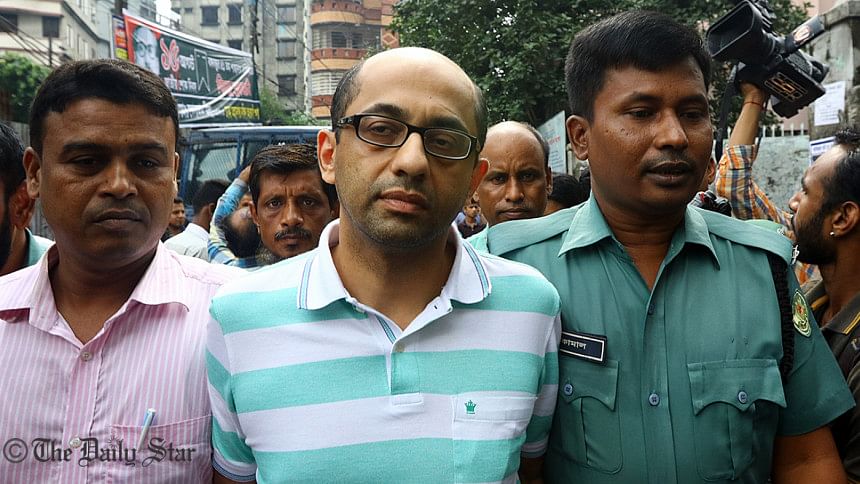 Abul Hasnat Reza Karim was finally freed yesterday, ending his two years ordeal in jail. His release comes a day after a special tribunal in Dhaka exonerated him from having any involvement in the Gulshan Café attack.
Hasnat, a private university teacher, walked out of Kashimpur High Security jail in Gazipur around 4:30pm and left hurriedly with some of his relatives in a black SUV parked outside the main gate, reports our Gazipur correspondent.
Jailer Bikash Raihan said they received the court order of his release on Wednesday night and after scrutiny and completion of process, he was  finally released.
British-Bangladeshi Hasnat took his family to Holey Artisan Café  on July 1, 2016, to celebrate his daughter's birthday.
During the attack, he was held hostage, along with his family and several others. He was finally released before the army commandos raided the café the next morning.
He was then taken to the office of the Detective Branch of police for interrogation.
Police claimed that Hasnat was released after questioning, but his family insisted he had never returned home and could not be reached either.
Later, the police on August 3 that year said they had arrested Hasnat under section 54 of the Code of Criminal Procedure that allows arrest without a warrant.
He was shown arrested in the terror attack case on August 13.
A month ago, police submitted a charge sheet in the case on July 3 against eight "neo-JMB Militants" and it did not include Hasnat as police had found no evidence against him.
On July 1, 2016, armed militants stormed the Holey Artisan Bakery in the capital's Gulshan and killed 20 hostages, mostly foreign nationals. Two police officials were also killed during the 12-hour standoff.