Faraaz honoured as 'righteous' in Italy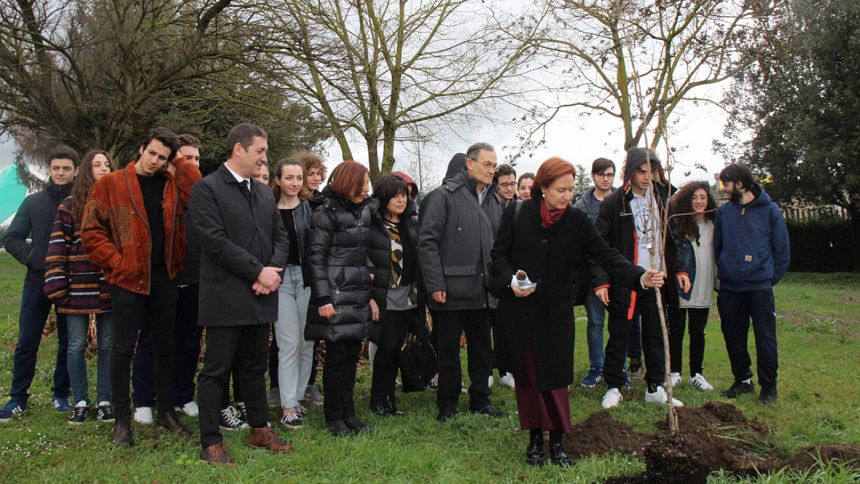 Students of Rummo High School in Benevento, Italy, have accepted Dhaka café attack victim

Faraaz Ayaaz Hossain

as "the first Righteous" for his courageous role.
As part of their commemorative programme, Rummo school students planted a tree in the Garden of the Righteous in their school, said a press release received today.
The Garden of the Righteous Worldwide popularly known as GARIWO is a Non-Profit Organisation based in Milan that aims to prevent cases of genocide and crimes against humanity.
Faraaz, 20, grandson of Transcom Group Chairman Latifur Rahman and Shahnaz Rahman, was offered release during the hostage situation during Dhaka café attack at Holey Artisan Bakery. But he refused to leave his friends behind and died instead.
Faraaz is remembered for his extraordinary courageous act that led him sacrifice his own life during the Holy Artisan attack in Dhaka on 1 July 2016, said the press release sent by Meer Ahsan Habib, assistant general manager, corporate affairs, Prothom Alo.
In a message to the students, Faraaz's Mother Simeen Hossain said: "As a mother, I know and live with the belief that my son Faraaz has made me prouder than I could ever imagined... he also left behind a legacy of courage, friendship and humanity."
GARIWO representative Enza Nunziato and the students replied: "The example of Faraaz will be the reference point of our consciousness as humans, who are always able to find a way out, even if the choice could cost us our lives."
Nine Italians, seven Japanese, three Bangladeshis and an Indian were killed at Holey Artisan café in Gulshan of Dhaka.