A mother's quest for justice, answers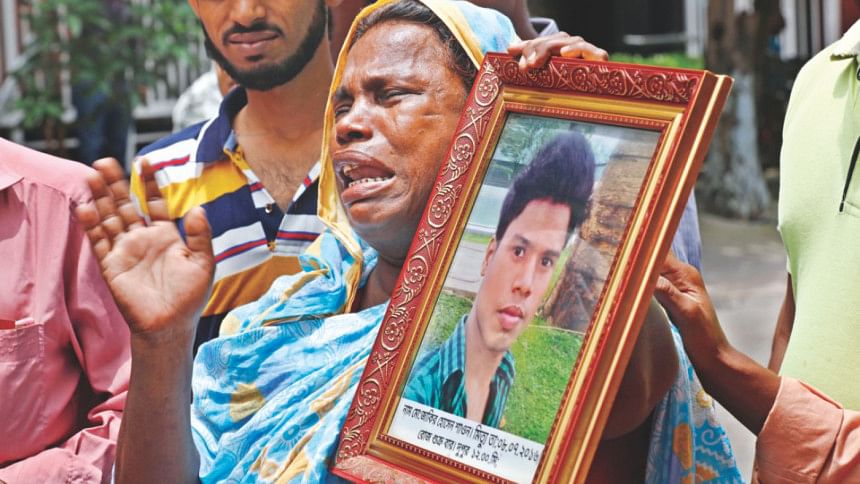 As people were paying tributes to those killed in last year's terrorist attack at Holey Artisan Bakery yesterday, Masuda Begum kept crying outside where the posh restaurant used to be and where her son Shaon, 19, was working on that fateful night.
Md Zakir Hossain Shaon, who worked at the kitchen of the restaurant, was detained by law enforcers on the night of July 1. He died of injuries at Dhaka Medical College Hospital a week later.
The mother demanded justice for Shaon, who she alleges, was killed by the law enforcers.
Shaon's parents, a brother and a sister arrived near the upscale eatery around 10:45am yesterday. They heard that people would go there to pay tribute.
"Police tortured my son to death. The administration killed my son. I want justice," the grieving mother said repeatedly as she held a framed photograph of her son.
When the family tried to pay tribute, police did not let them do so.
Around 11:45am, the family attempted again, but a police officer of Gulshan division of Dhaka Metropolitan Police intercepted them at the gate, saying that the time to pay tribute was over. This correspondent saw this on the spot.
The officer then ordered his female colleagues to take the family away from there. As the family was taken away, several others were seen entering the premises to place floral wreaths.
As journalists started asking questions, police let the bereaved family on to the premises.
Talking to reporters, Masuda said, "It has been a year. We still don't know what his fault was."
"Look here, my son looking like a prince. Why was he killed?" Masuda asked showing the framed photo.
Shaon's father Abdus Sattar told The Daily Star that they did not get anything except eight months' salary from the restaurant.
Sattar said, "Two days after the incident, I found my son unconscious in a hospital bed. I just heard him saying 'don't beat me anymore.'"
Shaon died at the intensive care unit of Dhaka Medical College Hospital on July 8 last year.
After his death, Monirul Islam, chief of Counter Terrorism and Transnational Crime unit of DMP, told The Daily Star that Shaon was one of the suspects.
However, the case filed in connection with the attack did not mention his name.