Stabbings in Melbourne, Dhaka: The sisters 'acted as lone wolves'
Says chief of counter-terror unit; claims they were self-radicalised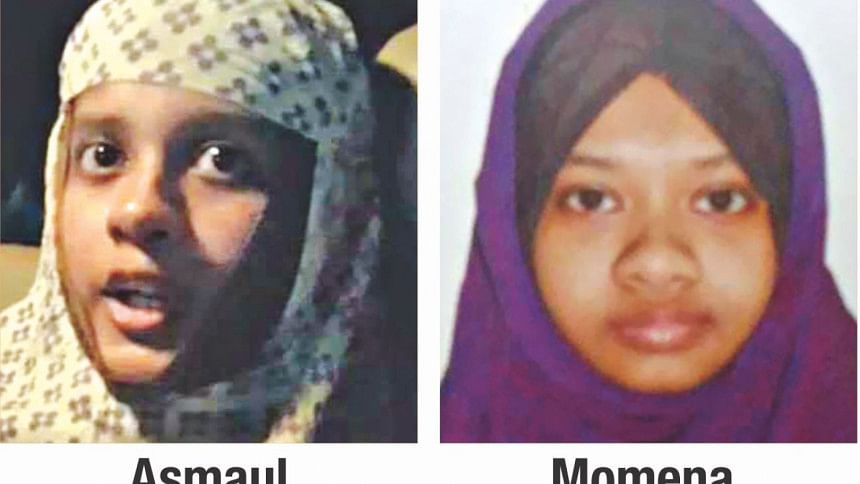 The Bangladeshi girl arrested in Australia on charges of stabbing a man in Melbourne had been in a relationship with Najibullah Ansari, who reportedly went to Iraq and joined Islamic State, investigators said yesterday.
Momena Shoma, 24, now in custody of Australian Federal Police, got into the relationship with Najibullah, a marine engineer, in 2014. But the two could not get married as Najibullah's parents opposed their wedding.
After passing SSC and HSC exams from Rajshahi Cadet College in 2005 and 2007, Najibullah got admitted to Malaysian Marine Academy in 2008.
On the other hand, Momena passed O-level exams from Loretto School in 2009 and A-level exams from Mastermind School in 2011. She obtained an honours degree in English in 2016 from North South University (NSU) where some militants, including Holey Artisan attacker Rohan Imtiaz, also studied.
Najibullah's mother, a modern-minded woman, refused to marry off her son to Momena, who, according to her, was a little conservative, Monirul Islam, chief of Counter Terrorism and Transnational Crime (CTTC) unit, said yesterday.
The law enforcers came to know this analysing the information and evidence collected from different sources. Momena's younger sister Asmaul Husna alias Shumona was arrested on Sunday night after she had carried out a knife attack on a CTTC official at her Kazipara home, he told reporters at his office in the capital's Minto Road.
 The CTTC chief termed the two stabbing incidents "lone wolf attacks".
Monirul said such attacks are carried out when the organisational strength of militant outfits like Huji-B, Neo JMB and Ansarullah Bangla Team have been weakened. The "lone wolf" attackers do not need any leader and the self-radicalised militants themselves carry out attacks, he added.
He, however, said they didn't have any information about how Momena came in contact with Najibullah. He also could not confirm the whereabouts of the marine engineer.
Son of a former Navy official, Najibullah went missing in early 2015. In January that year, he informed his younger brother through a Facebook message that he was "going to Iraq to join ISIS".
About their involvement in militancy, the CTTC chief said the two sisters radicalised themselves "through the internet".
Asmaul is now on a five-day remand. A CTTC team went to her home to enquire about Momena. When the team was about to return, she attacked an officer who sustained minor injuries in his abdomen.
According to a CTTC official, Asmaul following her arrest told cops, "You are disbelievers. The rule of Islam should be established in the country. If necessary, we should do jihad."
The official, wishing anonymity, said Asmaul tried to go abroad for study. She managed a scholarship in Malaysia, but failed to go there due to illness.
Monirul said Momena went off the right track after her mother had died in 2015. She started watching and reading radical contents online.
The elder sister first got the motivation for radicalism by watching videos on militant activities, including those of al-Qaeda and IS, and then motivated the younger sibling, he told reporters.
Their father Moniruzzaman is the vice-president of an insurance company.
CTTC officials said Asmaul completed SSC from Mirpur Ideal School in 2014. Failing to pass HSC exams, she completed GED from Mentors, an educational institution. She got admitted to a private university last year to study English.
Asked about Momena's links with the arrested or killed former NSU students over militant activities, Monirul said she might have some connections, but the law enforcers were yet to find any proof.
She had a plan to carry out an attack in Australia even before she left Bangladesh for Melbourne on February 1 on a student visa to study English linguistics at La Trobe University. She was granted an excellence scholarship by the university, the CTTC chief said quoting information obtained from Australian Federal Police and other sources.
And as part of the plan, she stabbed the sleeping man in the neck in north Melbourne on February 9. The Australian police described the incident as an "Islamic State-inspired" attack.
According to counterterrorism officials, Momena tried to go to Turkey in 2015 on a student visa, but she was denied visa by the Turkish embassy.
Before leaving for Australia, Momena instructed Asmaul to take part in activities in favour of Islam by killing at least one policeman in Bangladesh before being arrested, Monirul said.
Despite repeated attempts, The Daily Star could not reach Moniruzzaman, father of the two girls, as his phone was found switched off.
Visiting their Kazipara home, this correspondent found the main entrance to the flat padlocked.
A resident of another flat in the building said the two siblings once visited her home only after being sure that there was no man in the apartment.
Asked about taking action against spreading radical content online, Monirul said the whole world had been facing problems over such online activities and the law enforcers in Bangladesh were also trying their level best to stop the menace.