Faraaz's message to the world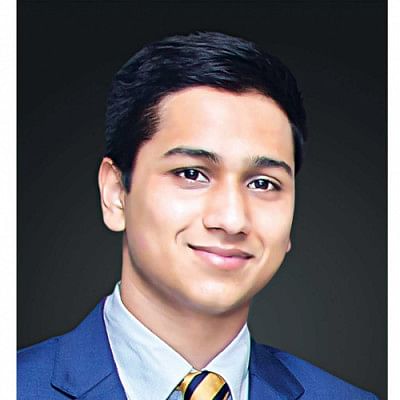 Stumbling across a post on the meaning of "Faraaz", I was taken aback by the qualities attributed to this name – "someone full of love", one who "creates balance and harmony for anyone lucky enough to be called his friend". The website further informs those with this name: "people around you feel safe because you give them joy. Giving joy to the world is one of your greatest gifts." In Persian, Faraaz means "exalted" and "elevating".
It was as if his destiny was already reflected through his name.
Because that's exactly how one would describe Faraaz Ayaaz Hossain, the 20-year-old young man who became famous on July 1, 2016 – not through his brutal death along with 22 others in a terror attack in Holy Artisan Bakery, but by an act of remarkable loyalty and courage. He had the chance to save himself from the murderous group that descended upon innocents that night. All he had to do was walk away. But it meant abandoning his two childhood friends Abinta Kabir and Tarishi Jain, promising young university students with dreams to bring about change in society. And that was not who Faraaz was. He decided to stay and accept his fate which was certain death. In that moment, this slight young man, lovingly called "Chotoo" (little one), who loved to play pranks on his brother, cousins and friends, showed the world what loyalty, friendship, and integrity could look like in the face of terror.
All throughout his brief, precious life, Faraaz was known for going out of his way to help a friend. He had a natural flair for leadership and was elected president of his school's student council. He lived a life of privilege yet was full of humility. He was class valedictorian when graduating from high school. An all-rounder, he was a straight A student while excelling in athletics and volleyball. He was an ace student at Emory University in Atlanta, US. His grieving mother Simeen Rahman (now CEO of Transcom Group) stated, after he was so cruelly snatched from her: "He really was such a good child. I honestly couldn't find any flaw in him."
His best friend was his older brother Zaraif, with whom he shared a special bond. They were only a year and 10 months apart, going to the same university and sharing the same dream – to join their Nana Bhai (Latifur Rahman, founder and chairman of Transcom) and their mother in the family business. In fact, he was always very categorical about who he wanted to be like – his Nana Bhai, who doted on him and by strange coincidence, left the world the very day Faraaz died, four years later. Both brothers were very close to their maternal grandparents. To their maternal cousins Zoheb and Mikhail, they were buddies and big brothers. Very often people thought they were four siblings.
While family was a priority for Faraaz, so were his friendships, and this he proved in the most profound way, moments before death.
But that was not all he did when he sacrificed his life for others – two women, one from another faith. He provided a counter narrative to the ruthless, radicalised, sadistic youths who called themselves saviours of Islam and who, in their twisted minds, had decided to mercilessly kill anyone they considered the enemy of their religion. Among the slain foreigners were seven Japanese, nine Italians, and one Indian (Tarishi). Ishrat Akhond, a young Bangladeshi woman who defied the terrorists, was also murdered. Faraaz, a devoted believer of Islam, who prayed and fasted and had performed Umrah many times, who celebrated pluralism, cultural diversity, saw women as equals and embraced inclusiveness with open arms, just did not fit the stereotype of the violent, inflexible, backward face of Islam that dominates the mainstream Western narrative. Instead, he represented a progressive, accepting, and peaceful face of Islam. As the news of Faraaz's act of courage spread, people around the world applauded him with the loftiest tributes – the Mother Teresa International Award (2016), recognition by the Garden of the Righteous Worldwide, and the Faraaz Courage Award 2016 to recognise exceptional acts of courage to encourage empathy and the spirit of bravery among young Bangladeshis.
Young people especially have been inspired by Faraaz. One hopes that his example has provoked individuals misguided and swayed by militant groups to rethink, and perhaps even shun, their allegiance to an ideology that promotes violence, misogyny, and blind hatred for anyone considered an outsider. The story of Faraaz must be told to our present and future generations to remind them of the noblest standards of humanity: friendship and acceptance of "the other".
Aasha Mehreen Amin is the joint editor of The Daily Star.