Dengue outbreak: Experts wary of next three months
Situation may worsen if adequate measures not taken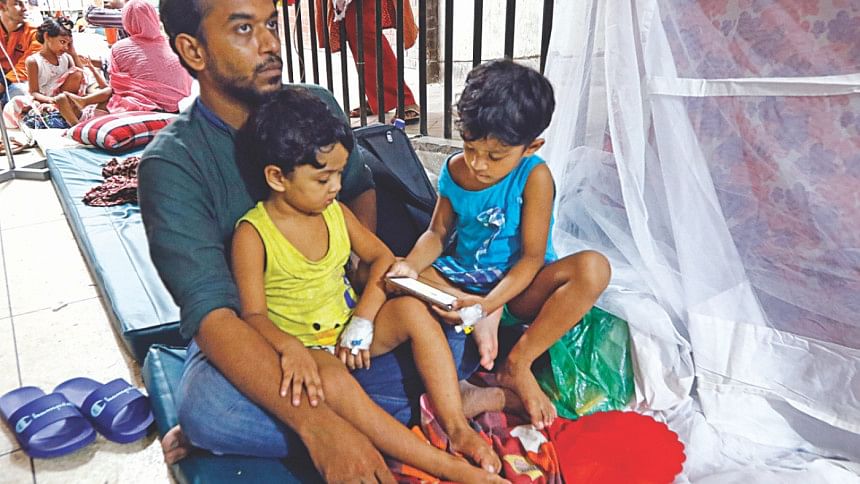 Experts are worried that dengue outbreak may continue until October or until the end of November.
They said the risk would remain unless the authorities concerned as well as the people take all-out measures to combat Aedes mosquitoes now.
The Director General of Health Services (DGHS) data show that the months between July and October over the last five years were always in the top three spots in terms of reported dengue cases.
In 2017, the third highest dengue cases were recorded in November.
It is clear that serious risk of dengue remains over this period, the experts said.
At least 13,182 people were infected in last month while dengue infection count of an entire year never crossed the 11,000 mark in the last 18 years.
Observing the trend is important for early preparations but evidence-based early decision making is hardly seen in Bangladesh, said former director of Institute of Epidemiology Disease Control and Research (IEDCR) Prof Mahmudur Rahman.
"It was learnt in May last year that adulticides used for killing mosquitoes were not working and its cumulative effect has come this year," he said.
Prof Mahmudur said the number of Aedes mosquitoes found increased every year before but this year, all records were broken.
"Aedes mosquitoes breed in relatively clean water in and outside houses so we have to focus on those places."
Since there is no effective insecticide, priority must be given on other methods, like destroying the breeding grounds, Prof Mahmudur said.
Micro planning like forming volunteer groups at local levels to encourage households to destroy the breeding grounds inside houses is important, he said, adding that city corporations would have to destroy the breeding grounds outside the houses.
Building awareness is very important, he said, adding, "If we fail to destroy the transmission chain, the situation will not improve ... . "
Dengue patients must be kept under mosquito nets, he said.
Echoing him, Prof Kabirul Basar of Jahangirnagar University said community-based drives to destroy containers or pots where Aedes mosquitoes breed are important.
"We should not depend on city corporations entirely ... community leaders will have to take initiatives and purchase fumigators and sprays to destroy the mosquitoes and keep their own areas mosquito free," the entomologist said.
Without community drives, the situation would be hard to handle, he said.
"We in our Jahangirnagar University Housing Society bought fumigators and handheld sprays," he said.
"It is a war against Aedes mosquitoes and communities will have to unite and participate ... ," he said.
INFECTIONS EXCEED 21,000
A record 21,235 people have been diagnosed with dengue this year, including 3,464 outside Dhaka, the DGHS said.
In the 24 hours until Friday 8:00am, 1,687 new dengue cases have been reported.
Two pregnant women died in Bangabandhu Sheikh Mujib Medical University Hospital in Dhaka on Wednesday and yesterday while three people died in Mitford Hospital, in Noakhali, and Faridpur.
Maliha Mahfuz Anya, who was undergoing treatment at the Intensive Care Unit of the BSMMU, died around 2:30am yesterday, BSMMU Director Brig Gen AK Mahbubul Haque said.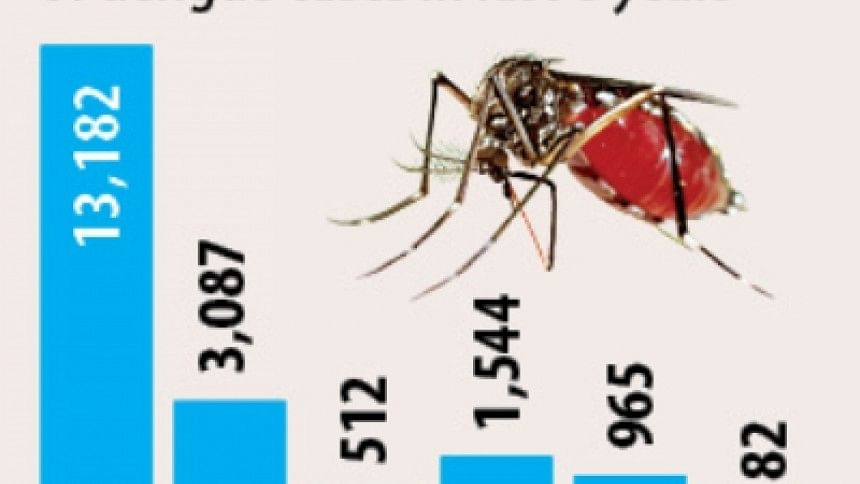 Another pregnant woman Farjana died Wednesday morning while she was receiving treatment at the hospital, he added.
Railway employee Mosharraf Hossain Raju, 30, died yesterday after being diagnosed with dengue at a Noakhali hospital.
Anowar Hossain, 40, a human rights activist of Munshiganj died at Mitford Hospital.
Sharmin, 22, died at Faridpur Medical College Hospital on Thursday, said Kamda Prashad Saha, superintendent of Fardipur Medical College Hospital.
According to sources in hospitals, at least 50 people have died of dengue this year. The DGHS, however, puts the figure at 14.
DNCC MAYOR
Dhaka North City Corporation (DNCC) Mayor Atiqul Islam yesterday said a sample of insecticide would be brought from abroad in a day or two.
While addressing a programme in the capital's Uttara yesterday, he said, "From now on, we will be able to buy the pesticides to kill the mosquitoes. The quality of the chemical would be ensured by the authorities concerned of the government."
He said complying with the High Court directives, the chemical would be tested for effectiveness and then imported as soon as possible.
The High Court yesterday directed the two city corporations in Dhaka to import effective insecticides to eliminate mosquitoes from the capital.
It asked the government to support the city corporations after a dispute brewed between the two parties over who would bring in the insecticides.