Trailer for 'Mission Huntdown' out now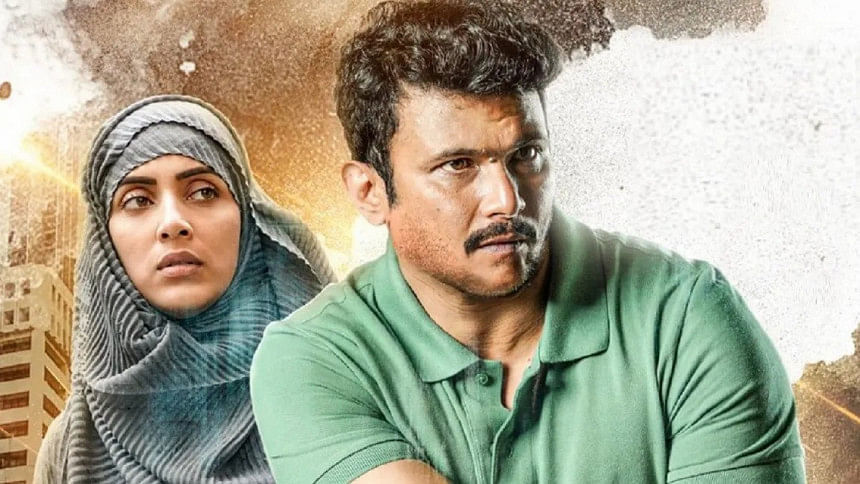 Hoichoi is all set to bring audiences a gripping action drama-thriller, with its upcoming web-series, "Mission Huntdown". The show is slated for release on June 28, as part of the upcoming Eid celebrations. The trailer for the series was released earlier today.
The series is filled with suspense, action-packed and emotion-ridden. It will feature a star-studded lead cast comprising of FS Nayeem as 'Mahid' and Bidya Sinha Mim as 'Neera'.
"Mission Huntdown" will the mark web-series debut of Bidya Sinha Mim, as she stars in her first-ever Hoichoi project. It will also be the long-awaited return of FS Nayeem, who received much acclaim for his role in the popular Hoichoi series, "Karagar".
"Mission Huntdown" explores the story of ATS chief Mahid, a ruthless cop whose only mission is to bring down terrorist organisations, as his wife was murdered by a group of terrorists in front of his eyes.
Neera, who is a village girl, comes to Dhaka to find her missing husband, Zillur. She seeks help from law enforcement authorities, but the police seem unwilling to help her. Mahid is introduced to Neera, together they embark on a journey where their missions align.
Speaking about his role in the series, FS Nayeem said, "Starring in 'Mission Huntdown' wasn't like acting in just any project, it was an ego-transcending, spiritual experience for me. I have been living in the headspace of my character, Mahid for the last 4 months. This role is that special to me and I have given it my 100 percent effort and energy. I am grateful to Hoichoi and the show's creators for believing in me. Now, the rest is up to the viewers."
Talking about the audience's reaction to the trailer, Bidya Sinha Mim said, "I am extremely overwhelmed by the response garnered by the trailer. I am hoping this excitement makes our audience also watch the show! It's my first time working with Hoichoi and it has been an absolute pleasure. I am thankful to my directors Sunny Sanwar and Faisal Ahmed, who presented me with the challenge of bringing such a complex character like Neera to life, as I always love a good challenge."
The director of "Mission Huntdown", Sunny Sanwar also shared his thoughts on the series, "Making a web-series in a popular genre like action-thriller requires two things—an experienced team and a budget supporting that. Kudos to Hoichoi for having the brave spirit to be a trailblazer and giving us the support that we needed to make a show like this. I believe audiences will appreciate 'Mission Huntdown'."