My daughter wanted to see snow, the wish has been fulfilled: Badhan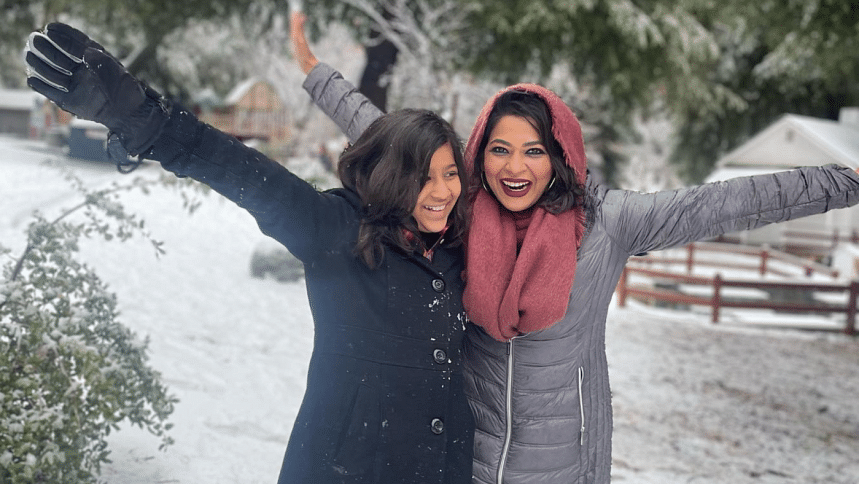 Popular actress Azmeri Haque Badhan is enjoying her vacation with her daughter Saira in America. In the past few days, she has been posting beautiful photos of her visiting many iconic places in America, with her daughter. 
In a candid chat with the Daily Star, Badhan shared her memories of this wonderful vacation from California. 
"We are having so much fun together. These happy moments are making life more colourful and vivid," said Badhan. 
"My daughter's first tour was in America. At that time, I thought, Will I ever be able to travel with her again? However, with the grace of Almighty, I did just that. Life is really beautiful."
Right now, Badhan is content because she has fulfilled the wish of her beloved daughter. Saira wanted to see snowfall. As it had been snowing for a few days in America, Saira's wish was fulfilled. 
"My daughter and I are having a great time in the snow. I will remember these moments forever," said Badhan. 
Reminiscing about the old days, Badhan said, "When I first took Saira to America in 2019, It was an uncertain and challenging period of my career. I wanted to show her Disneyland. That time I told my daughter, this might be your last tour with me because I took her to Disneyland by breaking my savings."
"Now, I am grateful to the Almighty that he made me capable of traveling with her again. We have traveled a lot in the last two years. It proves that everything happens for good," she added. 
Badhan and her daughter, Saira, will return to the country soon. The actress will be attending the Dhaka Lit Fest after coming back to Bangladesh. 
Meanwhile, the Badhan-starrer web film "Guti" will be released this month, in which she will be seen as the character of a drug dealer. Apart from this, her Bollywood film "Khufiya" is expected to release in March.