Aamir Khan's son Junaid to star in Thai film 'One Day' remake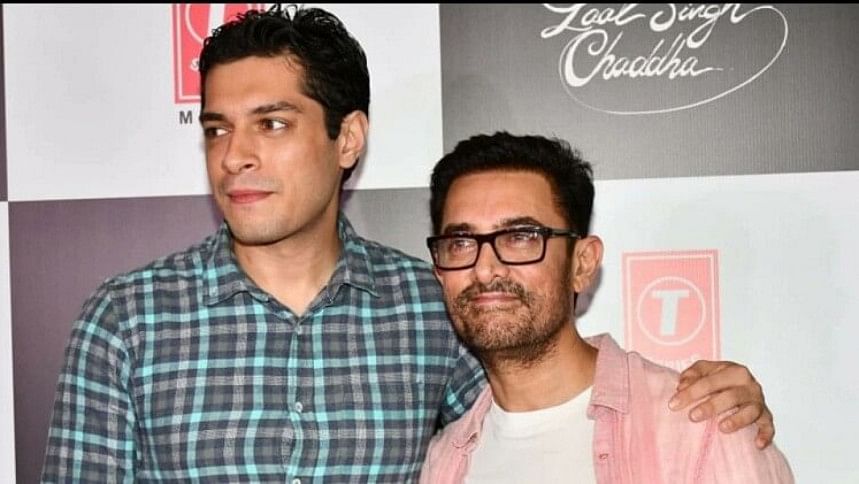 Whispers of anticipation are reverberating through Bollywood, hinting at an exciting new project spearheaded by none other than the versatile Aamir Khan. 
According to recent reports from Pinkvilla, the superstar is planning to collaborate with his talented son, Junaid Khan, in a movie that's generating considerable buzz. It is said that this father-son duo is gearing up to recreate the magic of the 2016 Thai romance thriller "One Day" for the Indian audience.
Sources closely associated with the production have shared insights into this intriguing endeavor. "The forthcoming movie starring Aamir Khan and Junaid Khan is an adaptation of the Thai film 'One Day'," insiders reveal. 
Aamir Khan's admiration for this Thai romantic gem prompted him to secure the official remake rights last year. The film is expected to be directed by Sunil Pandey, a longtime associate of Amir Khan. 
Although Junaid Khan is expected to take on the leading role, the identity of the female lead remains undisclosed.
The original Thai film "One Day", directed by Banjong Pisanthanakun and starring Chantavit Dhanasevi and Nittha Jirayungyurn, received accolades for its intricate storyline and emotional depth. The narrative revolves around a man who dares to risk it all for a single day with his crush, pretending to be her partner after she suffers memory loss due to an accident. The movie delicately navigates themes of deception, confrontation, memory, and sacrifice. 
In addition to Junaid's movie, Aamir Khan is actively producing a rendition of the 2018 Spanish sports drama "Campeones", featuring Farhan Akhtar and directed by RS Prasanna. 
The actor is also behind the remake of the hit Malayalam black comedy "Jaya Jaya Jaya Jaya Hey", with Fatima Sana Shaikh in the lead, directed by the original Malayalam director. Furthermore, Aamir Khan Productions is gearing up for the release of Kiran Rao's "Laapataa Ladies" and Sunil Pandey's "Pritam Pyare" this year.