11 Years of 'Rockstar': Ranbir Kapoor's stepping stone to super stardom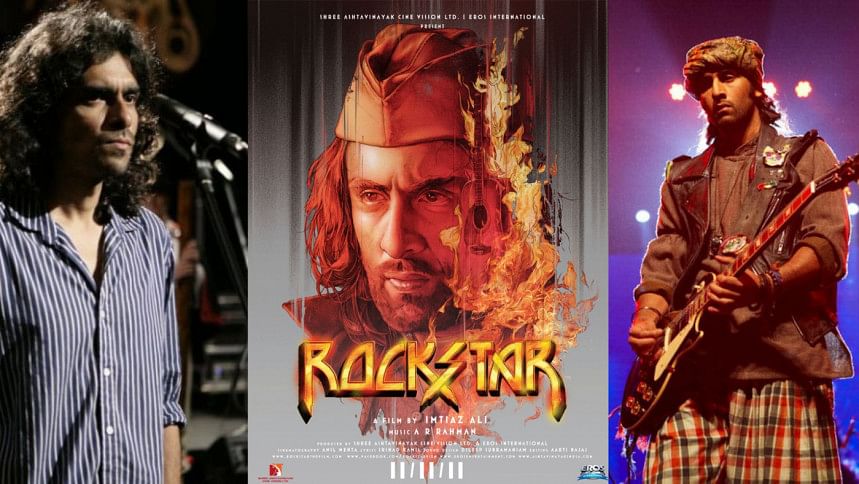 2011 was an eventful year for the Indian film industry. This year saw the debut of Rohit Shetty's cop universe, with the release of "Singham", and Zoya Akhtar's return to road-trip movies with "Zindagi Na Milegi Dobara". Also released were unexpected hits like "Delhi Belly", "Dhobi Ghat", "Tanu Weds Manu", and "No one killed Jessica".
However, near the end of the year, "Rockstar" would be released, which would fundamentally change how fans perceived Ranbir Kapoor and Imtiaz Ali's capabilities as actor and director, respectively.
Not only did "Rockstar" save Ranbir Kapoor's career, it also helped Imtiaz Ali become a youth-icon in the film industry. With November 11 marking the film's 11th anniversary, we felt compelled to take a trip down memory lane and reminisce the success of "Rockstar" and its impact on Bollywood.
Aside from the success of "Ajab Prem Ki Ghazab Kahani" (2009) and "Rajneeti" (2010), Ranbir Kapoor's filmography had previously included more flops than hits. However, "Rockstar" arguably gave Kapoor a new identity in the sphere of Bollywood.
The plot of "Rockstar" expertly illustrates young man's inspiring and heart-breaking journey, as Janardan (Ranbir Kapoor)—a fresh college graduate—becomes Jordan, a destructive rock star.
One of the major reasons behind the success of "Rockstar" is the soundtrack. Imtiaz Ali is well known for incorporating soulful soundtracks in his movies, and the case is the same for "Rockstar". With a soundtrack composed by Oscar-winning artist, AR Rahman, songs like "Jo Bhi Main", "Sadda Haq", "Kun Faaya Kun", "Tum Ho" and "Naadaan Parinde" are still remembered by fans for how well they were interwoven with the plot of the film.
Rahman not only wrote all 14 songs, but he also contributed his voice to many of the tracks. The lyrics were written by Irshad Kamil, while Mohit Chauhan sang a majority of the songs.
Another reason why "Rockstar" is cherished by fans, is the fact that it is the last film of Bollywood legend Shammi Kapoor. Ustad Jameel Khan (Shammi Kapoor) introduces Jordan to the other side of fame, showcasing the dichotomy of popularity. This is particularly the case, when Jordan reaches the pinnacle of fame and success, but does not feel happy or inspired as a result.
For quite some time, "Rockstar" served as the catalyst for conversations concerning the idea of 'toxic masculinity', a concept which many viewers were not aware of at that time.
Where the movie falls short, is with its portrayal of female characters. Without addressing the female characters, the conversation around toxic masculinity in the film falls flat at times. Particularly, Nargis Fakhri's casting as Heer was one of the movie's biggest flaws. When a talent like Ranbir Kapoor is on one side, the mismatch with a less skilled artiste feels detrimental to the movie's overall success, and such was the case here.
However, "Rockstar" still managed to become a hit, owing to the overarching plot and music. Almost all of Imtiaz Ali's movies have a common theme of longing and isolation. So, it is no surprise that in "Rockstar", Jordan is actually the true villain of the film.
It can be said that Kapoor created an identity for himself with this film, going on to play similar 'man-child-like' characters in movies like "Barfi" and "Yeh Jawaani Hai Deewani".
While one might be pigeonholing Ranbir by labelling his roles in multiple successful films, as a 'man-child', the actor should definitely be given props for portraying these characters with such depth and surrealism.
With each passing year, our perspectives around these movies will continue to change as we mature. Cinema is meant to serve as a record of the culture and creative forms that were popular at the time, and there is no doubt how crucial "Rockstar" was in skyrocketing Ranbir Kapoor's stock in the Bollywood film industry.
Hopefully, by the next decade, we will be able to see films like "Rockstar", "Barfi" and many more through a completely different microscope, observing new themes and elements that we had previously failed to note.