'50 Years of Friendship': EMK Center celebrates Bangladesh-US relationship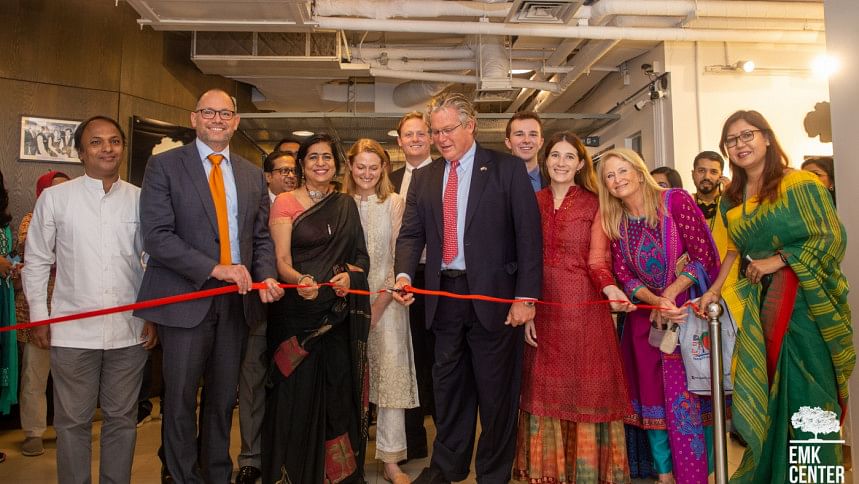 In order to commemorate the 50 years of friendship between Bangladesh and the US, EMK Center recently organised a print exhibition—showcasing the artworks of Bangladeshi and American artists—appropriately named "50 Years of Friendship".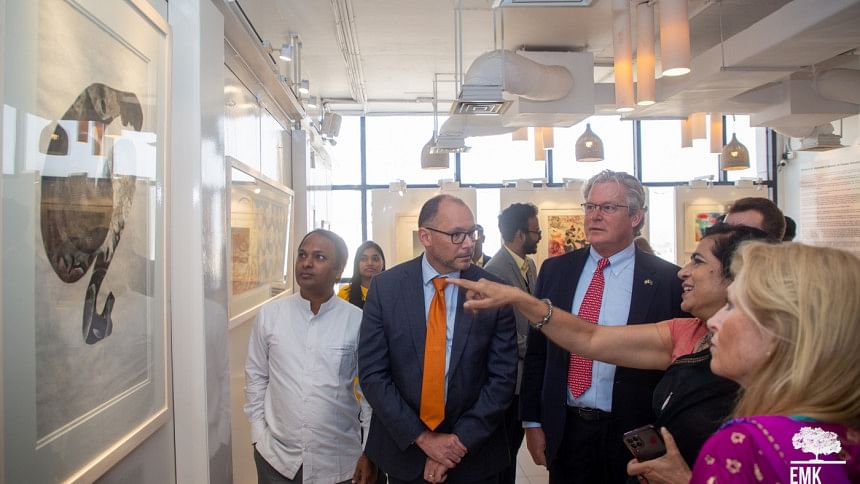 The exhibition was jointly curated by Rokeya Sultana, Professor of the Printmaking Department, Faculty of Fine Arts, University of Dhaka, and Karen Kunc, Professor Emerita of Art, University of Nebraska-Lincoln. The participating artists include Nagarbasi Barman, Razwanur Bhuiyan, Andy Rubin, Mark A Ritchie, among others. As a result of the diverse range of artists, the exhibition was home to a beautiful collection of artworks—each exploring a different theme.
Rokeya's distinctive pressure prints, which blur the borders between the abstract and figurative genres, are generally formed of geometric symbols that accomplish a visual embodiment of her thoughts. Organic, fluid, and free-floating shapes characterise these formations. Her artworks were created using stencils, recycled plastic, and natural materials—keeping in mind a non-toxic approach.
"This exhibition compelled people to ponder their opinions and sparked fresh curiosity in the cultures of Bangladeshi and American artists. It will lead to further initiatives and collaborations, while also inspiring future generations of students," said Rokeya.
Kunc emphasised the importance of exemplifying and celebrating the role of communication and connection through art. "The artists included in this exhibition represent vast experiences, teaching knowledge, extensive travel influences, and mature artistic expressions that address today's multifaceted perspectives on world issues, through individual visual voices," asserted Kunc.
Her work transports the observer to an imaginary world of whirlwinds, streams, and pools, punctuated and accentuated by vibrant colours. The prints are reduction woodcuts produced in stages and layers using oil-based inks, rollers, selective inking, and blending. Kunc attempted to express the eternal feeling of life's ebb and flow via process and concept, searching for a sense of place in the universe and in existence.
Nagarbasi is presently working as an Associate Professor at the Department of Fine Arts, Jatiya Kabi Kazi Nazrul Islam University, Mymensingh. His childhood was influenced by the flow of the Buriganga and the dreamy life of the fishermen. So, similar themes are reflected in his etched artworks. The skilful lines create a tonal effect, and show how the possibilities of this medium vary.
Over time, the beauty fades away, leaving behind an unfortunate result of pollution and politics. Nagarbasi uses fleshless skeleton as a metaphor to depict how the lives of fishermen have been transformed due to the intrusion of middlemen.
Razwanur, a lecturer at the Shanto-Mariam University of Creative Technology, is known for experimenting with most of the mediums of printmaking and has brilliant experience in painting. He enjoys playing with muted colours, and his art accommodates several compositions and shapes. Razwanur has a strong interest in geometric shapes, which have taken up a lot of space in his works. Through his work, he intends to highlight societal instances through the lyrical representation of lines and forms which capture grief, suffering, and helplessness.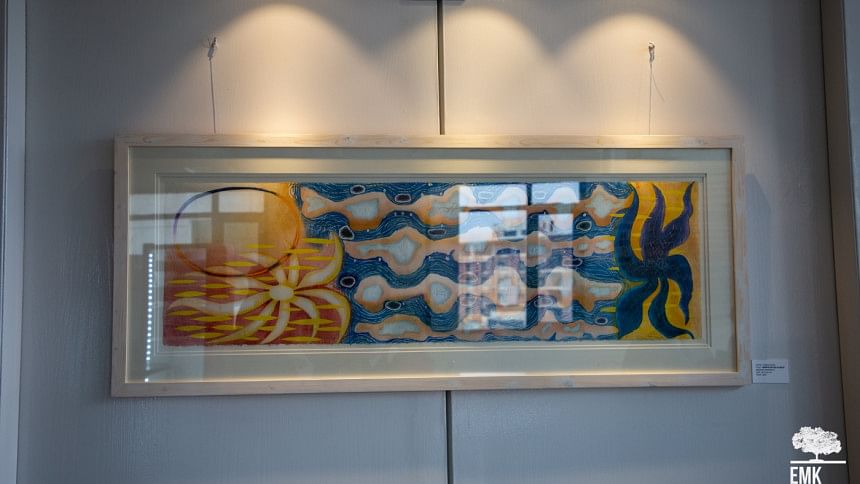 Rubin has been working with print for over 25 years and has witnessed numerous developments, both aesthetically and technically. His work is influenced by the drawings of Saul Steinberg and Ben Shahn—the architecture of Antoni Gaudi and Frank Gehry—along with the American abstract movement's post-cubist imagery. These include whimsical lines, cubist forms, and colour senses, which are founded in the same abstraction of building, structures, and doodles that become landscapes.
Finally, Ritchie's work uses a non-western manipulation of space and a variety of materials and methods to create a subtle layering of ink, graphite and pigment on paper. He is fascinated by wild mustangs, and views them as more than just a majestic animal. Ritchie explores the history, symbolic significance, and spirit of freedom linked with mustangs.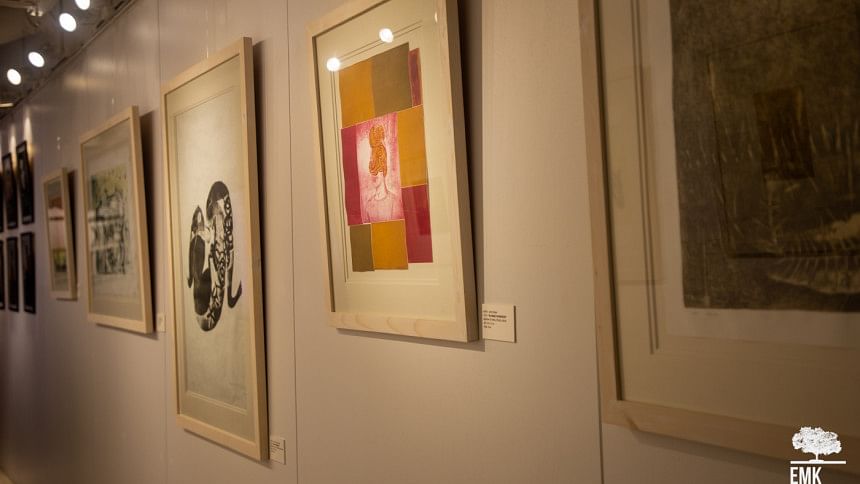 It is interesting to see the contrast and harmony that can echo through an exhibition when artists from different backgrounds, countries, and culture come together to showcase their work. In some ways, this can tell the tale of friendship between two countries, who have formed a bond over the course of 50 years. The exhibition ran from November 2 till November 15.