The making of Kuhu Art III: A celebration of colour, life and Dhaka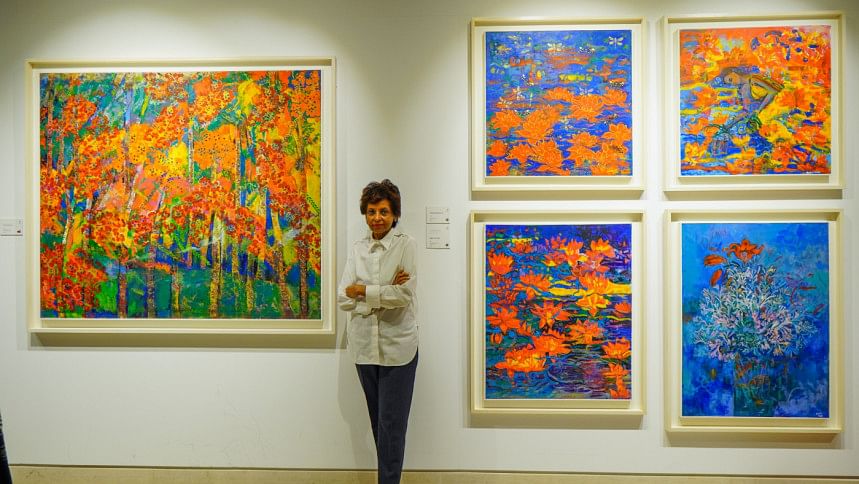 On 17 November, Kuhu Plamondon hosted her 3rd art exhibition at the Bay Edgewater Gallery, Gulshan Dhaka. Finding inspiration from the simplest of things, Kuhu's art collection this time was a sheer reflection of her thoughts. Sponsored by City Bank Limited, Mercedes Benz, and Bay Developments Ltd, the event exhibited some of the mesmerising arts of Kuhu Plamondo.
The busy and chaotic Dhaka life that people often find very overwhelming, for Kuhu, that busy life of Dhaka is what makes her love the city even more. Always a city girl, she admires the way we Dhakaites embrace every small inconvenience and blend it with our own story.
"The experiences that Dhaka has given me, I always try to convey that in my canvas. All the art pieces that you see today are somehow rooted to my everyday life and the thoughts that I have while roaming around the roads of Dhaka," shared Kuhu, explaining the reasoning behind her art.
Colourful strokes with a hint of our everyday activities such as a nice busy morning, a garden full of hauntingly beautiful flowers or even a woman wrapped in our traditional sari, are some of the significant elements that you would notice in her collection this time. The exhibition also featured some beautiful Jamdani and hand-painted saris that embody the true beauty of our heritage.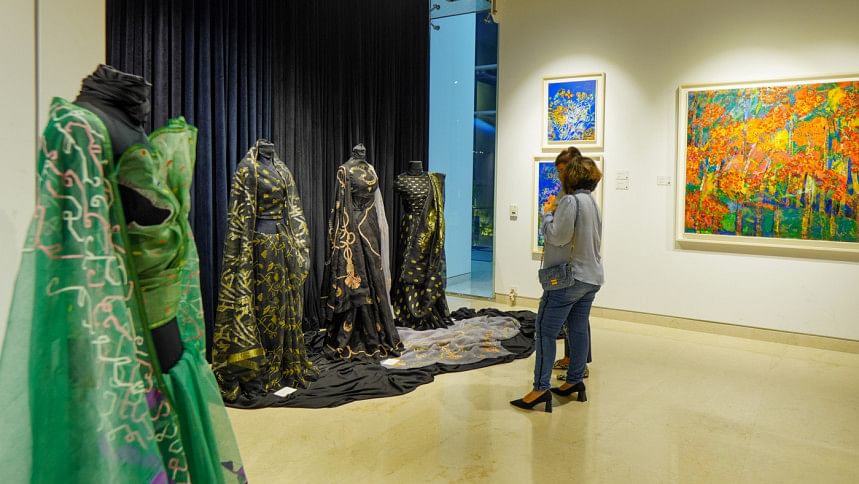 One of the guest speakers, Anjan Chowdhury, Chairman and MD of Square Group, was ecstatic to witness the growth of Kuhu Plamondon as an artist over the years. He recalled how encouraging her to do her first show took a lot of convincing for her. But being present at the event, one could clearly see the sheer happiness in his eyes.
Explaining further about her take on this colourful collection, Kuhu added, "Looking at a blank white canvas gives me anxiety. I can't let the canvas stay blank. And when I am feeling anxious, I just close my eyes and see platters of colours and start putting them onto my canvas."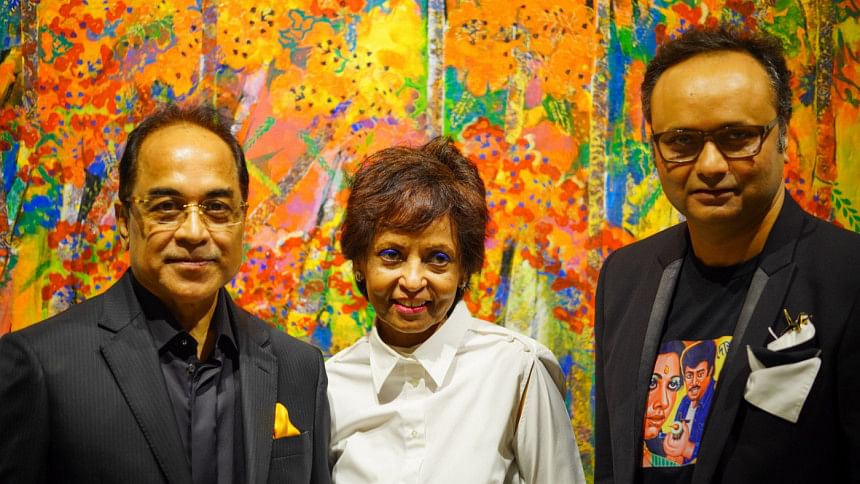 The scrumptious array of snacks like vegetable quiche, cheese and crackers, and chocolate mousse from Bistro E, were the prefect way to end the event.
The Making of Kuhu- Art III, was a reflection of the thoughts that go on in the mind of the artist. She wishes to keep continuing showering the canvas with her life experiences. Artists like Kuhu are the masters of turning vision into a reality.