Glue-sniffing: childhood lost on the streets
Children huddled in a corner huffing plastic bags is a common sight in Dhaka. Though rehabilitation efforts are needed urgently, the authorities that should be concerned only seem to be shifting the responsibility from one to other, while the children continue to suffer on the streets.
For example, 12-year-old Sharif (not his real name) has been living on the streets of Karwan Bazar for the past seven years. He does not know who his parents are, or if they're alive at all.
At night, he prefers to sleep near the rail line, although the government's rehabilitation centre for street children is just a five-minute walk from there. The shelter houses around 100 children between the ages of eight and sixteen who once lived on the streets.
Rakib (11), collects scrap materials in the same area. He prefers to live and work on the streets, although he is aware of the shelter which provides free food four times a day, along with clothing, sanitation, recreation and education facilities.
Both Sharif and Rakib confessed that like most other street children in the area, they are addicted to various kinds of drugs, primarily sniffing glue used for repairing leather or rubber products. Colloquially called "dandy", this substance is popular as it's cheap, but children also consume cannabis, cigarettes, and sometimes yaba.
"They usually buy glue from hardware shops," said Md Kalu Mia, owner of a nearby scrap store. He said children are influenced easily, so whenever one sniffs glue, others want to try it. "Soon enough, everyone in the circle gets addicted," he said.
These children also work as couriers between dealers and buyers. According to Sharif, there are around 20-25 cannabis dealers in Karwan Bazar rail gate area.
"Sometimes we help people buy the drugs. We buy cannabis at Tk 100 per packet from Shanta, Nirob, Anwar, Chikni and Arufa," said Sharif. Referring to yaba as "baba", he mentioned the places where the pills can be bought.
According to them, every time they supply to buyers, they receive tips of Tk 20-50. "A few customers even give us a couple of baba as tips," Rakib said matter-of-factly.
When asked how they manage this despite the presence of law enforcement and government's "zero-tolerance" policy against drugs, Sharif said police usually don't arrest them.
"They sometimes arrest us in front of public, but later free us after some beating. Police even know who sell drugs, but they don't do anything because the dealers regularly pay them a share," claimed Sharif.
REHABILITATION OR RUNNING IN CIRCLES?
Contacted, Shamim Ur Rashid Talukdar, officer-in-charge (OC) of Tejgaon Police Station said the allegation is "baseless."
"These children don't have any moral sense or education. We are really very worried about them. We can't always apprehend minors, and they cannot be taken to court in the condition they remain in," the OC said.
The OC added that they are open to working on this issue. "These children should be sent to government shelters and we have already sent some of them there," he added.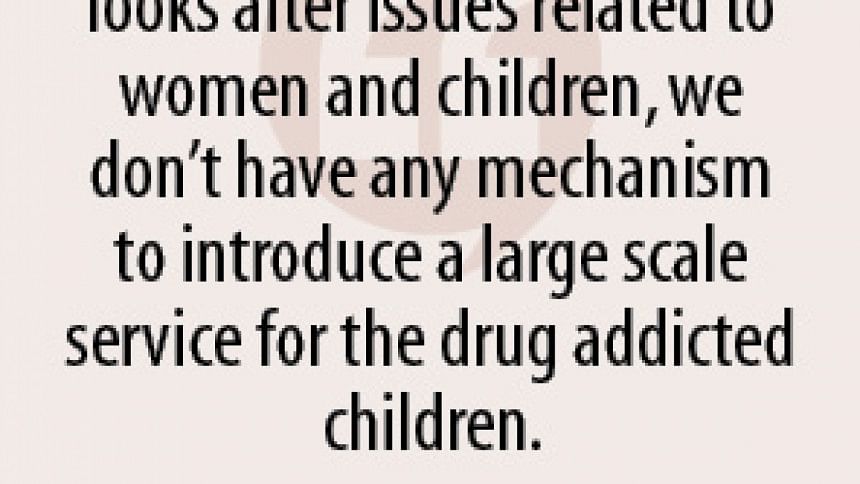 However, despite having basic facilities for living, the two shelters run under Street Children Rehabilitation Programme of the Ministry of Women and Children Affairs in Karwan Bazar and Kamalapur areas have no rehabilitation facilities for drug-addicted children.
The two shelters house nearly 250 children, but those who are addicted to dandy and other drugs rarely stay.
Sharif and Rakib were taken to the Karwan Bazar shelter several times by the staff, who regularly scout the stations to invite children to the shelter, but in their own words, "We escaped because we cannot beat the craving."
The shelters do not lock children in rooms, and they can get out in the afternoon if there is an emergency. The addicted children take advantage of that and eventually escape.
"This is a major challenge for us, as we cannot hold them for long. Rather, they influence other children from the shelter to go with them," said Mamun Bakaul, a resident social and health worker of Karwan Bazar Street Children Rehabilitation Centre.
According to Mamun, the rehabilitation centres' staff received a one-week psychological training from the National Trauma Counselling Centre (NTCC). They were trained to motivate street children and encourage them to go to shelters.
But this counselling does not work for addicted children, Mamun observed. In most cases, local drug dealers have a stronger influence on them, and it's easier for them to peddle drugs using children.
"They work for a very minimal amount of money or drugs, and police are reluctant to arrest minors. As time goes by, they resort to various criminal activities to get money for drugs," Mamun added.
Dr Abul Hossain, project director of the ministry's Street Children Rehabilitation Programme, informed that the ministry does not have any programme that address or rehabilitate addicted street children.
"Although our ministry looks after issues related to women and children, we don't have any mechanism to introduce a large scale service for the drug addicted children," he said. "But we can coordinate with the narcotics department."
"Since the management of addicted children is different, it is risky to allow them to stay with other kids. They can be referred to the Central Drug Addiction Treatment Centre (CDATC) in Tejgaon, which offers 10 beds for the treatment of addicted street children since 2013," he added.
But CDATC too is failing to treat those children, as there is no system in place to send the children there.
From 2016-18, under an MoU with CDATC, Dhaka Ahsania Mission used to send children there for rehabilitation but there is no such arrangement at the moment.
"We don't have any designated staff here for this matter and this is not our responsibility either. The narcotics department's staff who work to control drug trade, sometimes bring children here and after giving necessary treatment, we send them to the government shelters," said Syed Imamul Hossain, chief consultant of CDATC.
According to Ahsania Mission's Programme Officer Wadud Rahman Emon, the MoU ended as it was too costly for their organisation. "We had to bear the cost of their clothing, hygiene, transportation and other activities," he said.
A PRIVILEGE THEY CAN'T AFFORD
On the other hand, according to media reports, earlier in 2014, two government rehabilitation centres for drug-addicted street children at Dhaka's Hazaribagh and Karail slums were closed, as donor agencies refused to continue funding the project.
Reports claim that those rehabilitation centres performed poorly and failed to rehabilitate enough children during three years of operation.
Wahida Banu, executive director of national child rights organisation Aparajeyo Bangladesh, said the few organisations that work on the rehabilitation of children are for those from well-off backgrounds, who can afford long-term treatment. In comparison, there are very few NGOs that work for street children.
The government does not have any recent, complete consensus of homeless children, let alone the number of them who are being exposed to drug abuse. Bangladesh Shishu Adhikar Forum conducted a survey a decade ago, where they found that 85 percent of street children are addicted to drugs.
Prof Dr Arup Ratan Chowdhury, founder of the Association for the Prevention of Drug Abuse, explained, "Dandy actually works as a gateway drug which later leads children to take more harmful substances."
"Since their addiction is not as severe as adults, they can be treated without any detoxification. They just require isolated rehabilitation and psychological counselling from professionals," he added.