Parks and recreation, a distant dream
Do authorities care at all about citizens' quality of life?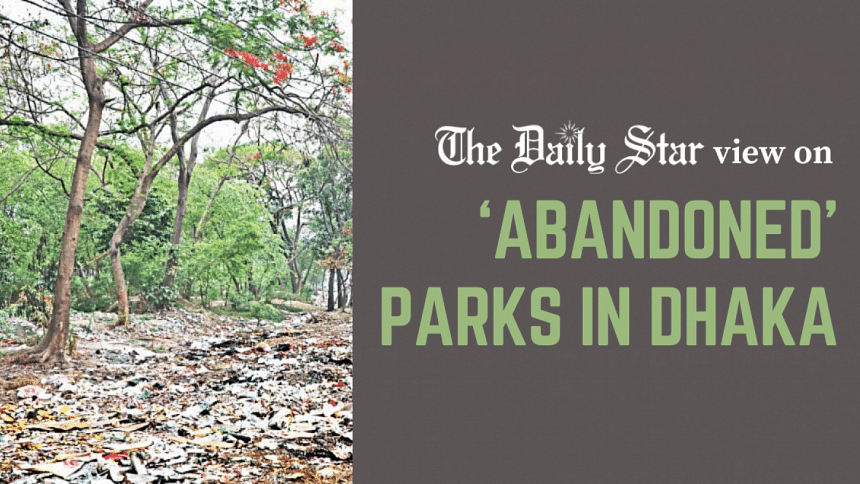 In a city starved of green and open spaces, it is inconceivable that two major parks, Osmani Udyan and Panthakuja, have been made inaccessible to the public in the name of development work. Five years have passed since the so-called beautification projects – which was supposed to be completed within a year – were first undertaken, with no visible progress or end in sight of the construction work. In the meantime, as reported by this daily, these parks, which used to attract a large number of people from all walks of life, have become hotbeds of illegal encroachment and criminal activities.
As is usually the case with development projects in the country, a huge amount of taxpayers' money has been allocated for these projects, but there appears to be no accountability of the authorities to ensure corresponding public benefit. As per the Dhaka South City Corporation (DSCC), the project deadline for Osmani Udyan was extended three times and the cost increased from Tk 54 crore to Tk 89 crore before the DSCC finally cancelled the contract with the assigned construction firm eight months ago. A new contracting firm is yet to be appointed, and it is anybody's guess when the new contractor will be able to finish the deliverables. Meanwhile, the DSCC's Tk 19.20 crore beautification project for Panthakunjo Park has been suspended due to a dispute between the DSCC and relevant government organisations over the installation of Elevated Expressway pillars within the park. The lacklustre attitude of the DSCC over the protracted delay in finishing the projects is simply unacceptable, particularly given that it still doesn't seem to have a deadline in sight for when these open spaces will be open to the public again.
These are hardly the only examples of abandoned or encroached public spaces in Dhaka city. Despite promises over the past six months that the Lalmatia D Block playground will be opened soon, it is still out of commission. The same goes for Trikona park in Lalmatia and Shahid Park in Mohammandpur. And the list, depressingly, goes on. We wonder if the city authorities care at all about the quality of life of residents and realise how crucial open public spaces are in a city that has all but been taken over by concrete. We urge them to stop undertaking massive beautification projects that end up costing, rather than benefitting, the public. The DSCC and DNCC need to take urgent steps to free up and operationalise encroached and abandoned parks.