'Us Women II' showcases fierce and soulful artworks
Us Women II, an exhibition held at EMK Center in commemoration of International Women's Day, celebrates the ways in which the young artists of Bangladesh perceive womanhood and all that it entails. The brilliantly curated show includes artworks that are fierce and soulful at the same time. The exhibition includes the works of 26 artists that submitted to an open call for entries on social media. The first installment of this exhibition was hosted last year.
The group exhibition consists of a harmony that binds the paintings together to tell a larger story. Every piece fits into a narrative that is diverse in the stories told and the imaginations to be interpreted.
On a technical level, all the paintings maintain a consistency of high value. Artists using a broad range of media emphasise their perceptions through deft use of their skills. What also stands out in the exhibition is the vibrancy of the artworks, the loud colours that are used in producing highly pigmented artworks that grasp the attention of anyone entering the gallery.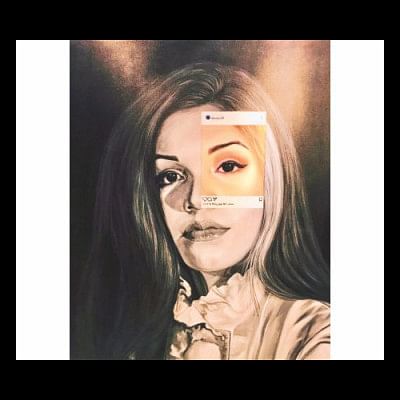 Surreal works, artworks inspired by Japanese prints and modern and stylistic takes on Bangladeshi folk art are displayed. By making a statement on the role of women in society in terms of the oppression they face, an artist depicts what it looks like for that role to be reversed. The dark painting, which portrays an eerie mood shows a woman in a red and green saree taking centre stage, as though all eyes are on her while she claims her rightful place in the society, with a crown atop her head. A sinister presence looms behind her, only the eyes and claws of which are made visible.
Another artist with her painting titled, Breaking Free  tells her story without needing the help of the title. In it, the figure of a woman, loosely painted in black and white seems to be crying in a cage which is mostly intact till it breaks into a shocking explosion of colours, implying that the woman's freedom exists in the skies, in the many hues of pink, blue and orange.
The exhibition, which concludes tomorrow, succeeds in bringing new voices into the art scene of Dhaka as well as in the conversations surrounding womanhood and femininity.