UPL launches Samuel Jaffe's book on US grassroots activism in Bangladesh Liberation War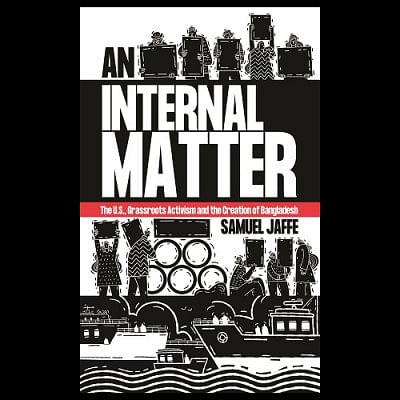 In a live YouTube broadcast, The University Press Limited (UPL) launched their book, An Internal Matter: The U.S., Grassroots Activism and the Creation of Bangladesh, written by Samuel Jaffe, at 7 PM on Saturday, January 15, 2022.
An independent scholar based in New Zealand, Jaffe has a dual MA/MSc in International and World History from Columbia University and the London School of Economics, where his research interests focus on the international responses to Bangladesh's Liberation War. An Internal Matter draws upon his graduate research on archival records, interviews, and activities of pro-Bangladesh grassroots organisations who advocated for the country's independence in 1971. Contrary to the common focus on diplomatic figures, Jaffe's narrative of the war highlights the contribution of ordinary people—from Dhaka and Manpura to those based in the United States and in the congress—who challenged the Nixon administration's pro-Pakistan stance. 
"We now get an amalgamation of these accounts", said Mahrukh Mohiuddin, Managing Director of UPL, "of individuals and entities who we didn't know had played a crucial role in the grassroots movement".
In her opening remarks, Mahrukh Mohiuddin stated that the publication of Jaffe's book aids UPL's attempt to bring back "a fresh start for many accounts of the Liberation War that had been lost or gone out of print for some time". 
A number of notable panelists graced the book launch—Dr Shamsul Bari, former Director of the United Nations (UNHCR); Katherine Dunham, Adjunct Associate Professor of Columbia University Graduate School of Architecture, Planning and Preservation (GSAPP); Abul Hasan Chowdhury, former State Minister for Foreign Affairs of Bangladesh; Dr A Qayuum Khan, freedom fighter and former Managing Director of Bureau Veritas Bangladesh; Julian Francis, Independent Development Consultant; and independent scholar and the author of the book himself, Samuel Jaffe; along with UPL Managing Director Mahrukh Mohiuddin. Jon Rohde, Senior Lown Scholar of Global Health and Population at Harvard T.H. Chan School of Public Health, also made an appearance.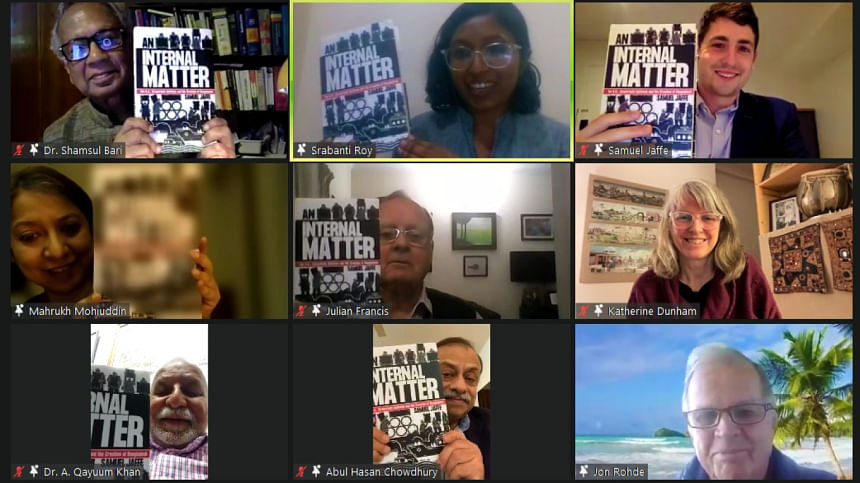 Author Samuel Jaffe, while introducing his book, said, "First and foremost, it is a story about an injustice and ordinary people responding to an injustice, which is the heartless and callous response of the United States to the plight of Bangladesh in 1971—the Nixon administration's response".
"But on the other hand," he said, "it is quite a hopeful story, in that, in responding to the injustice, we saw many ordinary people coming together to try and support the country and its conception". 
Dr Shamsul Bari remarked that the birth of Bangladesh is unique in world history in many ways. "One particular feature of that birth", he stated, "is that we were the first colonial country to be born after World War II by exercising our collective human rights". 
"As the author named the Bangladesh movement in 1971 in the US, a grassroot activity, I had the opportunity to be a part of that activism. Samuel Jaffe has drawn an authentic picture of those activities", Dr Bari said. 
Katherine Dunham shared, "My parents, Mary Frances Dunham's and Daniel Dunham's, love for Bangladesh started in the 1960s, when they moved there. I would hear stories of the Liberation War here and there as a child then, but could not get the big picture until I read Sam's book and picture the roles that my parents played in it".
The panel discussion, revolving around the idea about how  the book offers new insight for international and global studies of the Liberation War of Bangladesh, commended Samuel Jaffe's effort to extensively interview individuals and obtain an authentic portrayal of the war.
An Internal Matter: The U.S.,Grassroots Activism and the Creation of Bangladesh can be bought from the UPL showroom, located in Farmgate, at 850.00 BDT ($25.00). 
Maisha Syeda is a writer, painter, and a graduate of English Literature and Writing. She is an intern at Daily Star Books.