Tough choices, terrifying consequences
'I Did It For You' by Jayne Cowie (Penguin, 2023)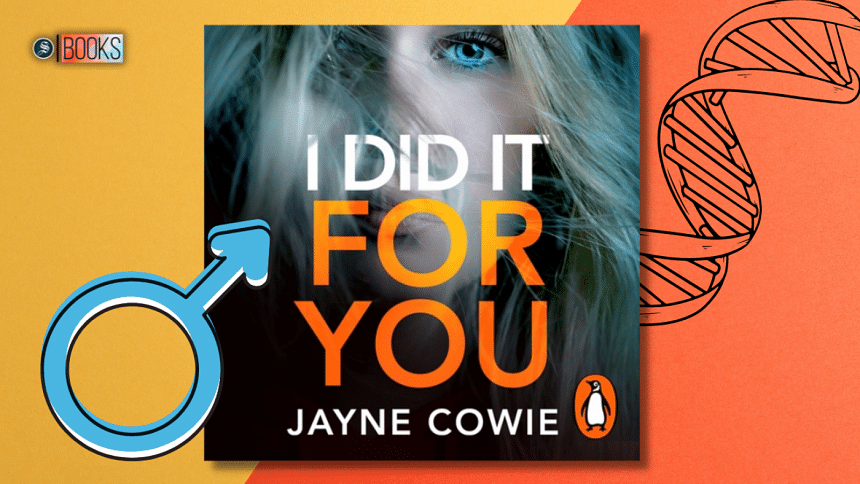 As any good parent can tell you, parenting invariably involves some pretty tough choices. And while we are bombarded with media images that show happy, well-adjusted children and the equally joyous adults around them partaking in wholesome delights ranging from a cosy, home-cooked meal at a family dining table to outings at theme parks and foreign holidays, the day-to-day caregiving kids require is rather less glamorous.
And always, always, always, there is the guilt about whether you are spending enough time with your children, sending them to the right schools, giving them the right food, spoiling them too much or not spoiling them enough, and so on, in a never-ending series of questions and an ongoing attempt to give your children the best possible start in life. 
How much harder would that already-challenging process be if there was a possibility that your child's entire future could hinge upon the results of a single genetic test? Jayne Cowie's book, I Did It For You, tells us just that.
The narrative is frighteningly plausible, and raises major ethical and social issues, beyond the already-complex minefield of parenting successes and shortcomings. 
In a world that is easily recognisable as ours, a major scientific breakthrough has ensured that boys born with a particular gene can be identified as having the potential to grow into violent men. This gene, known as M+, can be identified in baby boys with the use of a simple DNA swab of the mouth.
While the discovery has implications that could bring about widespread positive changes in society—particularly with regard to reducing domestic violence—it quickly leads to a split among those who support the test versus those who find the idea invasive or problematic. 
Nevertheless, within the space of just a handful of years, the test begins to determine the fate of young boys. Everything is affected—their access to schools, careers, relationships and, perhaps most importantly, how they are judged by the adults around them.
In this story, we are introduced to two sisters, both of whom give birth to boy children. That too, quite close in age. Antonia is the wife of a doctor, Owen, and a mother who coddles her son, Jack, to a degree that her sister, Bea, considers ridiculous. Antonia also chooses to have her son tested. Jack turns out to be M-, and does not carry the dangerous gene. 
Sensing the money-making potential of this social shift, Antonia and her husband Owen subsequently decide to open a clinic for M+ boys, and become very wealthy in the process as rich desperate parents seek a way out of the situation that their sons are likely to face as they get older.
By contrast, Bea and her partner Alfie decide, on principle, not to have their son Simon tested. But this leads to years of a situation where Simon is effectively treated as M+ by default, as he does not have a test result that can prove otherwise. Bea's social circumstances are the opposite of Antonia's, and the two boys each have access to a very different set of resources as a result of this.
Nevertheless, the cousins remain close. But as Simon and Jack approach adulthood, years of closely-held family secrets and the very different choices made by their mothers begin to play out in a dangerous fashion. And Cowie delivers twist after twist of storytelling magic that really makes you question what choice you would make under this terrible set of circumstances.
While fathers' decisions, and their consequences, are very much part of the story, at its heart, this book is about the sacrifices that mothers make for their children—and what being a good mother really means.
The narrative is frighteningly plausible, and raises major ethical and social issues, beyond the already-complex minefield of parenting successes and shortcomings. 
Cowie has delivered a gripping read which engages the reader's interest until the last page—particularly since the story goes turbo, hitting its stride (and how!), in the last few chapters. If you want a breathtakingly engaging read with just one speculative element, this is definitely a book worth reading.
Farah Ghuznavi is a writer, translator, and development worker. Her short story collection, Fragments of Riversong, was published by Daily Star Books in 2013.