July's ULAB Literary Salon discusses Bangladeshi short story anthologies
An engaging discussion on translations unfolded at the event.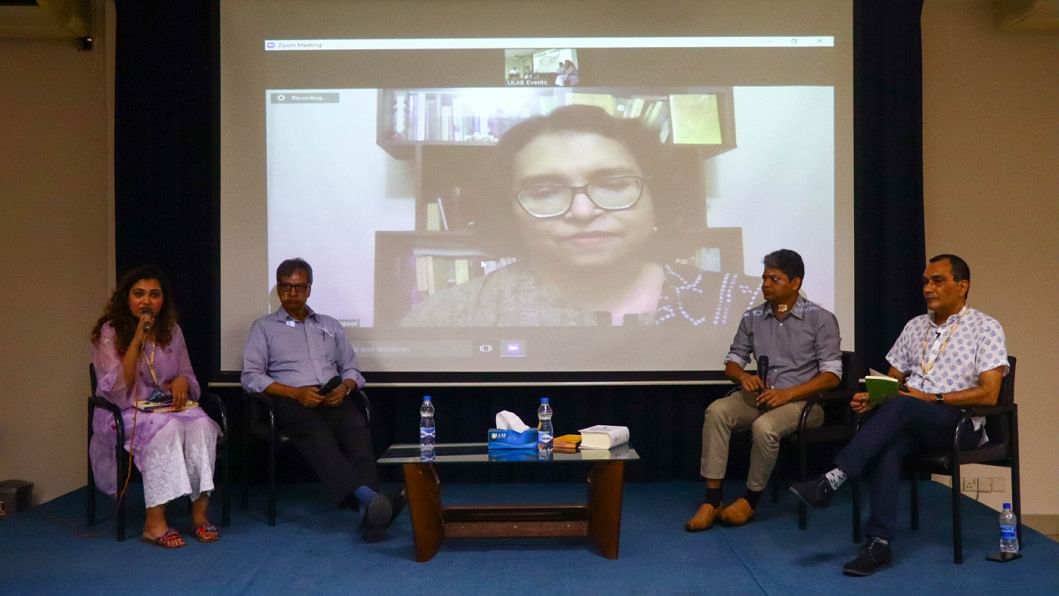 "Our lives are shaped [by] short stories", said writer and editor Rifat Munim at the third ULAB Literary Salon, organized by the Department of English and Humanities, ULAB, on July 23, 2022 at the ULAB Research Building auditorium in their Dhanmondi campus. 
This month's Lit Salon theme was, "An Evening in the World of Bangladesh's Favorite Literary Passion: Short Stories". The event brought together Rifat Munim, most recently the editor of Commonwealth Writers' adda magazine's Speak OUT! Issue 4 and former Literary Editor at Dhaka Tribune, and Sohana Manzoor, Literary Editor at The Daily Star and Associate Professor of English, ULAB in conversation with Kaiser Haq, renowned poet, translator, academician and Professor of English, ULAB, and Sudeep Chakravarti, writer, journalist, and Visiting Professor, ULAB. Moderated by Sarah Anjum Bari, Editor of Daily Star Books and Adjunct Lecturer, ULAB, the discussion focused on three English short story anthologies published in commemoration of Bangladesh's 50 years—When the Mango Tree Blossomed (Nymphea Publications), edited by academician, translator and editor Niaz Zaman, Our Many Longings (Dhauli Books) edited by Sohana Manzoor, and Golden: Bangladesh at 50 (UPL), edited by author Shazia Omar. The audience were joined, among notable others, by Ameena Ahmed, renowned Rabindra sangeet singer and member of the ULAB Board of Trustees, and Professor Shamsad Mortuza, Pro VC of ULAB, Dean of the School of Arts and Humanities, and columnist at The Daily Star. 
"It is relatively easy to publish short fiction… Even most of the novels published today in Bangladesh are long stories, novellas", Kaiser Haq said, explaining that the nature of life in Bangladesh—its cultural and historical developments—are better fitted to the short story form. Rifat Munim similarly reminisced about his days of growing up in the suburbs of a town—experiences that are easier portrayed through short stories. Professor Haq added that even today, the people of Dhaka are intimately connected to their villages. 
Sarah Anjum Bari, who has reviewed both Golden and Our Many Longings for The Daily Star, highlighted the distinctive tone of each book. Golden is lighter and funnier in tone and bold in its choice of topics. Our Many Longings manages to be an inclusive anthology, with Sohana Manzoor having selected stories by and about diaspora and marginalized communities. When The Mango Tree Blossomed is the most ambitious in its scope, featuring 50 short stories from the country's most acclaimed and promising authors and translators. 
An engaging discussion on translations unfolded at the event. Professor Kaiser Haq highlighted the importance of effectively translating the nuances of Bangla language and culture to English, as well as the lack of funding for well-trained translators. Speaking from the audience, Arifa Ghani Rahman, one of the translators appearing in two of the books and Head of the Department of English and Humanities at ULAB, stressed the need for proper recognition for translators. Editors of anthologies can play a key role in improving this situation, she shared.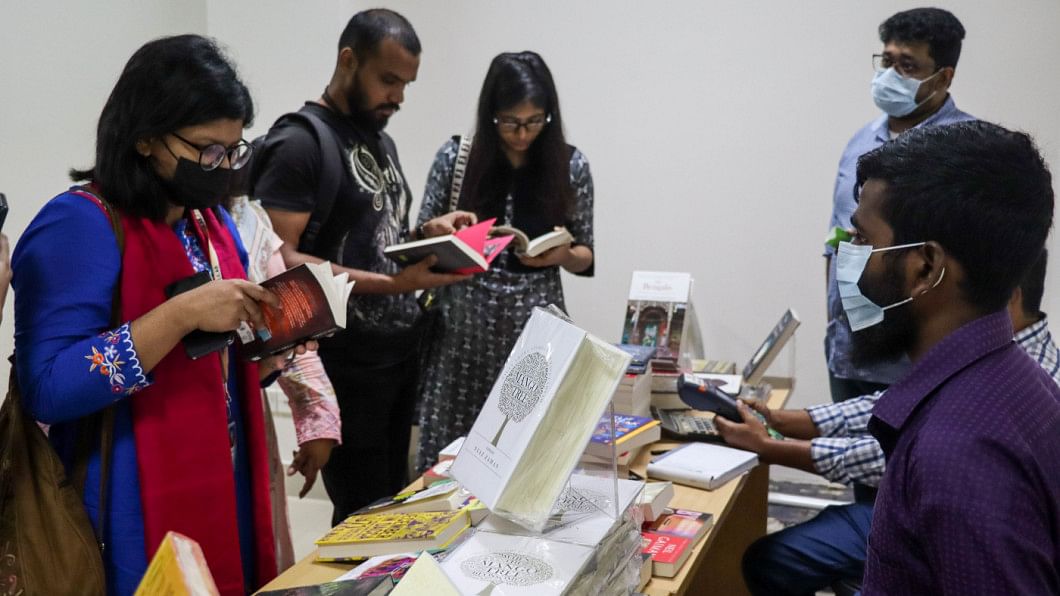 The event included readings from the three books—by Arifa Ghani Rahman, Salahdin Imam, Sehri Tales-founder Sabrina Fatma Ahmad, and Nahyan Ameen. The evening ended with a certificate giving ceremony for participants of the 4th Creative Writing Certificate Course offered by the Department of English and Humanities, ULAB.  
ULAB Literary Salon is a first of its kind literary platform in Dhaka which seeks to bring together writers, readers and publishers from Bangladesh and elsewhere in South Asia in an informal, engaging setting. Once a month, each month, it offers Dhaka's literary minded a Saturday evening of book discussions and sale of books at a discount by Bookworm Bangladesh and ULAB Press, ULAB Lit Salon's partners. 
Sudeep Chakravarti, co-organiser of the ULAB Lit Salon, announced that India's Partition, its independence from the British Raj, and its effects on Bangladesh, India, and Pakistan will be the theme for the 4th Lit Salon on August 13, 2022. More updates are available on the ULAB Literary Salon Facebook and Instagram pages.  
Maliha Huq is a contributor to Daily Star Books.