Help make Bangladesh developed country by 2041: PM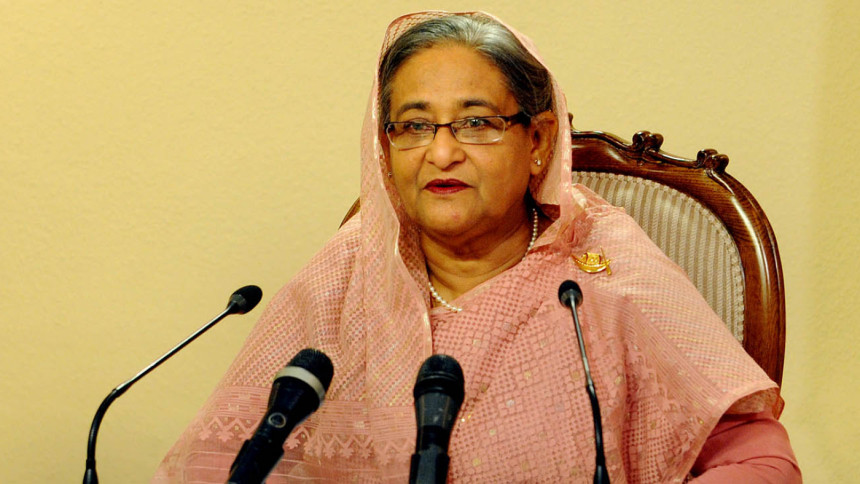 Prime Minister Sheikh Hasina, in an address to the nation today, sought all-out cooperation of the countrymen to turn Bangladesh into a prosperous and developed country by 2041.
"In 2008, I said that I would lift Bangladesh to a middle income country by 2021. We have already elevated the country to lower-middle income country. By the grace of Allah, Bangladesh will turn into a middle income country before 2021," she said.
Citing Gallup-Hope Index where Bangladesh is ranked second after Switzerland, the PM expressed firm determination to reach the targets with the "hopeful and confident countrymen" in the journey.
In the address marking the completion of two years of her government, the premier highlighted the successes of Awami League governments in the last seven years.
On this day in 2014, the AL government led by Hasina took office for the second consecutive term with an overwhelming victory in the January 5 general elections.
The address was aired simultaneously on Bangladesh Television, Bangladesh Betar as well as on private TV channels and radio stations.
Pointing out that Bangladesh is now at a critical junctures of history in terms of development, Hasina urged all to rise above all political divides to make the country free of hunger and poverty.
Cautioning against attempts of allies of the forces defeated in the 1971 Liberation War to create instability and anarchy, the PM said their real intent is to "instigate militancy and protect war criminals, mass murderers and Rajakars-Al-Badrs".
Reiterating that no force can obstruct the trial of war criminals, she said, "People have rejected those who do not want war criminals' trial."
Referring to statements of BNP Chairperson Khaleda Zia and some leaders of the party questioning the number of martyrs of the War of Independence and demeaning the martyred intellectuals, the premier expressed strong condemnation and protest.
"No slander about liberation war and freedom fighters will be tolerated. Form public opinion against these elements. We are beside you."
Recalling the political violence carried out by the BNP-Jamaat alliance ahead of the January 5 election, she said the brutality surpassed that of Pakistani occupation forces and their allies. She also pointed out that 231 people were killed and 1,180 were injured in petrol bomb attacks after the BNP-Jamaat alliance started violent demonstration from January 4, 2015.
Citing recognition of Bangladesh's success in different socio-economic indices, Hasina presented a comparative account of showing that per capita income, rate of poverty, state of employment, inflow of remittance, status of foreign exchange reserve, export income and gas and power generation during the tenure of the BNP-Jamaat alliance have gone up to a large extent during the AL governments' tenures.
While describing the development works undertaken by her government, she said that 100 economic zones would be built across the country and works for 16 such zones are already underway.
Giving account of developments in the communications sector, Hasina said that Hatirjheel project, Kuril-Bishwa Road flyover, Mirpur-Airport flyover, Banani overpass, Mayor Hanif flyover, Ahsanullah Master flyover in Tongi and Bahaddarhat flyover in Chittagong have been inaugurated.
"The construction works of Moghbazar-Malibagh flyover will end soon. The works of Elevated Expressway and Metro Rail are underway."
Saying that the country's largest construction project, the Padma Bridge project, involving about Tk 28,000 crore, is underway and vehicles will use it by 2018, the PM said, "The Padma Bridge would have a 1.2 percent contribution to the country's GDP [gross domestic product] growth."
She also informed that satellite town will be built centring Mawa, Shibchar and Jajira.
Citing different steps taken by her governments in the field of healthcare, the PM said while the average life expectancy was 66.5 years in 2006, it has now crossed 71 years. "Child and maternal mortality rate has dropped."
Talking about steps to turn the country into a 'Digital Bangladesh', the premier said, "Two hundred kinds of digital services are being provided now through establishing 5,275 digital centres across the country."
Saying that the number of mobile SIM subscribers is now more than 13 crore and Internet subscribers more than 50,707,000, Hasina said the country's maiden satellite, Bangabandhu Satellite-1' will be launched in 2016.
She said Bangladesh is now ahead of India and Pakistan in terms of use of Internet. "3G Service has been introduced. 4G service will be launched this year."
The country earned US$400 million from IT and ITS sectors last year, she said.