KHALIDA FAHMI
A woman of substance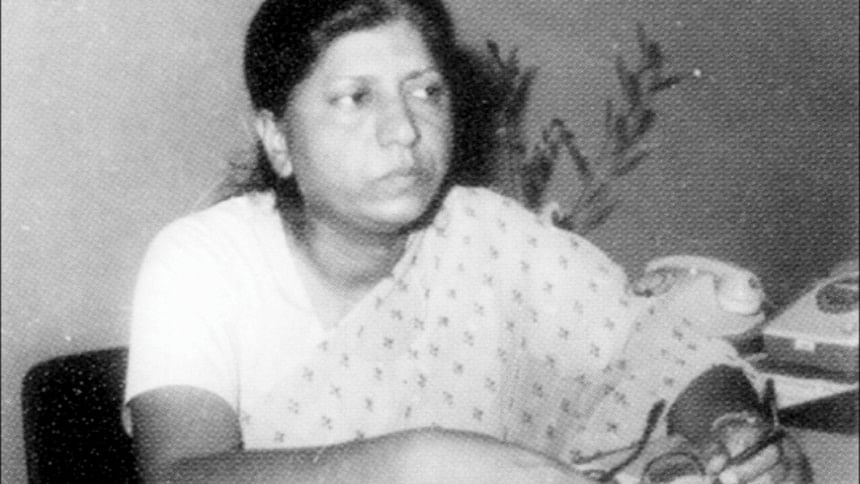 KHALIDA Fahmi, the former Deputy Director General of Bangladesh Television passed away on April 30, 2014 at 83 years of age.
Born on March 5, 1931 at Matiaburj, Kolkata, her father Salimullah Fahmi was a senior civil servant and her mother Sayeeda Salim Fahmi was a homemaker. 
After the partition of India in 1947 she came to the then East Pakistan with her family. She started her schooling in Moslem Girls High School located in old Dhaka and later was admitted to the Eden College for higher secondary studies. Thereafter, Khalida joined the Department of Islamic History and Culture of Dhaka University in 1950, founded by the celebrated historian of the subcontinent Professor A.B.M. Habibullah. In our honours class there were only five female students among whom there were two girls who bore the common name, Shamsunnahar. The rest of the three were Suraiya, Khalida and myself. 
Khalida was a charming, very generous friend and often invited us to her house, treating us to delicious meals. As an individual she was conscientious, helpful and very good company. Even though she was usually reserved and reticent by nature, she radiated warmth and affection in an unconventional manner. She was admired for her devotion to work. She did her B.A Honours and M.A. degree from the Department of Islamic History and Culture in 1953 and 1954 respectively. 
When her father was transferred to the then West Pakistan she obtained her second M.A. degree from Karachi University in bengali literature. Both her father and mother were liberal minded individuals and protagonists of the development of literary and cultural activities. Being brought up in an enlightened environment, Khalida naturally evolved as a noted cultural personality and emerged as a tirelessly dedicated social worker. While she was in Karachi, she took part in a drama titled Sirajuddowla which provided a glimpse of her innate dramatic abilities. She soon became involved with various noted socio-cultural organisations.
Since her childhood, Khalida was passionate about music and particularly about sub-continental classical music. After returning to the then East Pakistan, she took training as a classical singer under the tutelage of the famous maestro Ustad Gul Muhammad Khan along with Ustad Yasin Khan and Ustad Muhammad Hussain Khasru. Apart from classical music training, she took pains to master the art of recitation and anchoring different shows. She had a natural gift for sewing and embroidery and was a connoisseur of gourmet cuisine and cooking. 
When Bangladesh Television (BTV) was founded in 1964 at the DIT Building she joined as a producer in 1966. Her dedication to her work was appreciated by the concerned authorities and she earned the coveted position of Deputy Director General of BTV. It may be mentioned, that she earned the distinction of becoming the first Muslim woman of the subcontinent to occupy the position of Deputy Director General of the electronic media world. 
After her retirement from BTV, she devoted herself to work for different development-oriented social activities. She soon became chief of the publication department at BRAC, vice-president of JAICA, member of the Diabetic Association, High-Care and was closely associated with the SAJIDA Foundation and SWD Bangladesh.
I parted from my friends after my M.A examination to go to England for higher studies. After my return to Dhaka in the early sixties, I used to meet her occasionally after long intervals. But yet, the firm bond and affection for each other which began from our university days was always there. We sometimes met socially, as her late uncle Kalimullah Fahmi was a dear friend of my husband's second elder brother Syed Mushtaq Ahmed, who was a civil servant. My husband's family and the Fahmis were very close and remained so forever.
Khalida never married. When she died, she left behind her family consisting of four sisters and one brother. After her parents passed away, Khalida being the eldest child became the natural guardian of her siblings. She shouldered the great responsibility by taking exemplary care of her family with dogged determination and exceptional commitment till the last days of her life.
To pay tribute on her first death anniversary, I remember Khalida with great sadness for losing a very precious friend with extraordinary accomplishments, a true woman of substance.

The writer is National Professor and former director of Bangladesh Bank.