War crimes: Death for Habiganj man, jail for his 2 brothers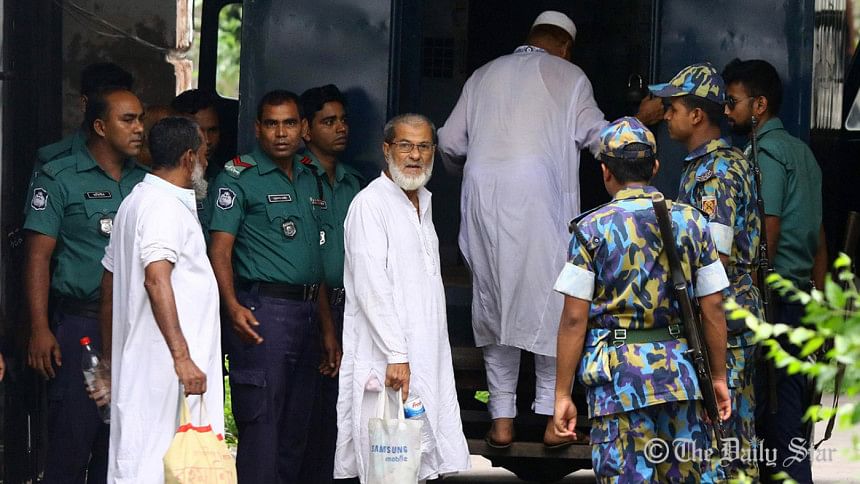 A special tribunal today found three brothers from Habiganj guilty of all the four charges brought against them and handed one death for war crimes.
Two of his brothers were handed imprisonment until death in the verdict announced by three-member International Crimes Tribunal-1.
Muhibur Rahman alias Boromian, 65, has been awarded death penalty. Others are his younger brother Mujibur Rahman alias Angur Mian, 60, and their cousin Abdur Razzak, 63.
All the three are in captivity now.
Death and life in jail were given in the first charge that implicated the trio to the killing of two freedom fighters. For raping women, they were given 20 years of rigorous imprisonment.
For confinement and torture of unarmed civilian, they have been given seven years of rigorous jail, while for the arson and looting of the house of Maj Gen (retd) MA Rob, the Liberation War's deputy commander-in-chief, they were given 10 years of rigorous imprisonment.
Yesterday, Justice Anwarul Haque-led ICT-1 set today the date for delivering the verdict.
Prosecutor Sultan Mahmud Simon briefed media after the verdict. Chief prosecutor Ghulam Arieff Tipoo was present where the entire team expressed satisfaction with the verdict.
Defence counsel Masud Rana expressed discontent with the verdict saying that his client did not get justice. He said his clients will file appeal with the Supreme Court.