Bidyanondo takes food to 500 tea workers' families in Habiganj amid shutdown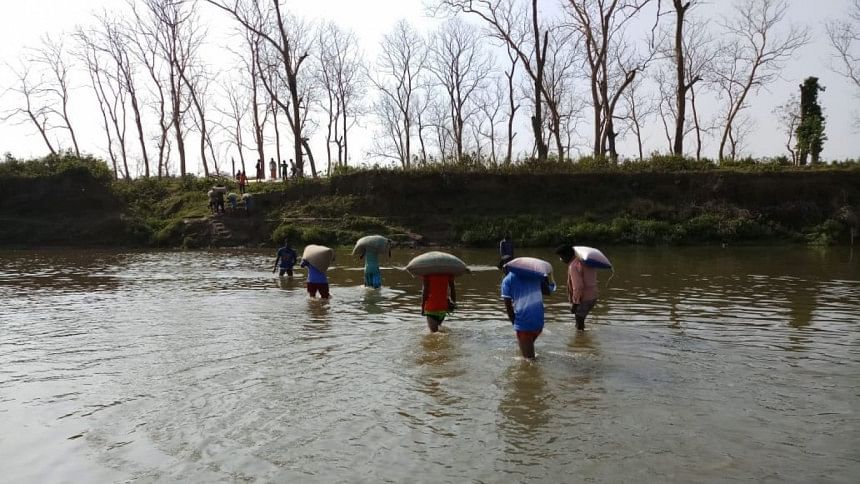 Bidyanondo Foundation, a non-profit social welfare organisation, distributed food among 500 tea workers' families in Chunarughat upazila of Habiganj, who had been languishing since authorities shut down the tea garden following a clash with them on March 5.
The organisation distributed rice, pulses, oil and salt among the workers of Rema Tea Garden after hearing that more than 1,000 families are starving following closure of the tea garden.
Mahmuda Khan, who works for tea workers' rights, officially contacted Bidyanondo Foundation and the foundation immediately arranged food items for 500 families, said central committee member of Socialist Workers Front and adviser of Bangladesh Cha Sramik Federation Advocate Abul Hasan.
A total of 3000kg rice, 500kg dal, 500kg salt and 250 litres of oil have been distributed among the tea workers, Abul Hasan said.
Talking to the correspondent, Habiganj Deputy Commissioner Mohammad Kamrul Hasan said he distributed three tonnes of rice among the tea workers after he came to know about their plight from a The Daily Star report published on March 27: "1200 tea workers live miserable life for over 3 weeks".
WHY THE CLASH?
On March 5, the tea workers met the manager of the garden and placed their longstanding 11-point demand including payment of arrears and festival allowances, Tanu Munda, president of Bangladesh Tea Labour Union, Rema tea garden unit, told The Daily Star earlier.
"At the time, the garden authorities bargained with us to meet the demands, triggering a clash," he said, adding that five people, including the manager, were injured during the clash.
After the incident, the authorities shut the tea garden and the workers became unemployed, said Tanu.